Dog Is So Happy To Have A Family After 4 Years In The Shelter
"It's been beautiful to see him discover simple things that seem to bring him so much joy."
Toretto was found as a stray and taken in by the Humane Society of Imperial County in California four years ago, and year after year, he kept getting overlooked by potential forever families. Besides being on the older side, the pit bull also has an inoperable cancer in his nose, which made it harder for his rescuers to try and get him adopted. But they never gave up hope that, eventually, the right family would find Toretto.
When shelters and rescues across the country began to call for more adopters and foster families in light of the coronavirus crisis, Michael Levitt and his partner Marc Loren wanted to help. Levitt serves as an advisory board member for The Grey Muzzle Organization, which helps senior dogs in need, so he knows how important adopting and fostering can be in times of crisis.
Even though the couple already had two dogs of their own at home, they still wanted to be able to help in some way, so they decided to find a dog in need to foster — and as soon as they saw a video of Toretto online, they knew he was the one.
"While my partner Marc and I always felt we were a two-dog family (with our current boys Trooper and Nelson), we knew we needed to do our part to help dogs in our shelter during this covid crisis," Levitt told The Dodo. "It was seeing Toretto in that video in which he still has his spirit, full of happiness, in spite of the fact that he's sat in a shelter for four years, that made us want to step up and foster him."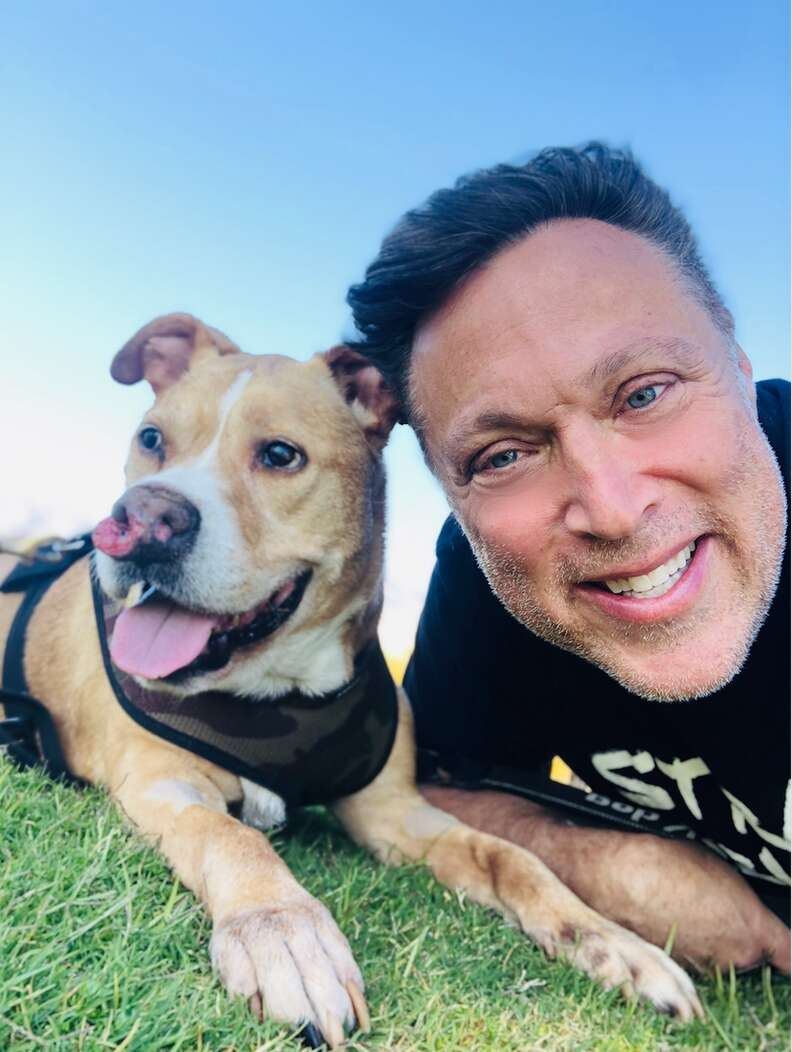 Even after learning of Toretto's cancer, the couple knew they still wanted to bring him home. They hoped they could give him a place to relax for a while, but initially didn't want to adopt another dog. As soon as they met Toretto, though, they fell head over heels in love, and the sweet pit bull had barely settled in before they knew that he was absolutely going to be a foster fail.
"After picking him up, It took about an hour for us to decide that we wanted to make him a permanent part of our family," Levitt said.
Toretto waited so long for the right family to find him, and his new parents can't imagine why anyone would have overlooked him in the first place. They're even working to tackle his cancer, and will be starting him on a new treatment soon that they're hoping will be incredibly successful and extend his life by a few years at least. Toretto has only been with his new family for a few weeks and he's already an irreplaceable part of the pack, and his parents and dog siblings love getting to know him more and more each day.
"While Toretto is a senior dog, he has puppy-like qualities, maybe because he's spent a large part of his life in a shelter," Levitt said. "It's been beautiful to see him discover simple things that seem to bring him such joy such as jumping on a bed, going on car rides and rolling on grass. Oh, and of course, eating lots of wonderful food and treats!"
Toretto's parents initially went to the shelter looking to help a dog in need for a little while — and ended up leaving with a lifelong best friend.
"My hope is that other people will be inspired by Toretto's story and go out and foster or adopt a Toretto of their own," Levitt said. "Also hope to shed light on how incredible it is to help a senior, a pit bull or a dog with special needs, all of which are so often overlooked in our shelters and make the most incredible pets and family members. We are helping him, but he's helped us so much through these challenging times!"