For two years, Thompson waited for the perfect home. The 80-pound-dog was often mistaken as scary or unmanageable by potential adopters because of his size and appearance, when really, all Thompson ever wanted was a family to love him.

Thompson was found on the streets in 2015, when major flooding left him stuck in some fencing, just waiting for someone to come and help him. A woman noticed his struggle and helped him out, then brought him to the Pflugerville Animal Shelter.
"His head was pretty scraped and cut up from the debris," Rhonda McLendon, director of the Pflugerville Animal Shelter, told The Dodo.
Once he was treated and settled into the shelter, staffers and volunteers began working with Thompson to make him more adoptable. He was a little lacking in manners when he arrived, and was a major leash puller whenever he went on walks, but he was also such a lovable dog from the very beginning. Everyone knew that with a little training, Thompson would make the best addition to any family.
"He thinks he is a lap dog and always has a smile on his face and joy in his eyes," McLendon said. "We think he is massively lovable."
Despite his loving personality and making progress on his training, Thompson kept getting overlooked by potential adopters. Everyone who knew and loved Thompson was so heartbroken to watch him remain at the shelter, day after day, month after month.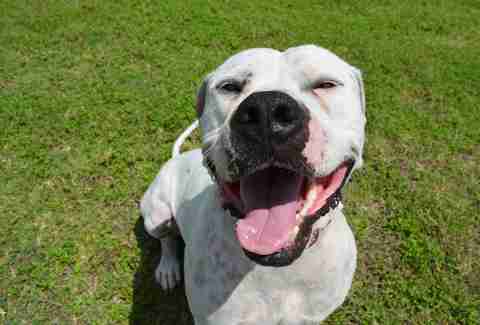 "He is a big guy, looks a little rough around the edges," McLendon said. "Thompson has sensitive skin and contact allergies. He is cross-eyed, but to him that just means he has two of you to love."
Everyone at the shelter continued to work hard promoting Thompson and trying to find him a home, especially as his two year anniversary at the shelter approached — and finally, after years of waiting, the perfect family came for Thompson.
Last week, Thompson was finally adopted by a wonderful family with two young kids and a little dog. He was so thrilled to meet them and drive away with them to start his new life, and even though the shelter staff will miss him, they are so overjoyed that he has finally found the loving family he deserves.
"Seeing him ride off with them grinning ear to ear was absolutely priceless," McLendon said.
After years of waiting, Thompson finally has kids to play with, a little dog sibling to run around with, and a family who doesn't judge him by the way he looks.