Dog Abandoned In Phone Booth Was Too Hurt To Even Lie Down
He's working hard to get better now and find a family who loves him ❤
Emma Semple was just settling down on the sofa for a Friday night in when her phone rang. The animal rescuer, based in south London, knew there was an animal who needed her help and jumped into action.
The animal waiting desperately for someone to help him was Barry. He'd been dumped, shut inside a phone box with a piece of twine around his neck as a makeshift leash. Luckily, a local woman spotted him outside a pub and called the authorities, who asked Semple to help.
"He was collapsed but standing up," Semple told The Dodo. "He was exhausted and was trying to lay down but couldn't because there wasn't the space."
The sandy-colored saluki mix stood on just three legs, putting no weight on his front right leg as he held it gently above the ground. Semple released him from his tiny, glass-walled prison.
"I put my hand underneath him to pick him up and he just collapsed onto me," she said. "I put him in the car and he went straight to sleep, he was just exhausted and in a really sorry state."
Semple — who runs a small animal charity called Furry Friends Animal Rescue — knew she had to get this forlorn and badly injured dog to a vet.
"Barry's shoulder was broken in half," she explained, "after suffering a blunt force trauma, probably a road accident. He had old injuries where he'd scraped along the road that had started healing. The vet said he'd probably been left for one or two weeks without seeing a vet and, when he finally collapsed, they dumped him."
The poor pup also had an old ear injury and was riddled with worms and fleas. He had labored breathing from bleeding in his lungs — caused by bruising as a result of being hit by the car — which, luckily, would heal over time.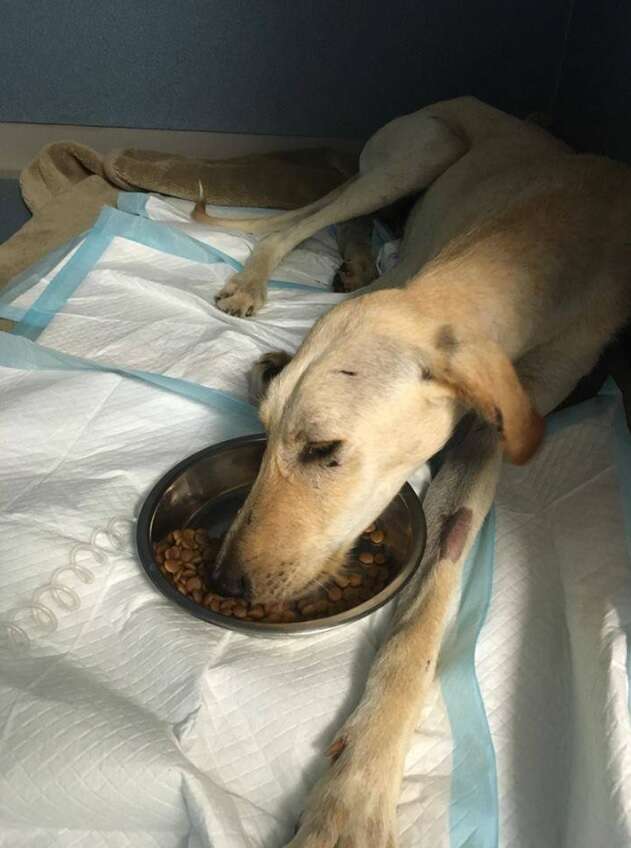 "He can't walk, so whoever did this carried him into the phone box and has watched him suffer for an untold amount of time," Semple said. "The scuff marks on his body have nearly healed, so we are looking at one to two weeks at least."
But, she explained, different vets gave the young pup different prognoses.
"The emergency vet he saw the night we found him said he would need his leg amputated as the nerves had been damaged," Semple said.
But after 24 hours hooked up to an IV drip, Barry started to improve and even began hobbling around.
"He surprised us all," Semple said. "X-rays were sent to an osteo specialist who said he would heal naturally, given time and lots of TLC. As he began weight-bearing more than expected, we took him back to the vets and tests showed that the nerve damage thought to be permanent had sorted itself out — right down to his toes."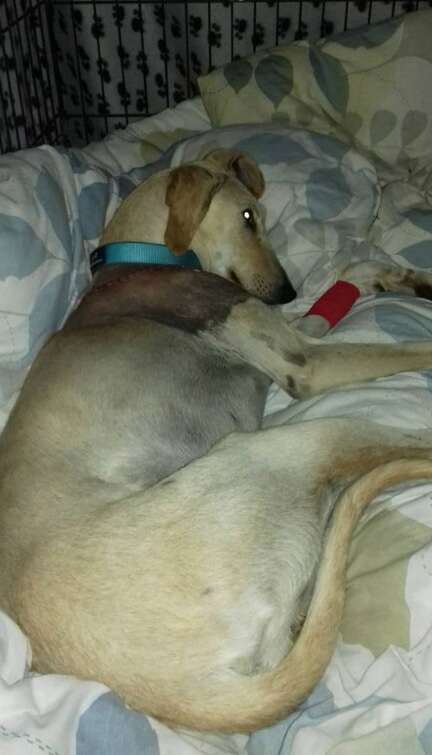 About a week ago, Barry had surgery to put a plate in his shoulder and now he's recovering at home with his foster mom.
"He should now make a full recovery and will be a normal dog," Semple said. "It's going to take a while to heal but, once he's back to full strength, we'll be able to find him a wonderful new home."
The initial vet fees were covered by donations from local supporters. And Semple — who paid for Barry's $2,085 operation herself — is trying to raise funds to cover the remaining costs.
"He has a long road to recovery, but at least now Barry feels great. He is in a comfy home, will have all his needs met and has many eyes watching over him," she said.
"He should now be able to live a normal life and, long-term, will be able to run and play without a limp."
To help Furry Friends Animal Rescue pay for Barry's surgery and help other needy animals, you can make a
donation here
.