Dog Abandoned At Shelter Completely Transforms When Someone Notices Her
She was out there alone all night 💔
When staff from Humane Society of North Texas arrived at work last Thursday morning, they were met with a heartbreaking surprise sitting on their doorstep.
A young dog had been tied up with a rope at the entrance of the building. She looked tired and worried.
"She had no note, no collar or anything," Cassie Lackey, community relations manager for the rescue, told The Dodo. "The rope was wrapped around her neck about six times."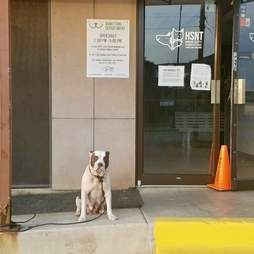 Humane Society of North Texas
The staff members got out of their cars and the dog's tail and body instantly started wiggling — as if all she was waiting for was to no longer be alone. When they approached her, she started smiling at them.
"The minute they stepped toward her, it's as if she was saying, 'Oh my God, there's people here! I'm good now,'" Lackey said. "She was friendly and so sweet since the very beginning. She will give anyone kisses, whether they like it or not!"
Humane Society of North Texas
The team named the sweet mystery dog Betsy, and brought her right into the shelter to get checked out by their veterinarian. They learned she was around 2 years old and had recently weaned a litter of puppies. She was also suffering from a bacterial skin infection.
"She was really dirty when we first found her," Lackey said. "It seemed like she hadn't been bathed in a while. She was itchy and very uncomfortable."
After checking the shelter's security cameras, the team realized that whoever dropped Betsy there had done so in the middle of the night.
The shelter is considered a safe haven — but Lackey is still disheartened that Betsy was abandoned the way she was, especially given how affectionate of a dog she is.
Lackey and Betsy

| Humane Society of North Texas
"We will pretty much take any animal in," Lackey said. "It hurts our hearts to have seen her just dumped out here like that … But it's better she was left with us instead of ending up in a field somewhere, or off on the side of the road."
After a week of antibiotics, medicated baths and lots of cuddle time, Betsy is feeling so much better.
On Friday, she was in for an extra special surprise: meeting her new dad.
Betsy snuggling up with her new dad

| Humane Society of North Texas
The shelter had been flooded with interest about Betsy since posting about her online, and Lackey knew it wouldn't be very long before she found the perfect home.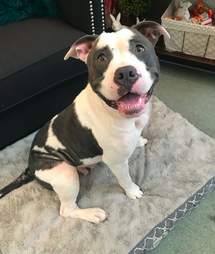 Betsy hanging out on a cozy new bed

| Humane Society of North Texas
"She's such a wiggly little love bug who just wants to sit on your lap and give hugs," Lackey said. "So many people just loved her."