Dog Dumped On Side Of Road In Doghouse Waited Patiently For Help
"She is the sweetest dog with beautiful, soulful eyes."
Even half-buried in a drainage ditch on the side of the road, the salmon pink doghouse was hard to miss.
The wooden structure had been left in a remote area, surrounded by California farmland. Inside huddled a nervous brindle dog with her leash still attached, patiently waiting for someone to drive by.
SCCAS
Luckily, a concerned citizen spotted the little pink house earlier this month and reported the dog to local law enforcement.
The responding officer brought the dog to the Santa Cruz County Animal Shelter (SCCAS), where the pup was clearly thankful to be safe.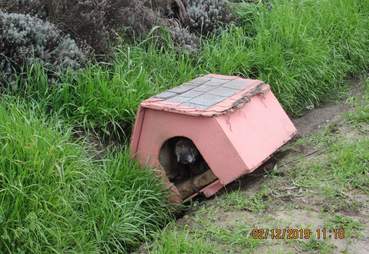 SCCAS
Shelter staffers learned that the dog's name was Pebbles, but when officers tracked down the owner, they discovered that he had given Pebbles up when he became homeless a year ago.
Things have certainly not been easy for Pebbles or her former owner, but thanks to the hard work of the officers on the case, the neglected dog finally has a roof over her head.
The 9-year-old dog is now available for adoption and searching for a family to spend the rest of her life with, and everyone who meets her sings her praises. "I met Pebbles and she is the sweetest dog with beautiful, soulful eyes," a woman named Maria Chomentowski wrote on Facebook.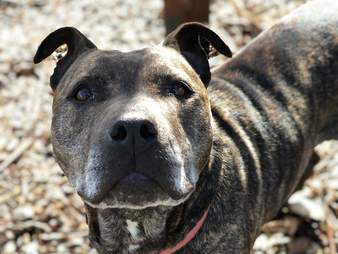 SCCAS
"She is much more adorable and cute in person," Robin Gabriel, another fan of Pebbles, commented on Facebook, "beautiful brindle brown."
SCCAS
While Pebbles has a better future to look forward to, the SCCAS wants to remind people who are struggling to care for their pets that there are options.
"The Santa Cruz County Animal Shelter is an Open Door Admission Shelter and we take in any animal free of charge without questions asked," SCCAS wrote on Facebook. "Abandoning an animal is a crime and can cause unnecessary suffering to the animal. If you have an animal you no longer want please surrender him or her to the shelter."