Dog Tied To Gate In Middle Of Nowhere Is So Grateful Someone Saved Him
"Whoever tied him there had gone to great lengths to ensure that he wasn't found."
While driving past a field late at night, someone noticed, out of the corner of his eye, a shadowy figure against a fence. On closer inspection, he realized it was a dog — tied to the fence and left all alone in the dark.
RSPCA
"The field was very secluded and off a very fast road with no footpath, so it was very fortunate that the member of the public spotted him," Mike Scargill, an inspector with the RSPCA, said in a press release. "He was cold, hungry and very scared. The gate was about 50 yards down a track, and he had been tied specifically to the field side of the gate, indicating to me that whoever tied him there had gone to great lengths to ensure that he wasn't found."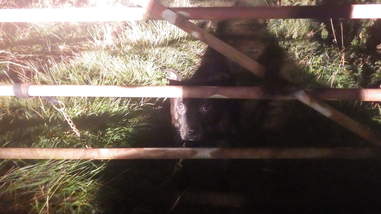 RSPCA
The concerned passerby immediately contacted the RSPCA, which came out to rescue the poor abandoned dog. He was so terrified, though, that at first, Scargill couldn't seem to get him into his car.
"It took me 45 minutes to get him into my van, as — understandably — he did not trust humans."
RSPCA
Eventually, though, after earning his trust a little and trying to show the dog that he was there to help him, Scargill managed to get the dog into his car, and immediately drove him to the RSPCA's Birmingham Animal Hospital.
RSPCA
The dog was not microchipped, and so the RSPCA has no idea where he came from, or who might have abandoned him in such a cruel way. Luckily, besides being traumatized, the dog was in otherwise good health, and seemed to have no injuries or conditions that needed tending to.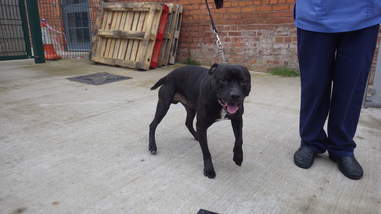 RSPCA
Despite everything he's been through, the sweet dog is slowly warming up to the people caring for him, and is finally learning that there are good people in the world.
"We just can't understand why someone would abandon him like this," Scargill said.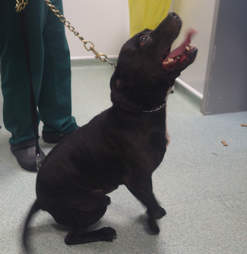 RSPCA
Anyone with any information about how this dog came to be abandoned can contact the RSPCA at 0300 123 8018.