Family Opens Door To Their Van And Finds An Abandoned Dog In The Front Seat
He's SO sweet despite everything he's been through ❤️
A woman was looking out her window one morning when a car drove down her street and stopped in front of her husband's van. She didn't think much of it at first — until someone got out and put something into the front seat of the van. She quickly went outside to investigate …
Scottish SPCA
… and found a dog sitting inside the van, scared and alone. 
The woman was completely baffled that someone would just leave a dog in a stranger's van and then drive off. The dog was curled up in the front seat when the woman opened the door, waiting for someone to help him. He was incredibly skinny and had clearly already been through a lot. Not knowing quite what to do, the woman decided to contact the Scottish SPCA in hopes that it could help. 
"The caller saw a car drive down her lane, turn around and stop by her husband's van before driving off and abandoning the dog," Louise Seddon, an inspector with the Scottish SPCA, said in a press release. "The male dog has a great temperament."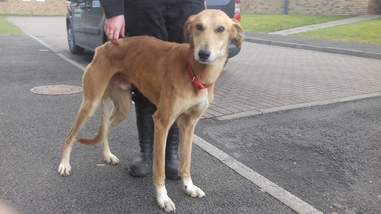 Scottish SPCA
The dog was taken to the Scottish SPCA's shelter in Lanarkshire, where staff decided to name him Kenny. Despite everything he's been through, Kenny is an incredibly sweet dog, and just wants to be loved by anyone he comes across. Everyone is shocked that someone could abandon such a sweet dog, and are hoping to find whomever is responsible for leaving poor Kenny behind.
"We are reviewing CCTV footage from the area," Seddon said. "We're urging anyone who recognizes Kenny to get in touch with any information."
Scottish SPCA
Kenny may have been left behind and unwanted, but now he's in the best hands, and his rescuers will work hard to make sure they find him a family who will love him forever, no matter what.
Anyone who might know where Kenny came from or who abandoned him is urged to contact the Scottish SPCA Animal Helpline at 03000 999 999.
If you're interested in adopting Kenny, you can
contact the Scottish SPCA
for more information.