Dog Left Outside Shelter With Saddest Note Pinned On Her Collar
"Please find her a home. Please." 💔
Sky was lonely, cold and so desperate for food.
Left outside the Delaware Humane Association earlier this month, the starving dog was just skin and bones as she huddled next to a fence to shield herself from the cold.
The rescue staff spotted her out in their yard and instantly rushed to bring the poor dog inside — and in the process, they made a heart-wrenching discovery. Sky had a handwritten note from her owner pinned to her collar.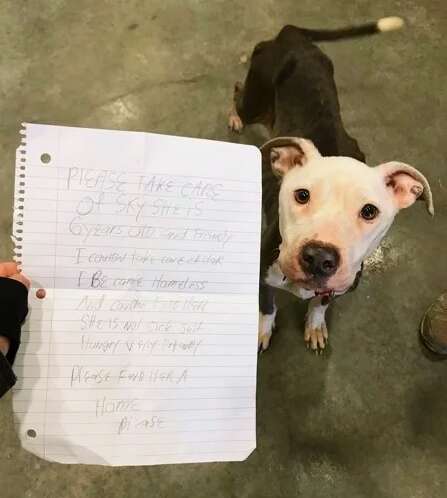 "Please take care of Sky," the note read. "She is 6 years old and friendly. I couldn't take care of her — I became homeless and couldn't feed her. She is not sick just hungry, very friendly. Please find her a home. Please."
Sky, who is 6 years old, had been cold and hungry for a very long time — but thanks to the rescue, things were going to get better. Just as her owner said in the note, Sky was thrilled to be around people again, despite her very frail condition.
"She was in good spirits all along," Greg Munson, director of development and marketing for the rescue, told The Dodo. "She was curious and was very happy to be inside. Her condition was so bad that being anywhere other than outside was a relief."
That night, Sky went to sleep in a warm bed with a full stomach — something that hadn't happened in a while. It was bittersweet for the rescue staff to see, as they knew that Sky's old owner was likely still out on the streets and struggling.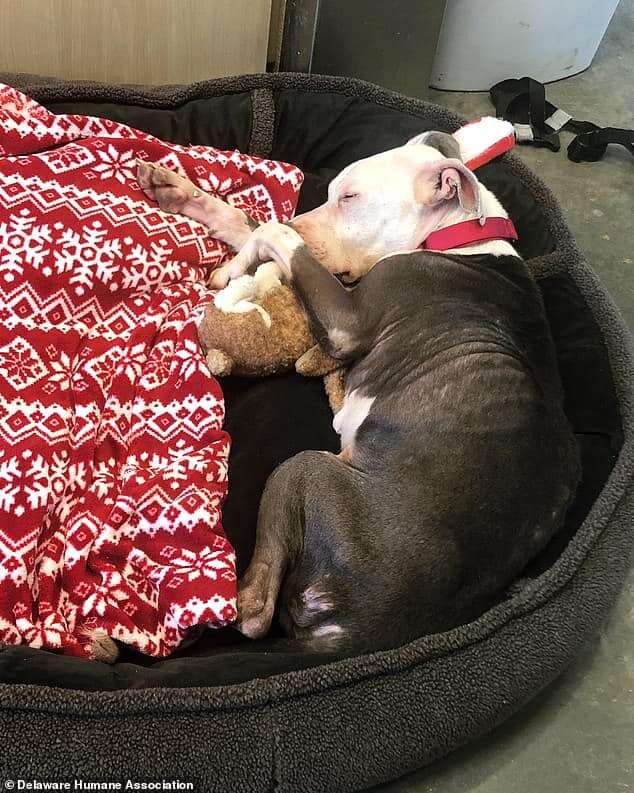 Unfortunately, there was no way of actually locating him — and on top of that, he was breaking the law for leaving her out there.
"We could've helped him a bit if he hadn't abandoned the dog, and just come in and talk with us," Munson explained. "We do have grant funding available that we could've used to help with some of the costs for Sky, as well as for he and his family."
Shortly after Sky's story hit the local media, however, the man called the shelter. His situation seemed to be improving, luckily.
"He reached out to us, and wanted to remain anonymous, and wasn't looking for help, but was getting his life back together," Munson said. "He is married with a large family, and both of the adults had lost their job, but he since has one back. He said he just wanted what was best for her."
And that's just what the rescue will do.
In the coming weeks, Sky will continue to eat and gain weight until she's healthy enough to be spayed, and then, she'll be available for adoption.
For now, she's loving all the attention she's been getting — and spends each night snuggled up without a worry in the world. She's finally safe.