Dog Dumped At Shelter Was So 'Inconsolable' She Couldn't Stop Drooling
"She's such a smiley girl now. It's like she knows she's safe."
Walking through a public shelter in Chicago, Illinois, rescuers from Trio Animal Foundation (TAF) were met with an absolutely heart-wrenching sight.
Inside a cage was a young dog named Belle who had been drooling so much that her face was soaking wet and dripping with saliva. Her gaze was frozen, she was trembling in fear and rescuers soon learned that she was so worked up that she had vomited just minutes before.
She wasn't sick — she was just terrified because her owner had left her at the shelter.
"She was inconsolable," Brigid Nolan, medical and shelter director for TAF, told The Dodo. "You could just tell she was screaming 'Help me' on the inside. She was so upset."
Seeing how desperate the little dog was, Nolan and the team couldn't turn away. Although she was trembling so much, her tail started wagging when they walked up to her cage. They took her back to the rescue center and got her set up in her own room to make her feel more comfortable.
"She was still really worried — she didn't eat and was on high alert," Nolan said.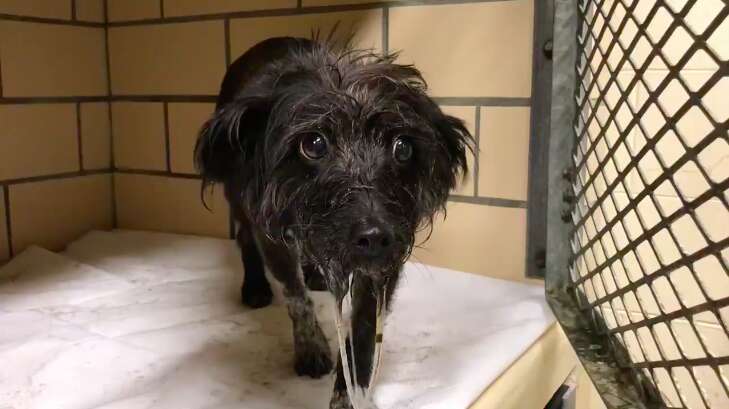 After a few days of love from the rescue staff, however, Belle started coming around — and her transformation was nothing short of adorable.
"She just started smiling," Nolan said. "You could tell she was feeling comfortable."
Luckily, Belle's spirits have just gotten brighter the more time she spends with the rescue staff.
"She's not super crazy and playful, she just wants to hang out with us," Nolan said. "She's very easygoing and mellow."
While Belle is in great health at the moment, she has a knee condition which may require surgery in the near future. If that's the case, she'll remain with the rescue through recovery and then will be ready for her forever home.
Seeing how happy Belle is now, it's clear she already knows she'll never have to worry about being abandoned again.
"When we saw her, we knew she needed help," Nolan said. "We've had a lot of interest in her already — people just wanted to get in the car and come down here to comfort her. She's such a smiley girl now. It's like she knows she's safe."