Restaurant Does The Sweetest Thing For Lonely Cat Who Needed A Friend
They've been his family for 10 years ❤
This particular Denny's location in Oregon serves more than just breakfast and other diner favorites.
For the past 10 years or so, it has served love and compassion to a little animal who needs it most.
Visiting this diner, there's a pretty good chance you'll encounter an adorable sweet orange cat sprawled out for a nap like he owns the place.
And in some ways, he actually does.
A glance at the side of the restaurant reveals a cozy setup for the outdoor kitty, aptly named Denny's (or Denns, for short).
Laura Leader met Denns like this on her first visit to the location a few years back, and soon became a regular customer. A coincidence? Hardly.
"He is a very chill and content cat. Sometimes he'll come up to you, rubbing on your legs," Leader told The Dodo. "It definitely changes the entire experience."

But the cat's time there certainly didn't start off happy.
Leader came to learn from restaurant staff that Denns turned up there one day over a decade ago, scared and alone. They fed him and gave him water, thinking perhaps he was lost. But as time went on, it became clear that he'd likely been dumped there.
Denns never left, nor did he seem to have any desire to leave: "I learned that he resists when people try to take him anywhere," Leader said.
So, the Denny's became his home. And both staff and customers have gone above and beyond to make it as homey as possible.
"This abandoned little cat has won over so many hearts so thoroughly," Leader said. "The restaurant adopted him. Patrons built him a house. New blankets are brought to him regularly. Someone brings their own personal heating lamp for him in the winter. All of his needs are met — he is cared for dearly. He is seen regularly by a vet, and he is constantly supervised."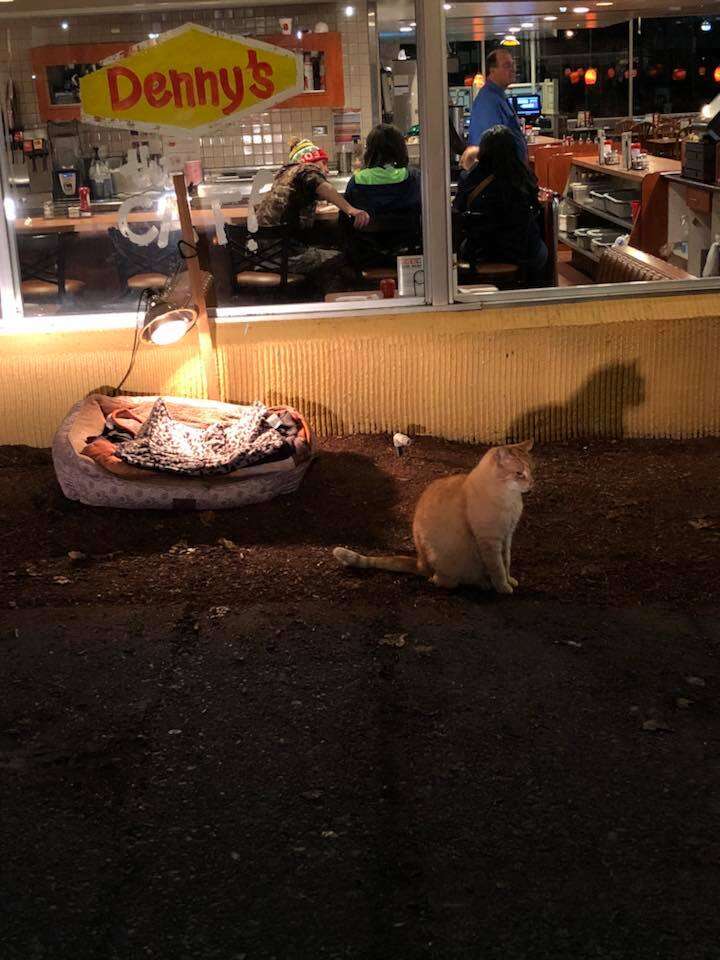 Over the years, while staff and customers have come and gone, Denns has remained a constant. And the love he receives is renewed with every new hire and customer.
The booth facing Denns' hangout has been a perennial favorite.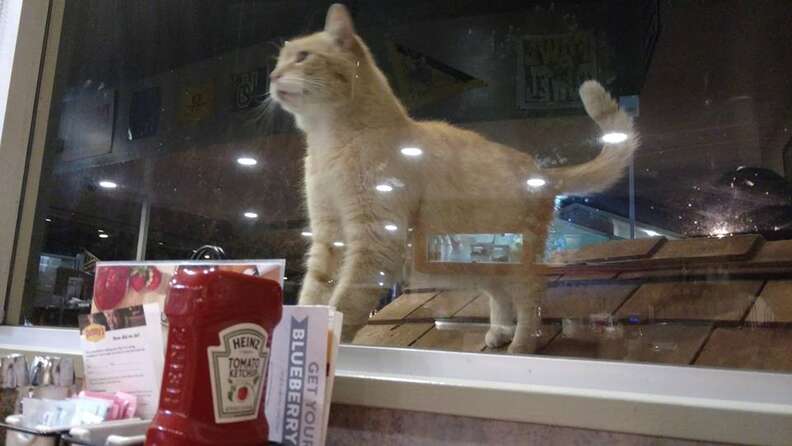 Denns, thankfully, remains in good health. But now that he's an older cat, Leader said, one customer has dedicated herself to keeping closer tabs on him than before, and is ready to step in if he needs it.
"He always has a loving eye on him," Leader said.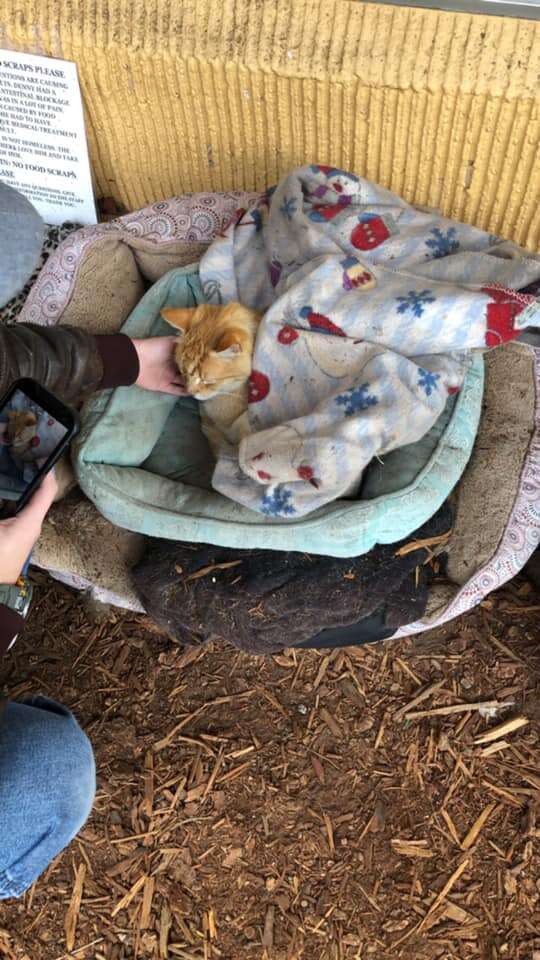 In the end, the diner's done more than offer the lonely cat a cozy place to stay — it's warmed the heart of an entire community.
"Everyone here cares, and they always have more love to give. And the remarkable thing about Mr. Denns is that he gives that love right back," Leader said. "It's a huge, beautiful loop that demonstrates the relationships between humans and animals, and also from human to human. To see that we can show this kind of kindness to a loving animal, perhaps we can show it to each other?"
Laura Leader has no affiliation with this Denny's location beyond being a customer — but she is an advocate for their dear cat. Leader started a GoFundMe in case others would like to
donate toward Denns' continued care
.