Delivery Man Spots Strange Black Pile In Middle Of Snowstorm
"They looked like a piece of clothing ... but on second glance I knew what it was."
A man was driving a truck of milk through a snowstorm in Canada when he noticed a strange black spot amid a world of white.
When he inched closer he realized that he needed to rush out of the driver's seat and brave the elements — a life, or lives, depended on it.
"They looked like a piece of clothing first when I saw them," Clyde Compton told the Dodo. "But on second glance I knew what it was."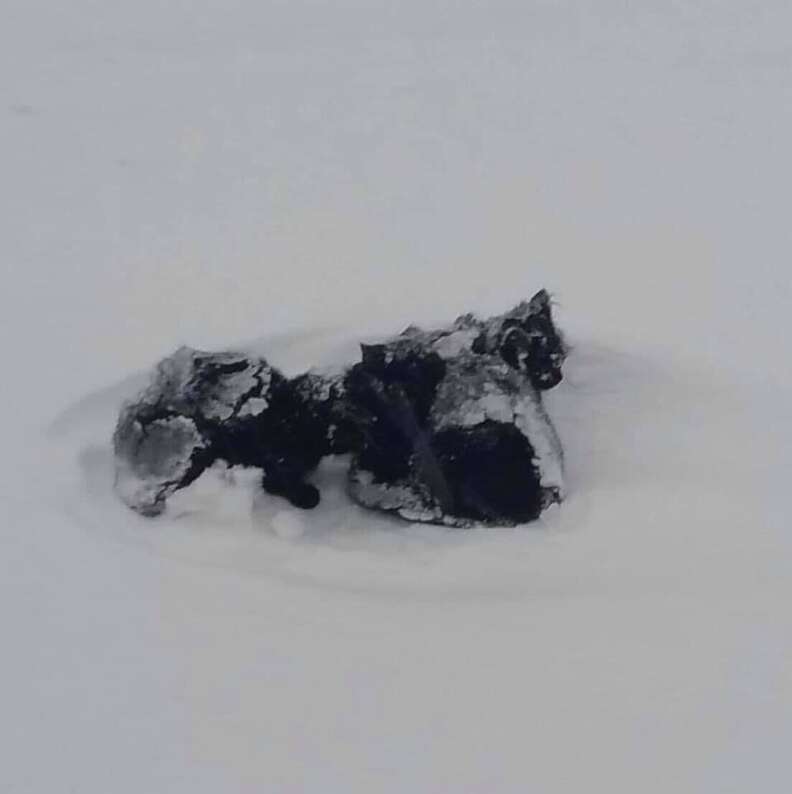 Three tiny black kittens were huddled together there in the snow. And there were no paw prints surrounding them, indicating they had probably been thrown there from the road.
"Looking down from the truck I could see them," Compton reflected, "anyone else probably wouldn't have. They were on the road in fresh falling snow about a foot deep."
Compton promptly scooped up the kittens and drove them back to his home 12 miles away, where his wife and daughter were waiting to warm up the tiny strays and save their lives.
The family, who already has two cats and two dogs, all rescues, also got in touch with a local animal rescue group, Deer Lake Kitten Rescue (DLKR), which helped coordinate the kittens' veterinary care and transfer to a shelter.
"They were covered in ice and snow, huddled together trying to survive," Tanya Wight, a volunteer with DLKR, wrote. "They must have been tossed from a vehicle ... Animal cruelty beyond comprehension."
But the little lives who were nearly wiped out forever now have names: The short-haired male is Flurry, the long-haired female is Shiver and the short-haired female is named Stormy.
Flurry, Shiver and Stormy still need some time to recover — they're slightly underweight and Shiver is on antibiotics for a respiratory infection — but considering all they've been through, the 10-week-old trio is surprisingly friendly and playful.
Wight has been housing the kittens while they gain their strength. "They have been moved into the deluxe suite (aka my spare room) so they have more room to move about," Wight wrote.
Once they're ready, they'll be transferred to the Newfoundland West SPCA (NL West SPCA).
"If I hadn't seen them they would certainly have died," Compton said. "They will be [up for adoption] as soon as they are in perfect health."