When you go to a shelter and see an animal waiting for a family in his enclosure, it can be hard to tell what his personality is like or what kind of home he'd thrive in. To solve this problem, staff at one shelter decided to get a little creative.
In order to showcase different cats and their unique personalities, staffers at the RSPCA Leybourne Animal Centre have started decorating the glass doors of each cat enclosure with pictures and funny descriptions detailing what each cat is looking for in a family. Every cat is different, and each cat at the shelter has different dreams when it comes to the perfect forever family.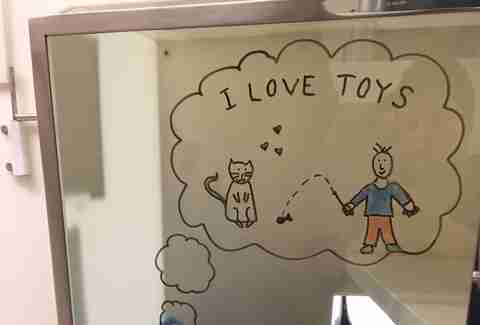 "We decided to decorate the cat pods to show the type of homes the cats were dreaming of in the hope of persuading more people to stop at their pens and talk to them," Janine Pemberthy, the cattery manager at the RSPCA Leybourne Animal Centre, said in a press release. "We hope our art project will help us find new, loving homes for all our beautiful cats!"
A 3-year-old cat named Friday is finding life in the shelter to be incredibly stressful, and so on his glass door, staff wrote, "I don't want to be here for any more Fridays." Staffers are hoping the message will instill some urgency in whoever walks by his enclosure, and prompt them to stop and get to know sweet, chatty Friday.
Lil Kim and Hermione, a pair of 2-year-old cats rescued together, are both incredibly shy, but their friendship and love for each other has helped each of them to come out of their shells a little more. Their glass door reads, "We want to live together," as the shelter is hoping that the pair will be adopted out together, to help them feel safe in their new home.
Each message written on the enclosures is sweet and playful, and the shelter staff are hoping that each message will bring the cats a little bit closer to finding their loving forever families.