Woman Hears Crying And Finds Tiniest Puppy Tied To Tree
"He probably would have been somebody's snack."
Jessica Clayborn is used to hearing all sorts of noises coming from the acres of swampland that border her house in Zebulon, North Carolina. Usually, she doesn't give the raucous wildlife a second thought — but last Tuesday, she heard something that made her stop everything.
While hanging laundry to dry in her backyard, Clayborn could just make out tiny cries coming from the underbrush. She decided to follow the odd whines, pushing through the muddy swamp and tall reeds, until she spotted a small puppy marooned on a spot of dry land.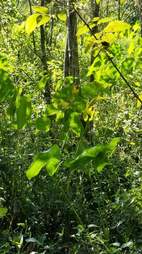 SPCA of Wake County
The tan and black dog, now named Nash, was tethered to a tree, struggling against the rope as it cut into his neck. Clayborn knew there was no turning back, so she waded into the knee-deep mud and used a pocket knife to sever the rope.
"There's no way he could have made it through the mud on his own and ended up tangled around a tree like that," Clayborn told the SPCA of Wake County. "I barely made it through the mud."
SPCA of Wake County
Though it was unclear how long the puppy had been in the swamp, his neck bore a deep wound from the rope, and bugs covered his fur and ears, possibly causing damage to his ear canal. The only thing to hint at the young dog's past was chemical burns on his ears and tail.
Had Clayborn not heard the cries, the young dog might have fallen prey to the wild coyotes and bobcats that roam the area. "He probably would have been somebody's snack," Clayborn added.
SPCA of Wake County
Clayborn returned home and gave Nash a bath, taking extra care with the weak dog. "Whenever I picked him up he just kind of laid back in my arms because he was just so relieved that someone had found him," Clayborn told ABC News.
The SPCA of Wake County transferred Nash, who is estimated to be 2 months old, to Care First Animal Hospital, where he received antibiotics and treatment for his wounds.
SPCA of Wake County
In just over a week, the little dog has made amazing strides toward recovery, and is finishing the healing process in a foster home.
"His foster family says he was timid when he first arrived last week, but has started to relax and blossom," Tara Lynn, a spokesperson for the SPCA, told The Dodo. "In general, they say he is fairly mellow."
SPCA of Wake County
Though Nash seems happy to run around and play with his two new dog friends, his foster family noticed that his past may have left a lasting mark on the young dog.
Due to Nash's lack of response to sound, his caretakers fear that he may be deaf, though it's unclear what could have caused it. But even hearing loss will not stop the determined pup from finding a forever home.
SPCA of Wake County
Nash has an adoption pending, and could meet his new family as early as next week — after that, he will never be alone again.