Rescued Dog Won't Stop Staring At Her New Dad
"Every day gets easier for her to realize that she has found a home."
Life has never been easy for a deaf pit bull mix named Blu. As a puppy she spent her time locked in a small room by a family who didn't know how to care for her, until she was surrendered to an overcrowded shelter in Modesto, California.
Blu was saved from death row just in time by Family Dog Rescue, but after a year searching for a forever home, her odds of ever getting adopted seemed slim.
That is, until she met Sean Stevens.
"[The rescue volunteers] let us know that she didn't get very many visitors because of her deafness and some behavioral issues which can make walking her slightly difficult," Stevens told The Dodo. "She doesn't really know how to interact with other dogs. She gets very excited, and because she is deaf she can't hear when they start growling or barking at her to stop."
Despite the warnings, Stevens and his partner Marc knew as soon as they saw Blu that she'd be a perfect fit for their family. "It was pretty immediately after meeting her that we fell for her," Stevens said. "Blu is such a sweet girl and we both recognized that once she went to a good home her personality would blossom."
But when they brought Blu home, the nervous dog refused to relax. She played and went on long walks, but once inside Blu wouldn't let her new dads out of her sight.
"She would refuse to look away from us even though she was obviously exhausted," Stevens said. "We knew she was tired because she wasn't trying to get us to play with her tennis ball or with the stack of toys that we got for her, but was instead sitting and staring at us."
Afternoon turned to night, and still Blu refused to sleep until her family finally turned out the lights. Stevens and Marc found the behavior of their new rescue pup so odd that they posted her picture on Reddit, writing, "Blu was just adopted. No matter how tired Blu gets she won't sleep unless we all do. We think she does this because she is afraid that we will bring her back to the shelter. Blu is never going back. She is home."
For over a week, Blu refused to take her watchful eyes off her dads while they were in the house. No matter how sleepy she got, Blu preferred to jump on a couch or chair to get a better vantage point and stare at them for hours.
"Recently, she has started to get a bit agitated with us whenever we don't go to sleep when she wants to," Stevens said. "She has started to walk in circles barking at nothing in particular until we go lay in bed with her. Once we are in bed she will curl up at the bottom of the bed and watch us until we turn the lights out."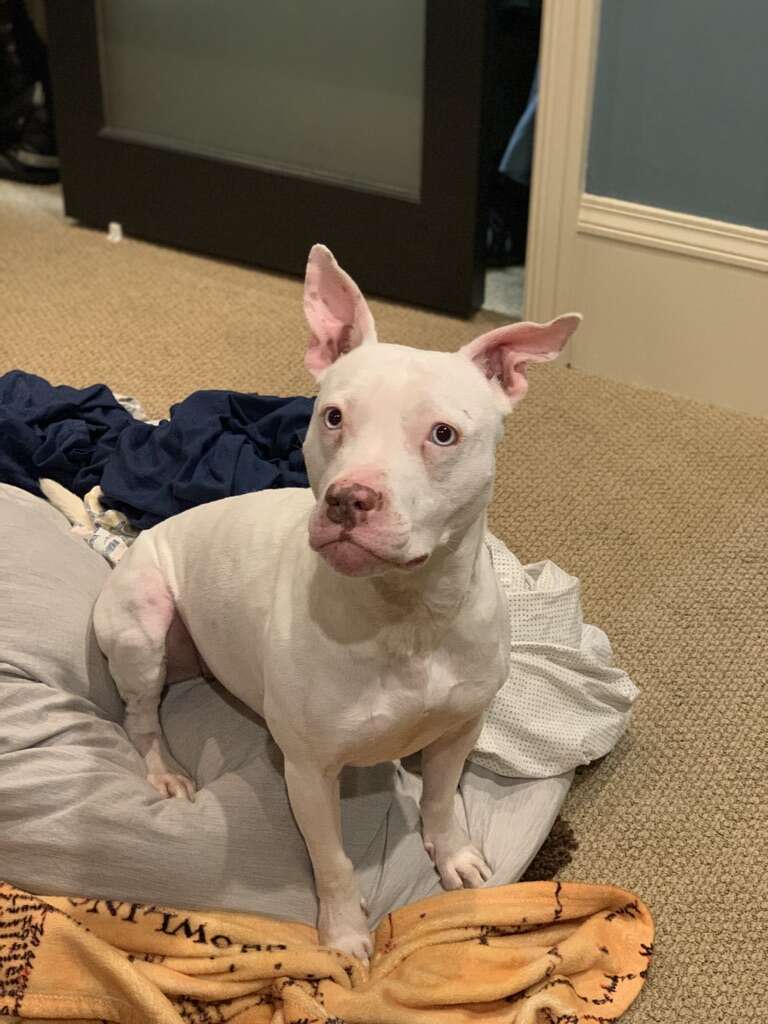 In bed with her family, Blu sleeps soundly, never tossing or turning, and when she wakes up and sees that her dads are still there, she's over the moon. "When it is time to wake up she gets extremely excited and her tail wags really hard almost slapping her face," Stevens noted. "It's probably the cutest thing in the world."
With her tough past beginning to fade from memory, Blu's personality is starting to shine through — and Stevens couldn't be more thrilled to watch her unwind little by little. "She's a stubborn and loyal dog who is starting to be a little more vulnerable with us," Stevens said. "She lets us pet her belly now, which she wouldn't do at the start."
"It's a day at a time sort of life for her," Stevens added. "And every day gets easier for her to realize that she has found a home."