Deaf Shelter Dog Won't Let Go Of Blankets While He Waits For A Home
"Since he doesn't have his hearing, it seems that being swaddled in his blankets (which he does himself) is comforting to him" 💕🐕
UPDATE:Since the publication of this article, Valcor has found his forever home!
The first thing people notice about Valcor when passing his shelter kennel is just how many blankets the young dog has stacked inside. Get closer to the 3-year-old pit bull mix and you'll see his bright blue eyes and his eagerness to give kisses.
Born deaf, Valcor has found comfort in all things soft and fuzzy. And his blankets have become even more important since he was surrendered to the Animal Friends of the Valleys (AFV) shelter in Wildomar, California, over Thanksgiving weekend last month.
When Valcor was dropped at the shelter, his previous owner let the staffers know that the dog "needs blankets near him at all times so he can suck on them." And, sure enough, as soon as Valcor was given a blanket, he didn't need much assistance in getting cozy.
"Since he doesn't have his hearing, it seems that being swaddled in his blankets (which he does himself) is comforting to him," Katie Menges, media manager of AFV, told The Dodo. "He curls himself up in his blankets and sleeps like a baby until someone touches him or he decides he wants some play time."
Valcor was surrendered to the shelter after his family had a baby. His previous owners claimed they had to leave him behind because he had become protective of his littlest sibling, Menges noted, and was having territory issues with their other dog. Staffers were wary of these protective tendencies at first, but quickly realized that the deaf dog got along with kids and dogs alike.
"When we brought in different dogs for him to interact with for a 'dog test' he did really well," Menges said. "He does make some funny noises that the other dogs don't really understand, but that is also very common for deaf pets."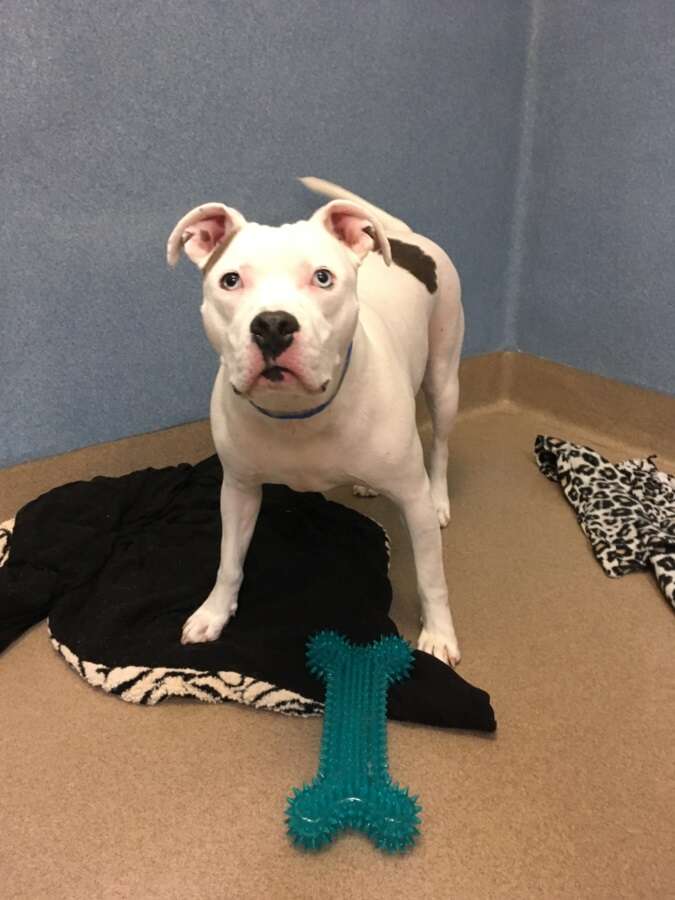 But Valcor's favorite time of the week is when he gets a very special visit from a group of elementary school students, who practice their reading skills with the shelter pets. The change is clear in the dog's demeanor as soon as the kids arrive. According to Menges, "he lights up completely when children are around and loves to give them kisses."
Staffers hope the resilient pup will find a loving home of his own soon — preferably one with kids who are eager to work with the dog on building mutual understanding. "He seems to understand the hand motions for 'sit' and 'come here,'" Menges said. "So a family that is ready to learn sign language and a way to communicate with this sweet boy who can't hear would be perfect!"
Most importantly, Valcor needs a family who will keep him in blankets for the rest of his life.