Dad Said He Didn't Like Cats — Until He Babysat This Kitten
"I was laughing so hard. It was really surprising."
When Hira Khalid first asked her dad to babysit her kitten, Bilu, he answered with a firm "no."
"He didn't want the mess," Khalid, a student at Pepperdine University, told The Dodo.
Khalid had recently adopted Bilu from the NKLA Pet Adoption Center in Los Angeles, where she'd quickly fallen in love with her new family member.
"He's the most affectionate, caring cat," Khalid said. "I'm honestly so lucky that I got him because he's so friendly — he goes and sits on anyone's lap and starts purring, and cuddles with them on their chests."
But then Khalid was invited to go on a week-long trip to Mexico with friends, and knew she had to find someone trustworthy to babysit Bilu. So she asked her parents. Her dad, however, was convinced Bilu would act like their old family cat, Bubba.
"He [Bubba] was an outdoor and indoor cat … so he'd go outside, and come back in all muddy, and leave footprints everywhere," Khalid said. "He wasn't too clean with his litter as well, and he shed a lot. My parents were against cats ever since. It's been five or six years since they had a cat."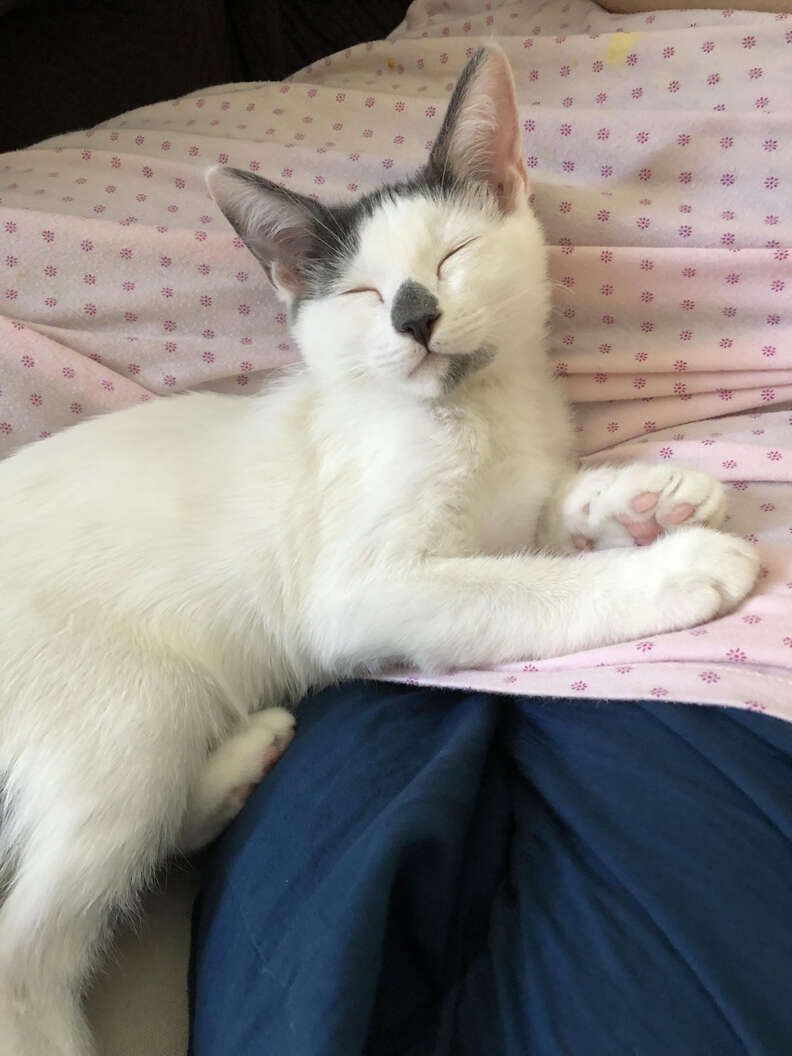 Khalid tried to find another person to babysit Bilu. But when she didn't find anyone, she turned back to her parents. "I said, 'You know what? He's potty-trained, he's fine. Please, just keep him for a week — I really need it,'" she said.
"My dad was like, 'OK, fine, if there's no other option,'" Khalid said. "So I dropped Bilu off for a week."
While on her vacation, Khalid constantly wondered how things were going at her parents' house, but she was relieved she wasn't getting any complaints.
Then, a couple days into her trip, she received some surprising pictures — her dad had snapped photos of himself with Bilu snuggled against his neck.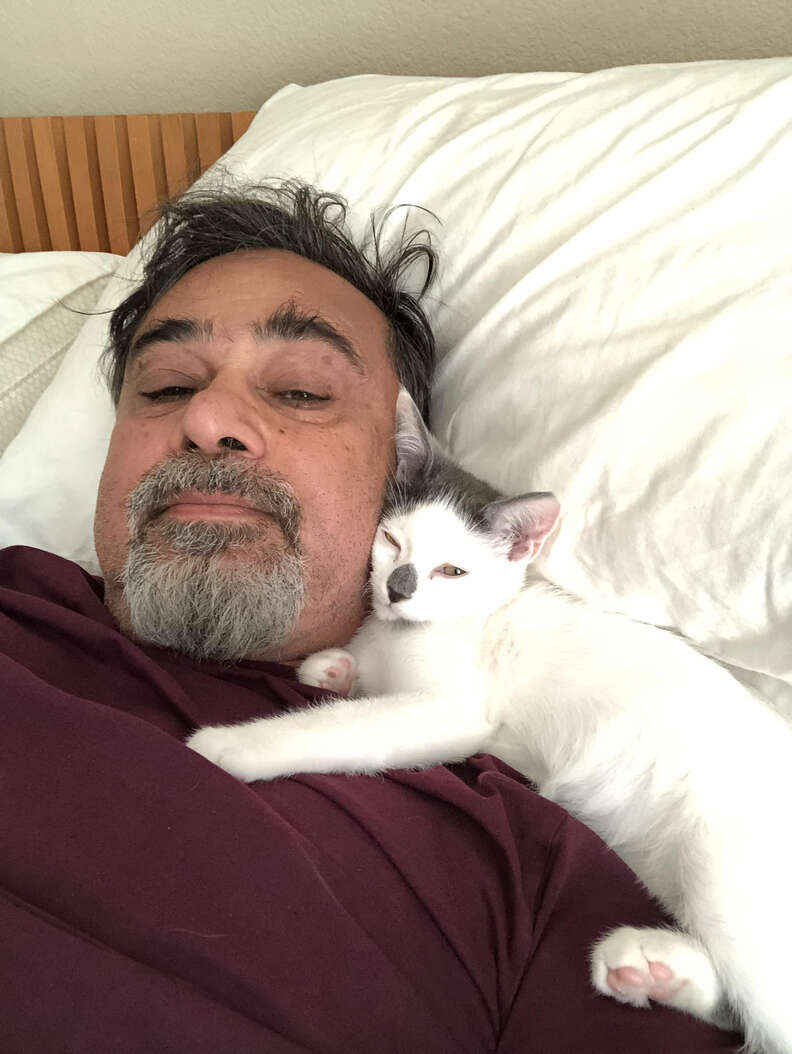 Khalid was shocked — and delighted.
"I was surprised that my dad bonded with Bilu," Khalid said. "I knew Bilu was the most friendly cat ever, but I didn't know [how] much Dad would get that close to him."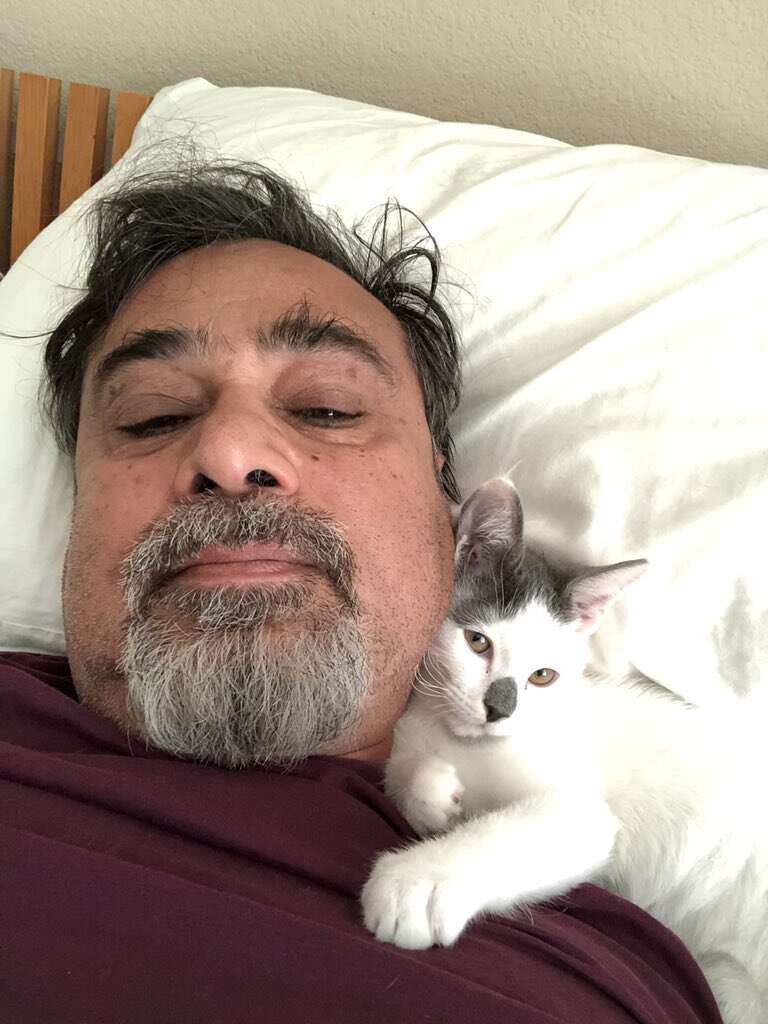 "And my dad never does anything like that — like sending selfies," she added. "So when I saw those, I was laughing so hard. It was really surprising."
When Khalid returned to Los Angeles, she went to pick up Bilu. Her dad didn't offer to babysit Bilu again, but she suspects that both of her parents hated to see him go.
"They did hint that they would miss him when I put him in his bag to take him back to my apartment," Khalid said.
But for now, Khalid doesn't have any plans to travel again anytime soon.
"I didn't even want to leave him," Khalid said. "I missed him the entire time."