Dad Goes On Epic Mission To Save His Dog's Best Friends
"He knew we had to get as many as he could."
Sure, there's no doubt that this darling dog named Papi thinks the world of his family — but there is one special someone who holds an even loftier place in his little pup heart.
This moose toy, affectionately known as Moose.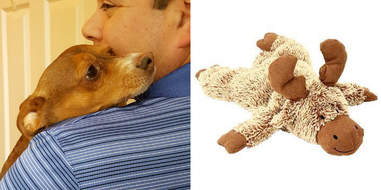 Marissa Moreno
Since Papi was first gifted Moose about a year and a half ago, the two have been inseparable. Indeed, wherever Papi goes, Moose is sure to always be right there alongside him.
The two are rarely seen apart.
Marissa Moreno
"The moose is like his little friend," Papi's sister Marissa Moreno told The Dodo. "Whenever he gets stressed or needs attention, he runs to grab his toy."
Marissa Moreno
What Papi has been blissfully unaware of, however, is that there's never been just one Moose.
Though the plush, antlered chew toy might feel like a steady companion, Moose has actually been a series of separate moose dolls. As each had become raggedy from use, Papi's family would secretly replace it with a fresh new Moose. No other animal would do.
"We got him a raccoon once, but he won't even go near it," Moreno said. "I guess he just prefers the moose."
But then something happened to threaten Papi's sweet friendship.
Marissa Moreno
Moreno's parents recently caught wind, much to their dismay, that Moose's manufacturer had decided to discontinue production of his species. Papi's moose was about to go extinct — but Moreno's dad had a plan.
And with that, "Operation Rescue Moose" got underway.
"He knew we had to get as many as he could because that's basically the only toy my dog likes," Moreno said.
Marissa Moreno
That day, the heroic father proceeded to drive far and wide across town, stopping by every single store that sold the moose toys and buying up all they had left in stock.
The rescue mission, thankfully, was a success.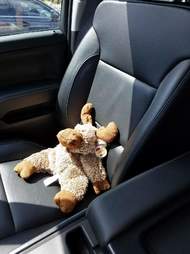 Marissa Moreno
Moreno's dad was able to save six moose in all — sparing them from being consigned to the trash heap, or winding up with some less grateful dog.
"I was a bit surprised," Moreno said. "It just made me really happy to see that he was able to get some before they were all gone."
Hopefully, the family's current Moose supply should keep Papi going for the foreseeable future (though they may need to let the toy get into a sorrier state of overuse than they had before). The little dog, of course, will remain none the wiser about just how close he came to losing his best friend.
Of course, we all know who his real BFFs are.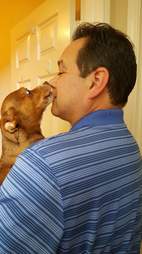 Marissa Moreno
"Papi is just another member of our family so he deserves the best we can give him," Moreno said.