Dad Builds His Dog A Perfect Tiny Room Just For Her
"She is most definitely a member of the family."
Up until a few months ago, Molly the dog had been the baby of the family — enjoying the undivided attention of her parents, Michael and Emma McGowan. But recently, that all changed.
Thankfully, Molly's dad thought of a perfect way to let Molly know she still means the world to them.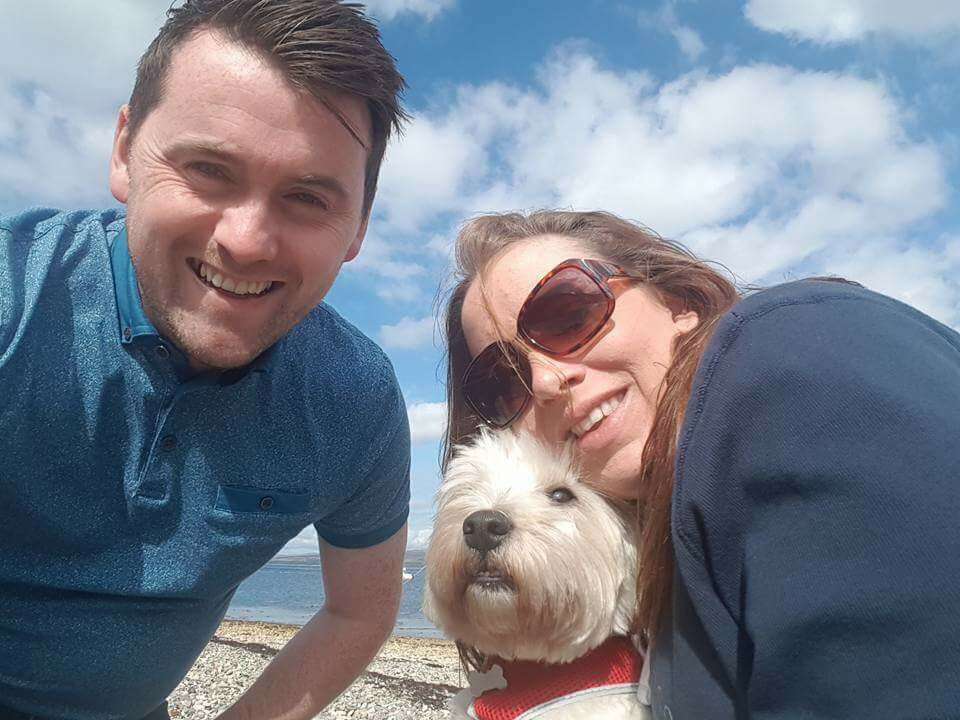 As an only child, Molly had the run of the house. But with a new arrival on the way, who'd soon be getting a room of her own, Michael wanted to make sure his dog didn't feel snubbed.
"My wife and I love her to bits, and she's pretty spoiled," Michael told The Dodo. "We found out this time last year we were going to have a baby so I thought I would try to give her her own little space to make the transition easier."
Exactly where Molly's room would go wasn't totally obvious at first.
A set of stairs runs behind one of the walls in the McGowans' kitchen. For Michael, it was the spot with the most dog-room potential.
"I hoped there would be some wasted space behind the staircase but wasn't sure how big," he said.
Fingers crossed, Michael got to cutting.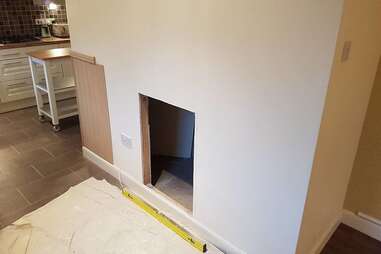 "Turns out it was 4 meters square, so plenty big enough," Michael said.
Molly seemed a tad skeptical at first, but soon she'd see what her dad had in store.
Some parts of the project were beyond Michael's skill level, so he enlisted the help of a tradesman.
"He helped the early stages in terms of cutting the doorway, fitting the doorframe and putting in the sockets in order for me to fit the lighting," Michael said.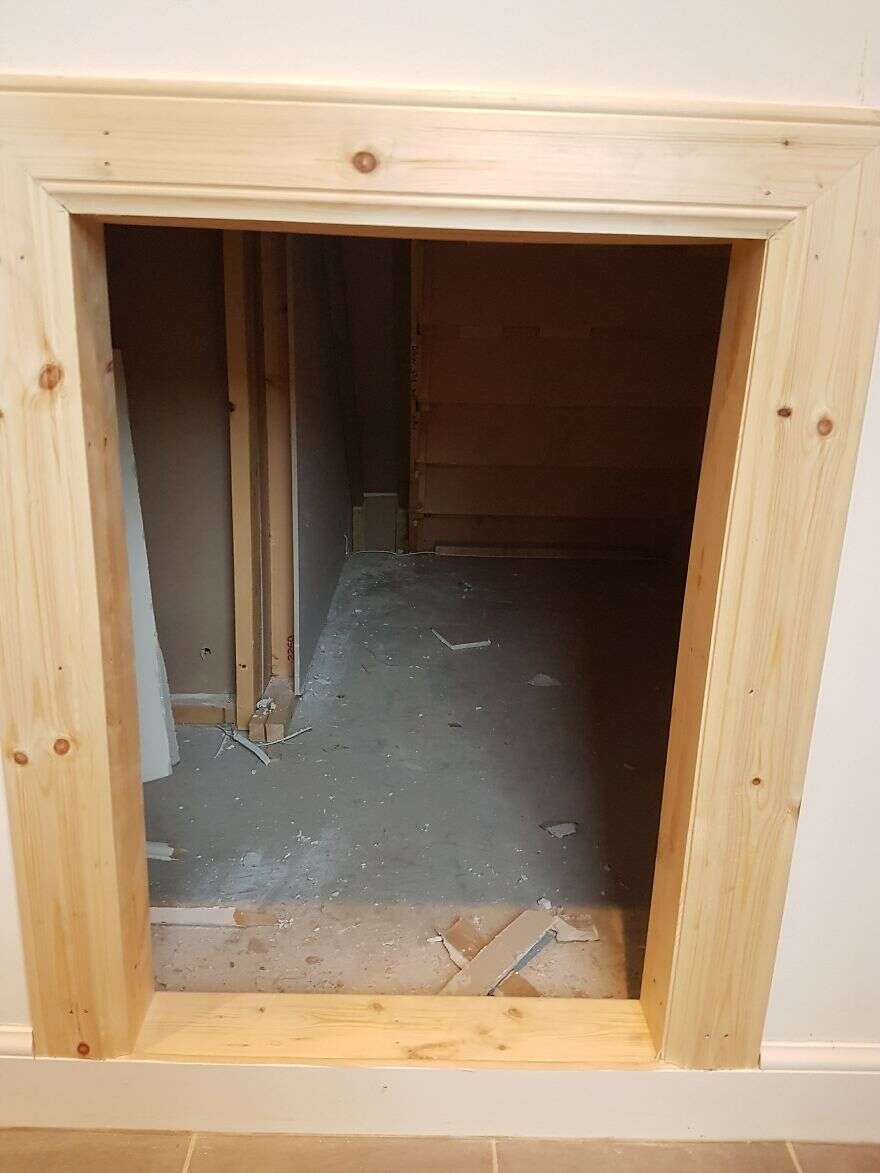 Next came adding the basics — plastering, flooring, wallpaper and a few coats of paint.
Things were starting to take shape.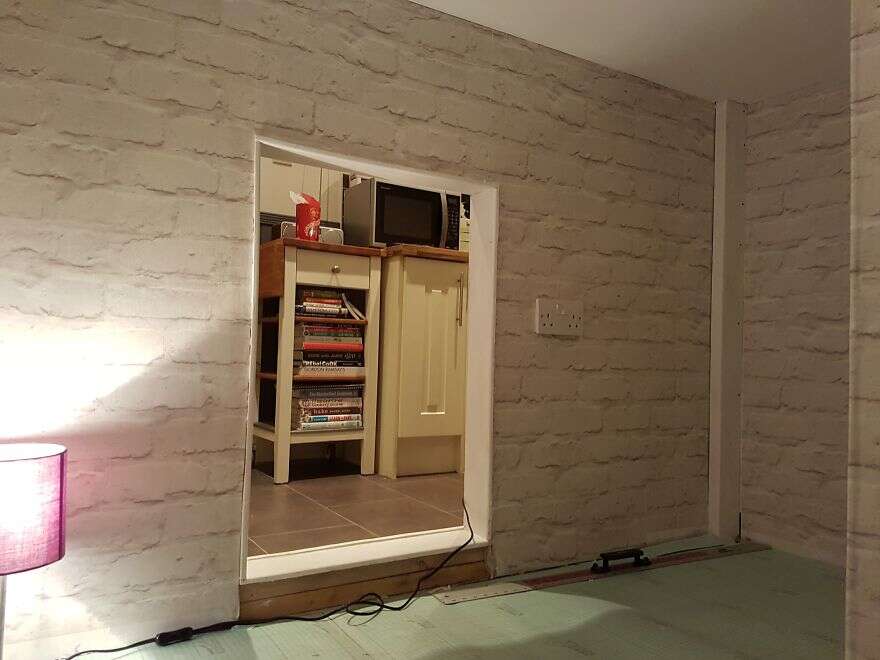 Molly stayed close by to inspect her dad's hard work.
When construction on the interior of Molly's room was completed, Michael then set about making it as cozy as could be.
(Molly, of course, deserves nothing less.)
Michael added a small table and lamp, and hung up some photos of Molly with her pals.
This big comfy pillow would be the dog's sleeping spot.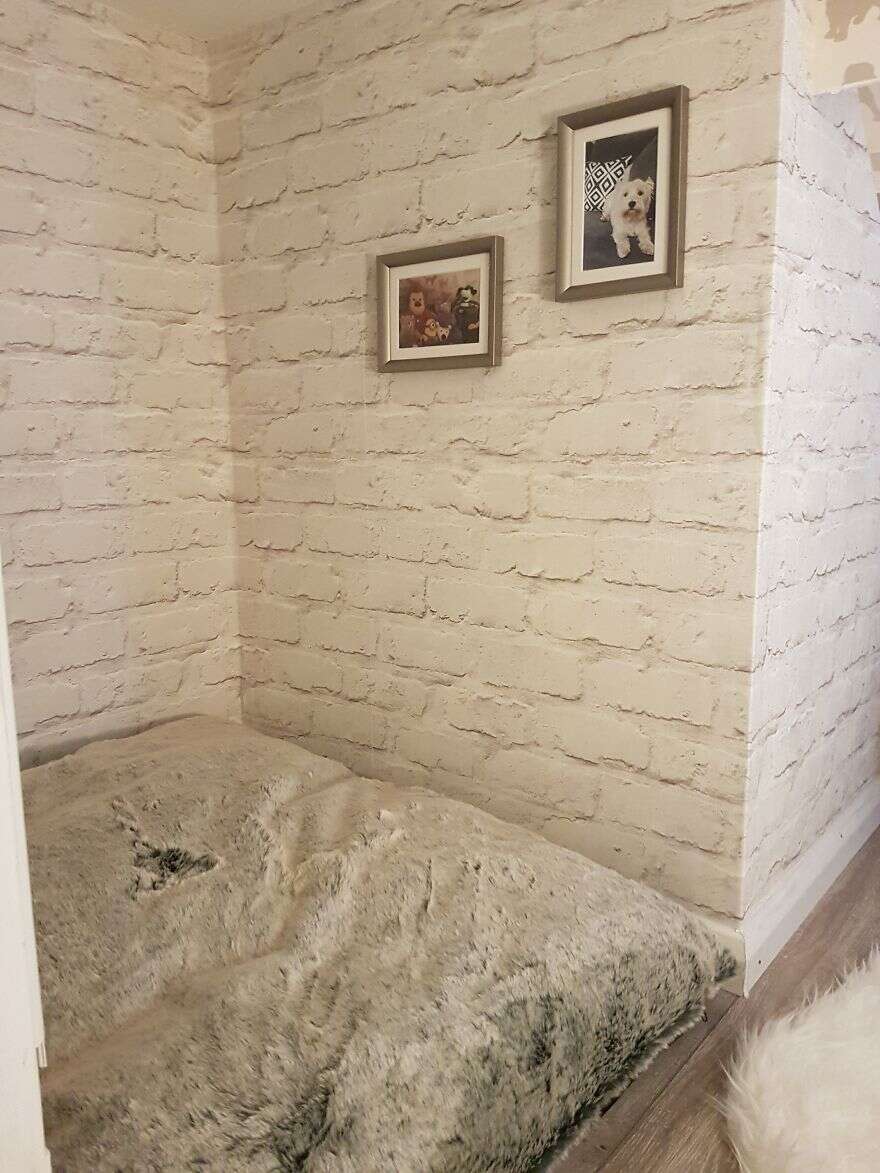 No tiny room would be complete without a tiny sofa to match.
Fortunately, Michael had thought of that, too.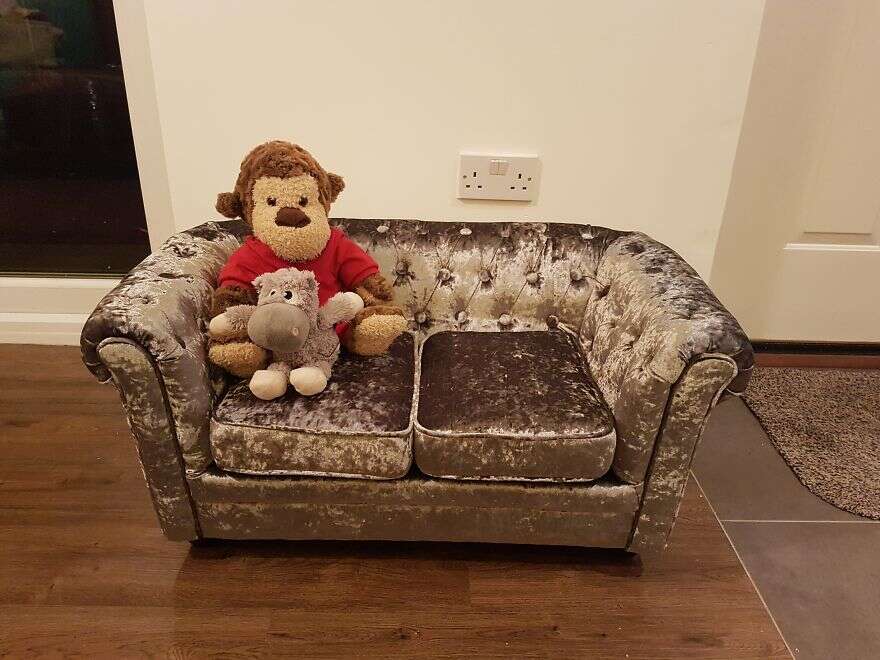 With the additions of a throw rug to lounge on, a welcome mat and a bag full of dog toys, Molly's perfect room was now ready for her.
In all, using his free time after work, Michael was able to complete the project in about two weeks.
And sure enough, Molly couldn't be happier with how it turned out.
"Luckily after all the effort she loves sleeping here, and always runs in to choose from her collection of toys when visitors arrive," Michael said.
Not only did Molly get a new room, she got a new sister, too. Since she entered the world four months ago, the baby and dog have been getting along great — thanks in part to the fact that Molly has a place to find solace when she needs it.
"Her own space definitely helps; she often goes away for some peace and quiet when we have lots of visitors," Michael said. "She is definitely calmer and more relaxed since she's had this space."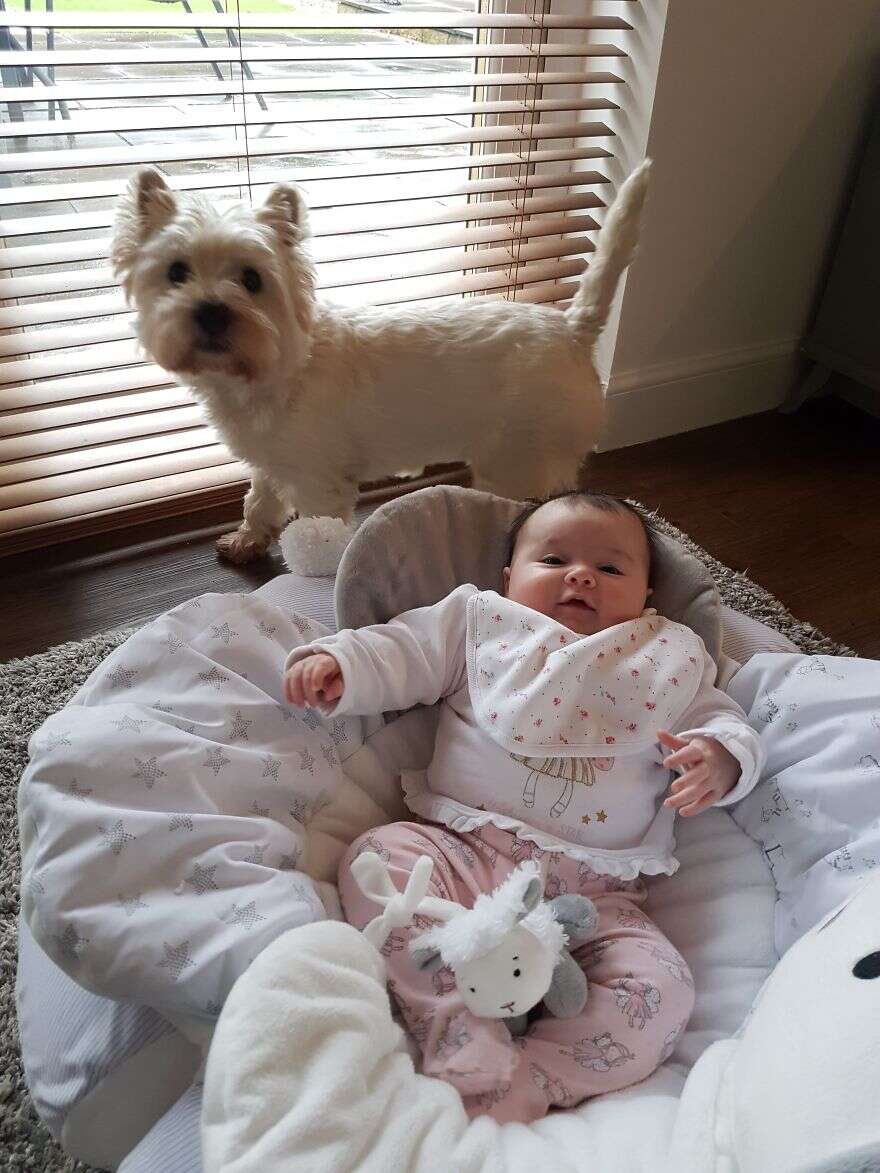 Putting the room together was definitely a labor of love, but one dear Molly deserved:
"She is most definitely a member of the family," Michael said. "We know how important it is for her to be comfortable and have her own space."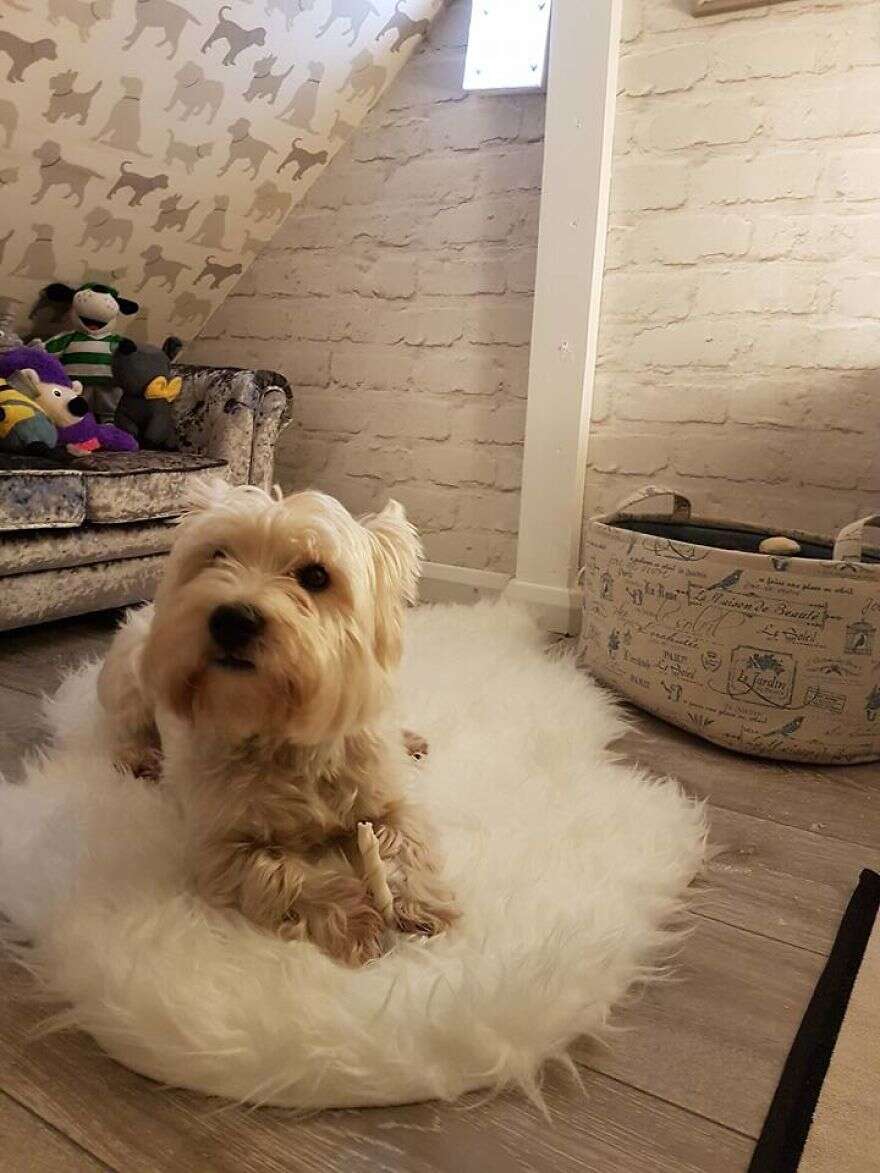 For folks considering undertaking a project like this for their own pets, Michael hopes learning about his dog's room will come as an encouragement. And it's already getting plenty of attention as it is.
Molly's new space is near the top of the running for a "Job of the Year" competition — a charming, canine-centric standout among designs made with just humans in mind.