Tiny Dog Likes To Drag Her Bed Into Whatever Room Her Family's In
She has to be near them ALWAYS ❤️
Weiney is 12 years old and has been with her family since she was just a puppy. She's an incredibly loyal, loving little dog, and basically all she wants in life (besides lots of food) is to be around her family — and she gets VERY offended when they don't want to spend every single second with her.
"She is a sassy little girl," Rue Hart, Weiney's sister, told The Dodo. "She has an absolute attitude about her, like if she knows that you're leaving soon (for work or to go out) she will sit in whichever room you're in, and turn her back against you so you know she's mad. She also happens to be the most cuddly dog in the entire world. The only thing in life she wants is a lap to sit on."
Since Weiney always needs to be around someone in her family, she has three beds scattered throughout the house: one in the kitchen, one in her mom's room and one in her sister's office. There are also plenty of soft surfaces for her to sleep on absolutely everywhere — but sometimes, if they're just not close enough to her family for her liking, she has to take things a step further.
A few times a week, when Weiney decides she needs to be right at her sister's feet or needs a specific bed in order to be comfy …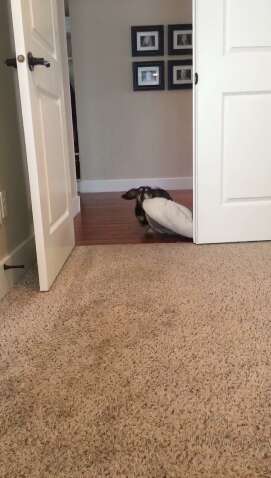 … she drags her bed from one room to another, all by herself, tiny body and all.
"She does really well for the most part, but as soon as she hits the carpet she can't drag it anymore," Hart said. "It just doesn't glide as easily, so I'll normally drag it the rest of the way."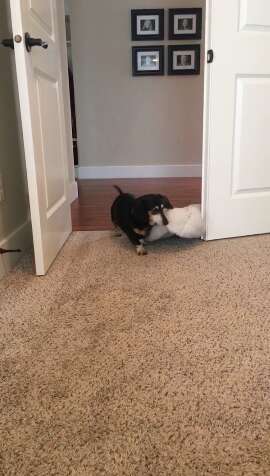 Once her bed is in position, Weiney snuggles up contently, taking comfort in the fact that she can look up and see a member of her family right above her — and that a good belly scratch is never very far away.
"She smiles when she's getting loved on and will scratch her paw on your foot to get more attention," Erin Hart, Weiney's other sister, told The Dodo.
All Weiney really needs in life is a soft place to sleep and someone to love her constantly — and luckily for her, her family is always happy to give her that.