Cyclist Finds A Stranded Kitten — And Carries Her To Safety In His Shirt
"I looked around and saw an adorable tabby kitten running towards me, crying."
When cyclist Ozgur Nevres embarked on a training ride near his home in Turkey late last month, he never expected that he'd end up saving a life.
But that's exactly what he did.
Ozgur Nevres
About 30 miles into his bike trek, which placed him near a local airport, Nevres stopped for a moment to watch some passing planes. It was then that his ears were struck by the sound of an animal in distress. The tiny creature had clearly been desperate for someone to come along.
"I looked around and saw an adorable tabby kitten running towards me, crying," Nevres wrote on his blog. "She was around 4 weeks old and was looking very hungry."
Considering that he was "in the middle of nowhere," Nevres knew that the kitten's chances were slim if left all alone.
"I couldn't leave her there," Nevres wrote. "I put her in my jersey, then started pedaling slowly."
Here's video of that lifesaving journey:
The kitten, it seemed, knew Nevres was bringing her someplace safe.
"Amazingly, she didn't scare. She even enjoyed the journey!" Nevres wrote. "She stuck her head out of my jersey and started watching around."
But Nevres did more than just rescue her from that isolated spot. He helped change her life forever.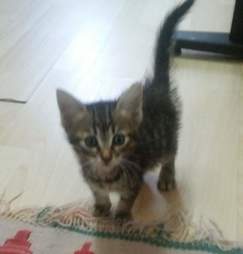 Ozgur Nevres
After giving the kitten food, water and a safe place to pass the night, Nevres worked to find her a forever home.
"The next day, I announced on a pet adoption website that I was looking for a loving family for her," he wrote. "In a few hours, I received a phone call. Long story short, this adorable little kitten now has a loving family."
Thanks to Nevres, Milia, as the kitten is now known, is safe and sound.
Ozgur Nevres
This isn't the first time Nevres has come to the rescue of an animal in need. Truth is, Milia couldn't have found a more caring and compassionate person to be her hero.
"Rescuing kittens is like my second job," Nevres told The Dodo. "I see almost all animals are struggling on Earth and I try to do something for them as much as possible. In this particular case, I am really happy because Milia is now with a loving family."