Pit Bulls Seized From Dogfighting Ring Are Total Lap Dogs Now
"They hold no grudges and love unconditionally. They really are a special group of dogs."
After nearly two years of waiting, 10 pit bulls seized from a dogfighting operation in Ontario, Canada, are finally getting a second chance at life.
Dogfighting busts don't always spell freedom for the animals left behind. People tend to assume that dogs trained to fight are hopelessly dangerous, and they're more likely to wind up on the euthanasia list than as a beloved pet.
But Jen Deane, executive director of rescue organization Pit Sisters, located in Jacksonville, Florida, couldn't let that happen.
"We believe every dog deserves a chance and we wanted to help these dogs," Deane tells The Dodo.
Jen Deane/Pit Sisters
It took numerous behavioral assessments, a lengthy court battle and a trending social media campaign for the 10 dogs to board a bus destined for the U.S. — and 18 hours later the pups found themselves the recipients of a happy homecoming they'd never dreamt possible.
"It was very emotional seeing them for the first time," Deane says. "We had been working on this for months and seeing their sweet faces was just so awesome."
Pit bull type dogs are banned completely in Ontario, and in many other parts of Canada, so finding a home wouldn't be easy. A total of 31 dogs were seized during the raid and taken to the Ontario SPCA, and while they were in custody, an additional 11 puppies were born. Things looked bleak when only seven dogs passed their initial behavior assessments.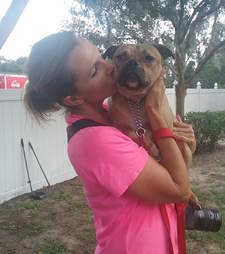 Jen Deane/Pit Sisters
Luckily, the pits had quite a few people in their corner. "Our good friend Jim Crosby, a canine aggression expert, was hired to assess the dogs," Deane says. "He connected us with the Ontario SPCA and we agreed to step up and take the dogs."
Dog Tales Rescue and Sanctuary funded both the legal battle and transport for the dogs to their new home. When the remaining 21 dogs were deemed dangerous and ordered to be euthanized, Rob Scheinberg, owner of Dog Tales, fought the order in court and achieved a second assessment. The remaining dogs will eventually be placed in other Florida rehabilitation facilities later this summer.
Jen Deane/Pit Sisters
The first group, comprising six of the puppies and four of the dogs from the fighting ring, are slowly adjusting to their new life in Florida — and learning to trust again. "The dogs are all very sweet. Some are scared, but all love people," Deane says.
Jen has devoted her life to saving these misunderstood dogs, and in an effort to change their reputation, each rescue has received a professional photo shoot by volunteer photographer Marcy Mark.
Marcy Mark/Pit Sisters
The pictures show the dogs to be shy, sweet and hopeful despite all they've been through. "Each dog's rehabilitation will be different depending upon their needs. We will take our time with each of them," Deane says. "Some of them will jump in your lap and kiss you. Some are more frightened but still very sweet."
Marcy Mark/Pit Sister
After rehabilitation, Deane hopes to find each one a forever home, so the deserving pups will all get a chance to learn what it is to be loved.
"They hold no grudges and love unconditionally," Deane adds. "They really are a special group of dogs."