Curious Dog Accidentally Crashes Couple's Wedding
She got invited to the reception, too.
Silvija Vil was attending a wedding at a gorgeous outdoor venue in Lithuania, waiting for the couple to finally exchange their vows — when suddenly, out of the corner of her eye, she noticed the most unusual wedding crasher: a big, excited dog. She seemed very confused as to why everyone was there but VERY eager to join them.
At first, no one else really seemed to notice the uninvited guest — but Vil, being a dog lover, was mesmerized.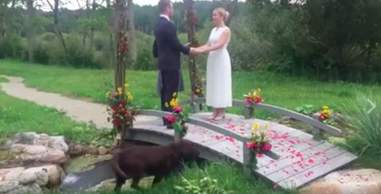 Silvija Vil
"The dog wasn't a disruption at all," Vil told The Dodo. "I think most people just focused on the wedding, whilst I couldn't resist but film the doggo."
The dog considered going over to congratulate the bride and groom …
Silvija Vil
… but then decided against it, and went to try and mingle with the guests instead.
Silvija Vil
When no one seemed to be willing to play with her …
Silvija Vil
… she went off to play in a little stream right next to the bride and groom instead, completely oblivious to the wedding going on around her.
Silvija Vil
"The pup stayed for a good five minutes," Vil said. "Later on the owner appeared and started chasing the dog behind all the guests but no one even noticed."
After the ceremony had ended and the after-party began, Vil found out that the dog was named Urma and actually belonged to the owner of the venue, who happened to be good friends with the newlyweds. Since she was so eager to join in on the fun, the sweet dog was allowed to attend the after-party …
Silvija Vil
… and everyone was very excited to get to meet and party with the little wedding crasher.
Silvija Vil
"No one expected the dog there, especially running around like that, but it was just the best gift," Vil said.