Biggest Cuddlebug Has Been Waiting Over 2 Years For A Home
"The moment she meets any human, she runs to them and rolls over on her back for belly rubs" 😍
To BabyJane, there's only one thing in the world that would make cuddling even more amazing: Finding the perfect family to do it with.
For the past two years, this incredibly snuggly, 6-year-old pit bull has been patiently waiting for her forever home at StreetsToSheets Animal Rescue in Waxahachie, Texas.
STS
BabyJane gets plenty of love there — but with such a sweet personality, her rescuers are completely stumped as to why no one has adopted her yet.
"The moment she meets any human, she runs to them and rolls over on her back for belly rubs," Mysti Boehler, founder of StreetsToSheets, told The Dodo. "Her tail is always wagging. She's an amazing girl."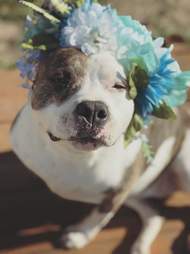 STS
In addition to her obsession with snuggling and being pet, BabyJane is also quite well-trained, Boehler said.
"She loves getting attention and is so friendly with kids and other dogs," Boehler said. "She's healthy, house-trained and crate trained … I just don't understand why she gets overlooked."
STS
Thinking about how long BabyJane has waited for her happy ending is especially bittersweet for Boehler, who rescued the dog herself from a cruel breeding situation two years ago.
BabyJane's previous owner had bred her over and over again for her puppies — and then, when the woman decided to stop breeding pit bulls, she chained up the mother dog in a barn. For months, BabyJane's only bed was a hole she dug in the dirt.
BabyJane before being rescued

| STS
The owner was very resistant to give up BabyJane, even though the dog was clearly not being well-cared for.
"She was locked in that barn all alone every day," Boehler said. "It took us nearly eight months to get her off that chain. Every day since she's just been so grateful … so happy to be around people."
BabyJane before being rescued

| STS
It's likely now that BabyJane is simply making up for lost time by giving her love to anyone who wants it. Whenever someone comes to visit her inside her dog condo at the rescue, she climbs right onto their lap. She'll also seize any free moment to be hugged and doted over.
With so much love to give, BabyJane wants nothing more than a great family to share the holidays with. And luckily, the rescue doesn't mind traveling far distances to meet out-of-state adopters.
BabyJane snuggling with a visitor in her dog condo

| STS
"We've adopted dogs out to as far away as Pennsylvania," Boehler said. "We drive the dog there ourselves for the home check, then stay there for a few days to help everyone settle in. For the perfect home, we'll go anywhere."
And especially for BabyJane, it will be 100 percent worth it.
BabyJane giving kisses

| STS
"She is so deserving of a home," Boehler said. "She'll be so grateful and whatever love that family gives, she'll give it back three times as much."