Couple Finds Tiny Puppy Hiding In The Grass And Know They Have To Help
She changed their lives in the most unexpected way ❤️️
Maëlle Girard and her boyfriend Gilles Manzato were on their way to buy furniture for their new home in Bali in June 2015 when they spotted a tiny brown animal on the side of the road.
As they slowed down their scooter, they could see that she was no wild creature, but a little abandoned dog in a terrible state. "We drove past a tiny puppy on the side of the road, trying to hide in the grass," Girard told The Dodo. "I actually thought it was dead and told Gilles ... but he thought it was breathing."
They had only moved to Bali recently and had no idea how to help, so they drove on — but quickly realized they couldn't leave the little puppy behind.
"We arrived at the lamp shop, but we couldn't stop thinking about it," Girard said. "So we drove back to the same spot and the puppy was there, trying to stand up. When we stopped the scooter, it walked towards me and I picked it up. I tried to ask around if someone knew what happened, but no one could help, so we brought it home."
The frail puppy, whom the couple named Ika, was far too young to be on her own, and had lost most of her fur to scabies.
"Our first plan was to hand her over to a rescue shelter, but we instantly fell in love with her," Girard said. "I remember the first nights, her skin was so itchy she would scratch constantly and cry at the same time."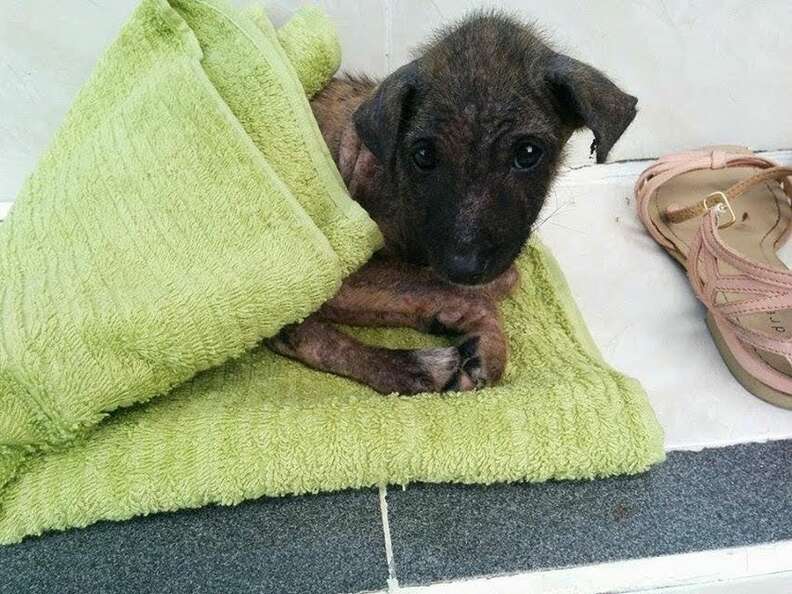 For three days, Ika barely moved, only rousing from sleep when it was time to eat. The couple worked with a veterinarian to treat her scabies and gave her daily coconut oil scrubs to soothe her dry, itchy skin.
Little by little, Ika's fur grew in, and she became almost unrecognizable.
As Ika changed physically, her personality started to shine through. Her parents were shocked by how bossy the once-weak little dog had become.
"Ika is definitely an alpha dog. She has anxiety issues and doesn't trust people easily but once you gain her trust, she can be the sweetest thing on earth," Girard explained. "She is very loyal and protective."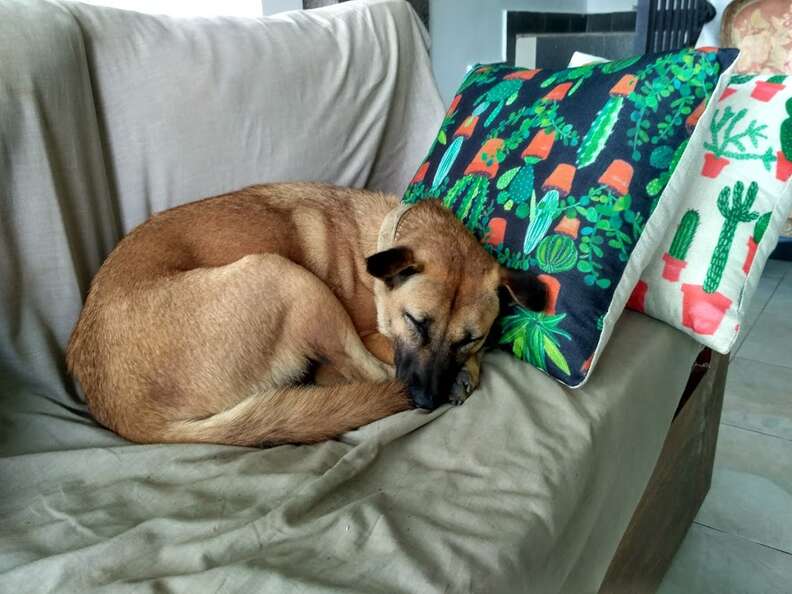 Girard and Manzato began taking Ika everywhere, including the beach, mountains and even museums — and the dog always received a lot of attention, though sometimes not for the best reasons.
"A lot of people stopped me in the street and at temples to tell me that 'my dog was very good for ceremonies,' and I was naively proud of it," Girard said. "I later learned that brown puppies with a black face are sacrificed during ceremonies to appease the demons. So I'm even more glad I rescued her!"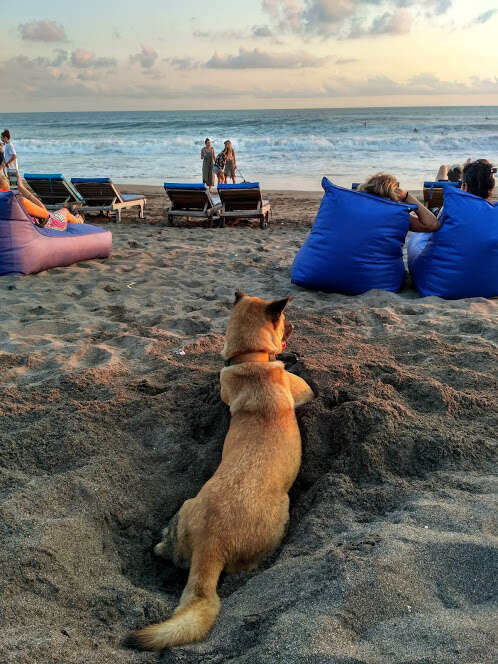 Four months later, the couple stumbled into another accidental dog adoption, and their Bali roots grew deeper. Girard had been feeding a pack of stray dogs near her house, when one precocious puppy approached her.
"She would come running as soon as she heard the engine of my bike, [and] was always so happy to see me, jumping on the scooter to get some cuddles," Girard explained. "Because of her big ears and her sad look, my friend named her Dobbie [after the "Harry Potter" character]."
Girard hated to see the friendly dog suffer, so she took Dobbie to the vet for vaccinations and treatment for a skin condition.
"The vet asked me to bathe her every week. So every week, I would pick her up in the street, wash her with medicated shampoo and open the gate so she could run back to the street," Girard said.
On the fourth day, Girard opened the gate but Dobbie refused to go — after a few days of Girard's love and care, Dobbie had decided to officially leave her pack and join a new one.
Since adopting Ika and Dobbie three years ago, the couple has made it their mission to rescue and rehome as many Balinese dogs as they can. In July 2017, a foster fail named Coco also joined what they now call "The Bali Squad."
The Bali Squad is happy to return the favor, doing their part to rehabilitate the homeless dogs who come through their parents' door. Coco especially has played a vital role in helping their most recent foster, a one-eyed Chihuahua mix named Poe, acclimate to life as a pampered pup.
"She is her absolute best friend and helped [Poe] so much to feel safe," Girard said. "They are ALWAYS together. They sleep together, play together, hunt geckos and frogs in the garden all day together, and even eat from each other's mouth sometimes."
Poe will go to her forever home in October, and it will be thanks to the help of her loving dog friends.
Girard and Manzato could have never predicted the change that would come from showing compassion to one little dog, but for the street dogs of Bali, it's been nothing short of a miracle.