Bear's parents were already engaged when he joined his family, but from the moment they met him, they knew they wanted him involved in their special day.
As they planned their wedding, the couple decided that Bear would walk down the aisle right before his mom, and that they would have a dog biscuit bar as well as party favors with Bear's picture on the back. They wanted him involved as much as possible — so his mom thought it would be fun to try and have him somewhere on the cake as well.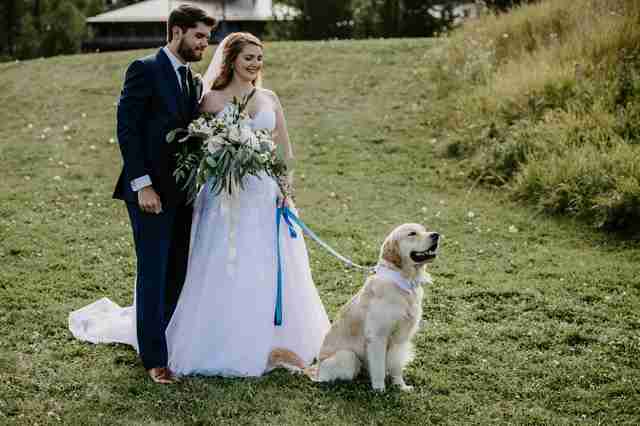 "We worked with the amazing Kake by Darci (based in Canmore, Alberta) and told her we wanted to incorporate Bear into our wedding cake," Roisin Bicklmeier, Bear's mom, told The Dodo. "I told her I had brought a little golden figurine and was wondering if she could put him on the back of the cake as a hidden detail doing something naughty, like dirty paw prints or whatever. She told me she would absolutely incorporate him, and I didn't actually know what she was planning until I saw it on the day!"
When their wedding day finally arrived, Bicklmeier and her fiancé Hunter got Bear all dressed up and ready to steal the show. He walked down the aisle with Bicklmeier's brother, wearing a sign that said, "Don't worry ladies, I'm still single," and everyone immediately fell in love with him. It seemed as if that moment would be the highlight — until everyone finally saw the cake.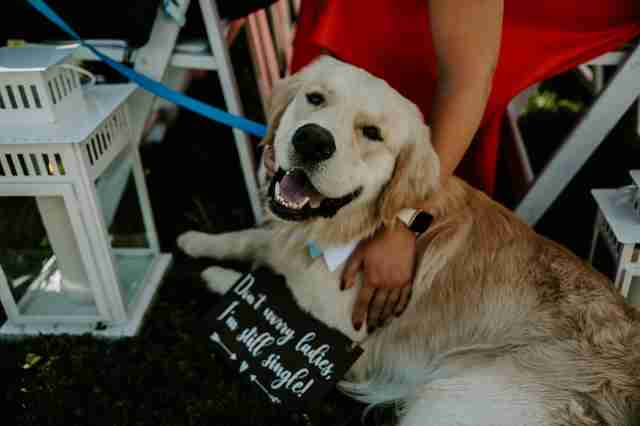 The front of the cake looked like a typical wedding cake, all white with gorgeous flowers …
… but on the back, the clever cake designer had placed the little Bear figurine and staged him to look like he was taking a bite out of the cake.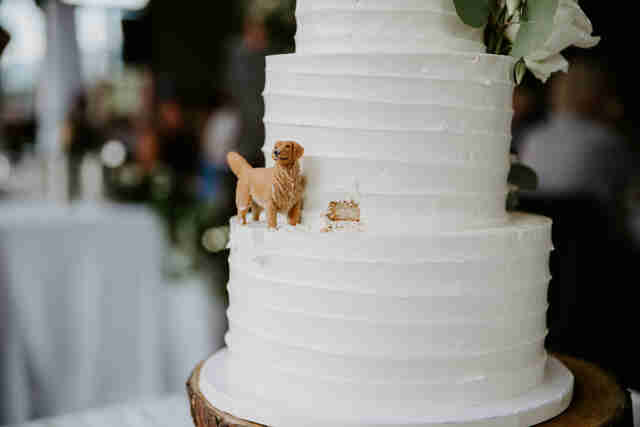 "I absolutely loved it as Bear would have absolutely taken a bite out of the cake if he had the chance," Bicklmeier said.
The cake was better than anything the couple could have dreamed of, and everyone who saw it loved it just as much as they did.
"The guests loved it," Bicklmeier said. "In fact, as soon as we cut the cake everyone ran over and took photos of the back of the cake! They thought it was just super cute!"
The adorable cake made everyone fall in love with Bear even more, and he might have gotten even more attention than his parents.
"Bear had the best time at the wedding," Bicklmeier said. "I'm pretty sure he thought it was just a party for him!"
After the wedding, Kake by Darci posted a photo of the incredible cake on her Instagram account — and before long, the entire internet had fallen in love with the cake, too.
For the Bicklmeiers, it was always a given that Bear would be a big part of their wedding, and they're so thrilled that everyone else loves the idea as much as they do.
"It was super surreal seeing our cake everywhere but I'm just so glad everyone loved it," Bicklmeier said. "It was such a special day to us and Bear is literally our child so we are just happy we could include him."