Couple Finds Tiniest Animal Abandoned In A Plastic Bag On The Street
"There's no way I can just leave him here."
Jacqueline Panzo and her boyfriend were walking to the local pharmacy to pick up some cold medicine when they spotted a black plastic bag sitting near the sidewalk. Panzo quickly realized there was some sort of cage peeking out of the bag, so she went over to investigate — and found a hamster curled up inside, cold, sick and terrified.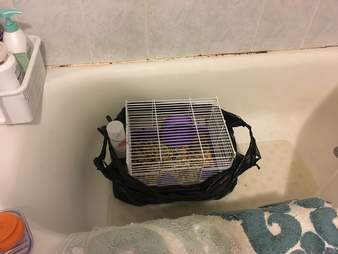 Jacqueline Panzo
The door to the cage had been left open, meaning whoever had left the hamster there had intentionally abandoned him, even though there was no way he would be able to survive on his own.
"The first thing that came to mind was, 'There's no way I can just leave him here,'" Panzo told The Dodo. "I felt so worried about him, and although I wasn't sure he was going to survive, I knew I had to do whatever I could to make him comfortable and warm again."
Jacqueline Panzo
The hamster, later named Hamtaro, was a little apprehensive of Panzo at first, but after a short while he let her pick him up, and she and her boyfriend rushed him and his cage back to her place. On their way home, Panzo called her sister and had her pick up some supplies for Hamtaro, so they could make him happy and comfortable as quickly as possible.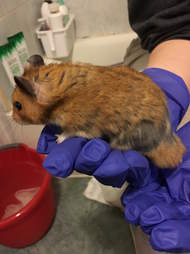 Jacqueline Panzo
Once Hamtaro was safe and sound in his new home, Panzo and her boyfriend brought him into the bathroom and checked him over to make sure he was doing OK after his ordeal. He had a large patch of fur missing on his lower back, but other than that, he seemed to be in pretty good shape. As she was looking him over, Panzo was struck by just how friendly and comfortable Hamtaro already was with her. He didn't try to bite her or run away, and instead just seemed so relieved that he had finally found people who cared about him.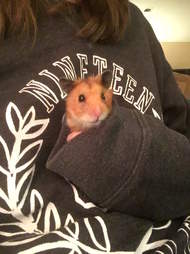 Jacqueline Panzo
While they were hanging out in the bathroom, Panzo let Hamtaro run around the bathtub, and he seemed so excited to have space to run around and play. From that moment on, they knew that Hamtaro was there to stay, and had officially found his forever home.
Jacqueline Panzo
Hamtaro has now been with his new family for four months, and is loving every moment of it. He has a dog sister named Hazel whom he absolutely adores, and he loves running around the house in his hamster ball while Hazel follows closely behind. He's incredibly playful and loves his new family so much, and they couldn't be happier with how things have worked out. 
Jacqueline Panzo
"He is so sweet, so curious and so relaxed," Panzo said. "Every time he hears and sees me or the other people he trusts, he perks up and comes to the entrance of his cage because he wants to come out and play."