One Of The Last Things They Did Together Was Save A Dog
When this woman found out she was terminally sick, she told her husband she wanted to adopt Petey.
On New Year's Day, three years ago, Tom and Connee Prettyman decided to rescue another dog.
A photo of them shortly after meeting Petey at Pasado's Safe Haven in Monroe, Washington, shows the whole family smiling.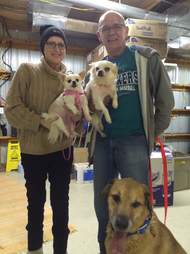 Tom Prettyman
Connee had seen a photo of Petey online. She had been spending a lot of time on the computer, those days; it was the only way she could keep up with her friends. Connee was battling aggressive breast cancer, and Tom was taking care of her.
The photo of Petey that caught Connee's eye online

| Tom Prettyman
"On January 1, 2015, Connee saw the picture of Petey on the computer," Tom told The Dodo. "She saw his face and said, 'I want him!'"
At that point, Tom and Connee had found out that the cancer, which had previously gone into remission, had spread to her brain. Where before they had thought she would be a cancer survivor, they now realized that they had to make each day count.
Even though it was difficult for Connee to travel, she was determined to go meet this little Chihuahua who had been found on the streets and brought to Pasado's Safe Haven to try to find a real home. The couple drove two hours to meet Petey and adopt him.
"Connee wanted a mate for Vida, her little PomChi," Tom explained. The couple, at that time, also had Shiloh, a big dog who was already over 13 years old. Connee was worried that once Shiloh passed away, and once she herself was gone, Vida would be by herself. "She wanted to get Vida a friend. And Petey was that guy."
The day Petey arrived at the Prettymans' home, he immediately made himself comfortable on their couch.

| Tom Prettyman
The couple had not been together very long — but they'd known each other almost all their lives. They had been born just three days apart in January 1953, and Tom likes to say that their souls came to earth at almost the exact same time.
"In 2011, I had gotten divorced and I ended up reconnecting with Connee through a Facebook group," Tom said. "On July 7, 2012, I knelt down in the surf and asked her to marry me. And in April 2013, she found a lump in her breast. The cancer was already underway."
They moved up their wedding date, and Connee started treatment. "I was able to work from home with her and take care of her," Tom said.
Tom Prettyman
The couple stayed positive for each other. "You have to have hope. You constantly remain on the positive side of life for as long as you possibly can," Tom said. He and Connee wrote inspirational sayings all over their mirror so that they'd remember to stay strong.
Even as Connee's time was running out, the house was full of love. "Petey and Vida never left her side the entire time," Tom said.
It became time for hospice, and the dogs were very protective of Connee. When she died, on October 22, 2015, they refused to leave her side. "They were in her lap when she passed away," Tom said. "And they knew. They stood guard over her for as long as they could."
Tom Prettyman
After Connee was gone, Shiloh passed away of old age. But Petey and Vida snuggled up to Tom. Now they sleep in bed with him every night. And even though Connee isn't there, Tom still feels like she's near.
"It was a special journey, as short as it was for us. It was a fairytale to have fallen in love after all those years," Tom said. "Now, I'm surrounded by her love every day. The memories will last a lifetime. We realized that we were each other's soulmate."
Every year, on January 1, the anniversary of the day Connee declared that she had to adopt Petey, Tom writes Pasado's Safe Haven a little note of thanks. This year was no exception: "Three years ago today ... my wife who was battling metastatic breast cancer that spread to her brain, found our beautiful Petey online at Pasado's Safe Haven, to be a companion for our PomChi Vida, and we fell in love with him. Though my wife passed from cancer that same year ... Petey and Vida were there by her side until the end ... Thank you, Pasado's, for rescuing him from the Kitsap County Humane Society so he could find his forever home with us!"
Tom Prettyman
Tom has a new tattoo on his right hand that says, "My story isn't over." He is planning a trip to Iceland in March with a new friend — his first time traveling out of the country, at age 65. Ever since he served in the military, on a U.S. submarine, when he was 17, Tom has learned that "you never know what you can do, until you actually go do it."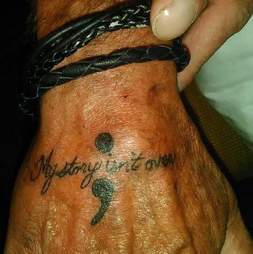 Tom Prettyman
Connee helped to give Tom the strength he needed, and he hopes her story will encourage others to adopt animals in need. "She was an amazing woman. She made me laugh everyday, even when she had cancer," Tom said. "I never would have traded that for anything."
Tom Prettyman
Tom Prettyman
To help Pasado's Safe Haven save more animals, like the Prettymans' beloved Petey, you can
make a donation
.