Corgi Mom Adopts Orphaned Pit Bull Puppies As Her Own
"They sleep together in one giant pile" 😍❤️️
Sara was rescued from a puppy farm and taken in by No Dog Left Behind Minnesota after she'd already given birth to countless litters. She was pregnant when she was rescued, and had been abandoned by the puppy farm for being a "bad mom" — but as soon as her puppies were born, her rescuers confirmed that wasn't true at all.
"She has been an amazing mom from the start," Stephanie Easley, a volunteer with No Dog Left Behind Minnesota, told The Dodo. "She is always loving and checking on her puppies. She allows and even places her puppies into her foster family's hands and checks them over when they are placed back in the pool."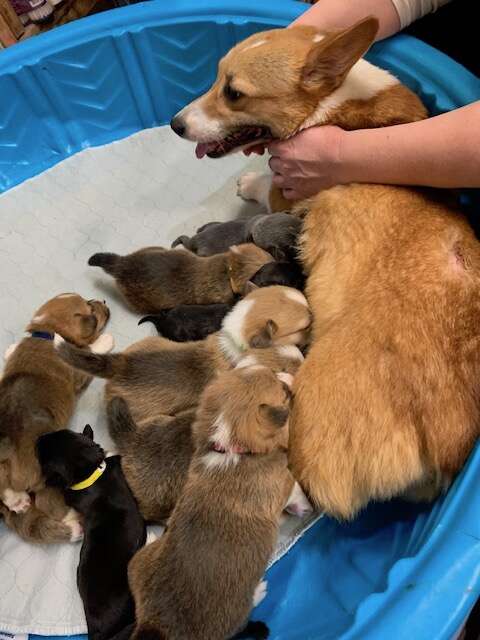 When a litter of puppies was recently discovered alone under an abandoned building, No Dog Left Behind Minnesota took them in and quickly set about trying to give them the best care possible. They began bottle-feeding them, but the puppies were so young and fragile. Their rescuers were worried they needed more specialized care — and that's when they thought of Sara.
"The director of the rescue had the experience and knowledge to try blending the two litters together," Easley said. "Due to Sara's motherly instinct the director felt she would be an amazing option."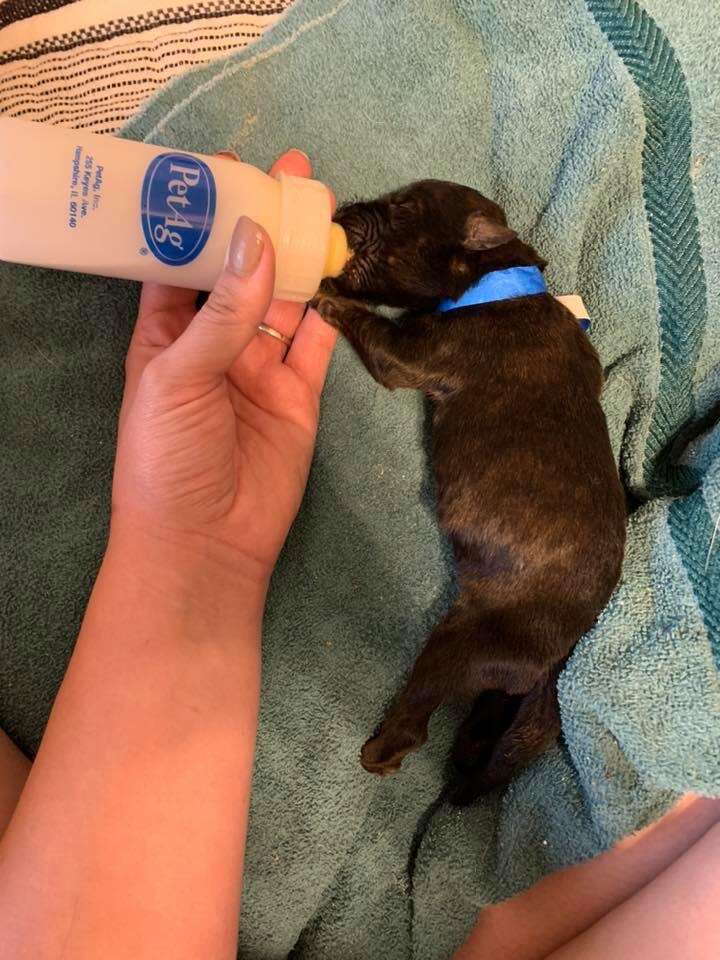 In order to give the four tiny puppies the best chance possible, the rescuers decided to hand them to Sara in hopes that she would care for them in addition to her own puppies. They weren't sure if it would work — but as soon as Sara met the new puppies, she knew just what to do.
"She has taken over all mom responsibilities," Easley said.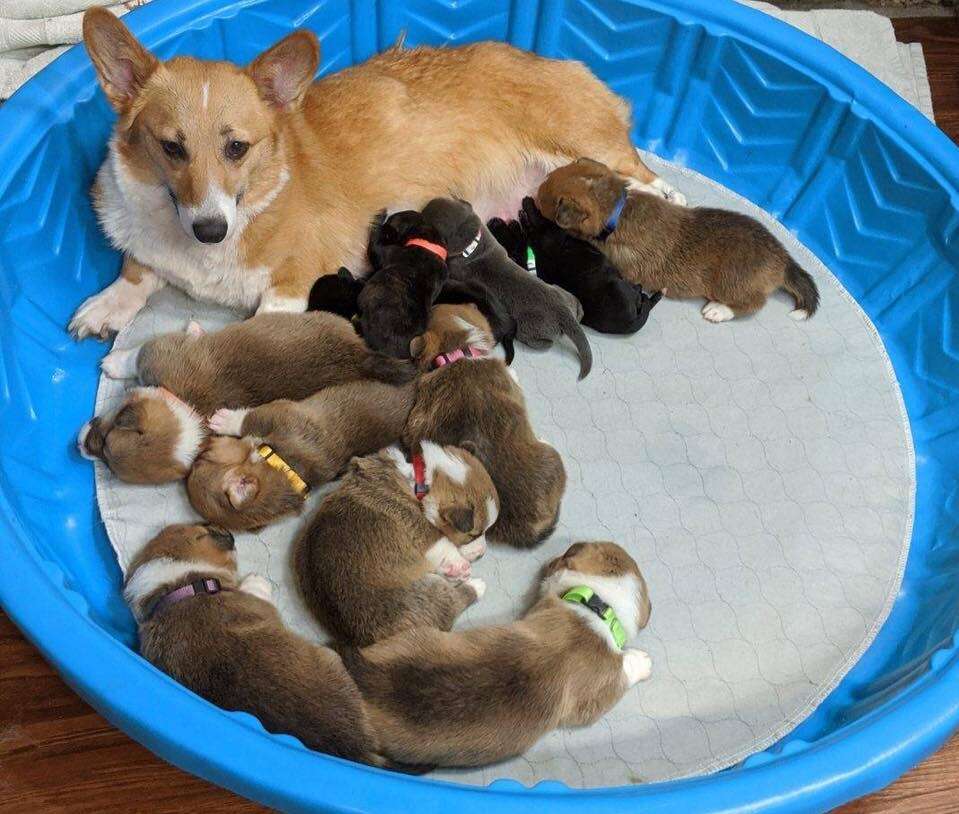 Sara has been nursing, cleaning and caring for the puppies just as she does her own. She adopted the tiny puppies into her family and now they're all her babies, regardless of whether she gave birth to them or not. Even though her original puppies are older and bigger than the new additions, they've fully accepted their new siblings, and it's as if they've always been a family all along.
"Both litters of pups act as one … which is really strange due to the age and developmental difference," Easley said. "The corgi puppies are even behaving more gentle to their orphaned sibling pups. They sleep together in one giant pile."
Unfortunately, one of the four puppies was just too weak and didn't make it, but the other three are thriving and getting bigger every day, thanks to Sara. While no one is sure what breed they are, there's speculation that they could be pit bull puppies, but only time will tell as they continue to grow.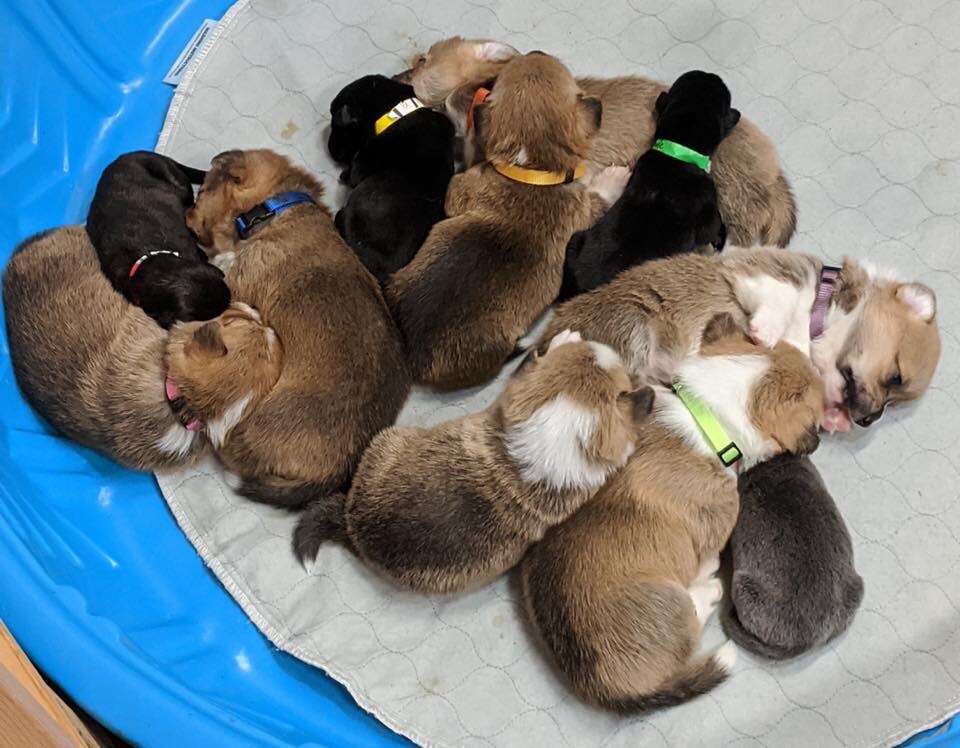 "They are consistently gaining weight and moving around," Easley said. "They are becoming puppy-like every day!"
Thanks to Sara's love and motherly instincts, the puppies are no longer orphans, and instead have a big, loving family who will help them grow and learn until it's time to go off and find the best forever homes.
"No Dog Left Behind Minnesota wants to share how very thankful we are for the fosters of both litters," Easley said. "They completely uprooted their lives to care for all the dogs involved and have been working together to continue caring!"