Brave Cop Wades Into Swamp To Save A Stranded Dog
"This is one of those calls that makes you smile at the end of the day."
If this sopping-wet dog named Cody has the look of a pup who's just made a friend for life, there's a good reason why.
His new friend is the person who just made sure he got the chance to live.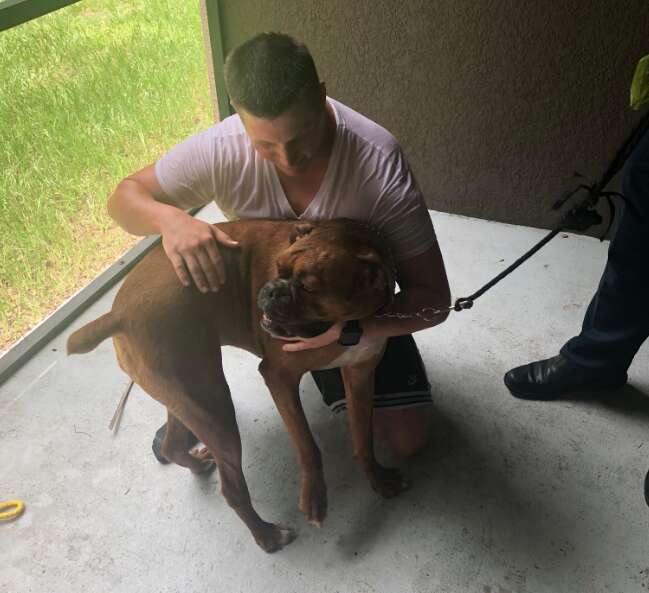 On Thursday, Florida's Hillsborough County Sheriff's Office received an emergency call from Cody's owner. Somehow, the dog had gotten himself trapped in a swamp, and judging from his desperate cries, was helpless in returning to drier land without assistance.
Fortunately for Cody, Deputy Matt Patellis soon arrived to help.
After stripping off his uniform, Patellis proceeded to wade into the foreboding waters — a potential hangout for alligators — with one goal in mind: Save Cody. And after cajoling the frightened canine, that's exactly what he did.
Here's a video of the rescue:
"They both need showers but everyone is back home safe thanks to the deputy going above and beyond the call of duty by going into the small lake," the sheriff's office wrote on Twitter.
Cody couldn't have been more grateful.
Though most people would probably prefer workdays that don't involve entering swamp water, for Patellis, Cody's joy over the happy outcome made it all worth it.
"He was happy and afterwards he thanked me and gave me kisses and [was] loving on me," Patellis told News Channel 8. "So this is one of those calls that makes you smile at the end of the day."