Woman Turns Cones Of Shame Into Cones Of FAME
She's helping shelter dogs get adopted.
When Erin Einbender started volunteering at One Tail at a Time dog rescue while finishing up her art school degree, she noticed that the dogs wearing "cones of shame" always looked a little sadder, and therefore a little less adoptable, than the other dogs. So she got a little creative and did something about it.
While brainstorming ideas for her final photography project, Einbender had a brilliant idea for a way to complete her project and help dogs find homes at the same time. The name of the project is Cones of Fame.

"All of the dogs are spayed and neutered at One Tail at a Time before they're adopted," Einbender told The Dodo. "The dogs looked so sad in their cones, and cones have been associated with shame. I wanted to empower the dogs while educating people on the importance of spaying and neutering pets. I realized I could use photography and my knowledge of social media to help the dogs find forever homes."
The idea of the project is to use bright colors and fun patterns to decorate the cones of dogs who have just been spayed or neutered, so that when people see them, they smile and laugh instead of feeling sad about the cone. Einbender also hopes that the fancy cones will help lift the dogs' spirits, too.

"I went to Michaels craft store and spent $200 on brightly colored pom-poms, fake flowers, butterflies and gemstones, anything that would stand out and make a dog feel special," Einbender said. "I then had a few craft sessions with the One Tail at a Time rescue volunteers, where we decorated the cones together."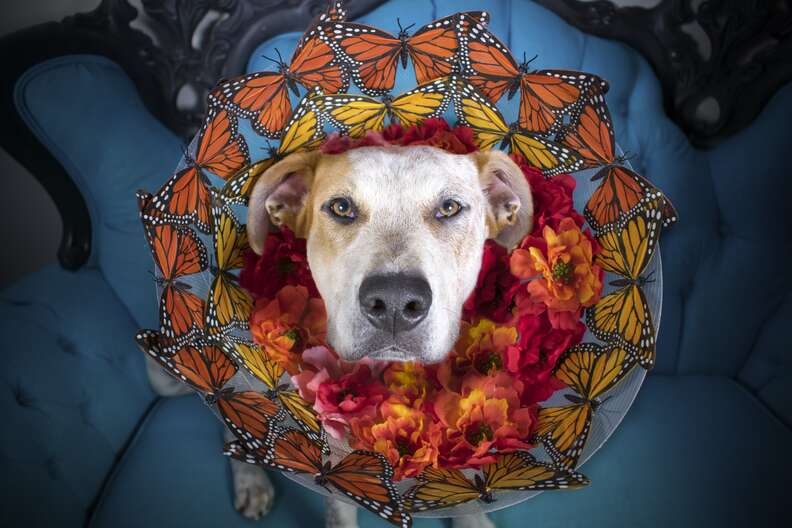 After a cone is all decked out and ready, Einbender puts it on a dog in place of his old, boring one — and then treats him to an adorable photo shoot, which most of the dogs seem to love.
"It does seem like the dogs realize they are special once they have a decorated cone on," Einbender said. "Some dogs smile and pose; it's super cute."

Each cone that Einbender creates is completely different, helping all the dogs stand out and showcase their unique personalities. She's created cones with brightly colored feathers …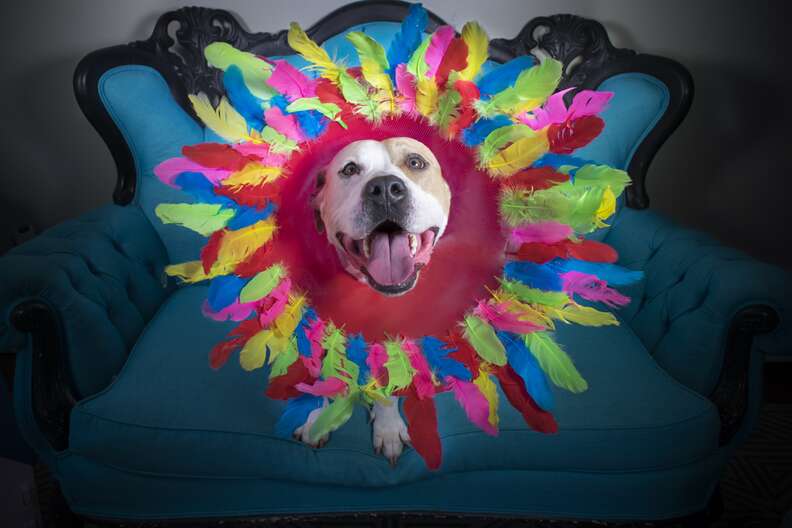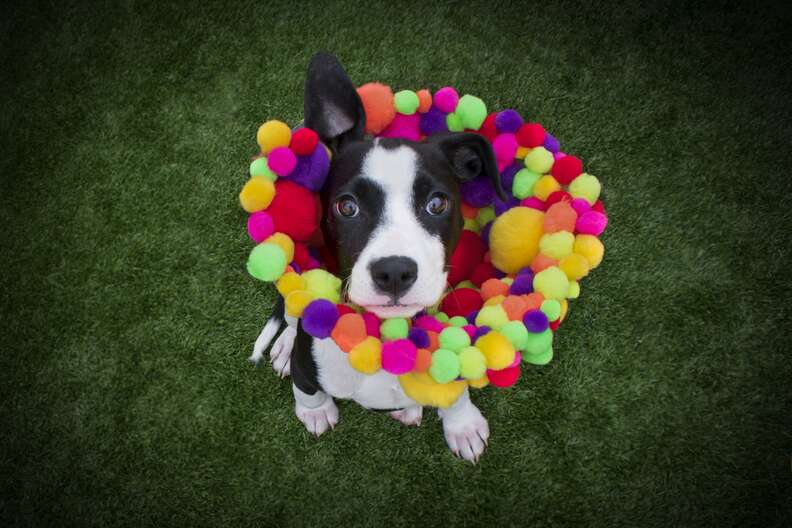 … and even an adorable trash can cone, which Buddie the dog seems to love.
Not only is the project fun for the dogs, but it's also helped them immensely — so far, every single dog who's been photographed wearing a cone of fame has gotten adopted.
"The project has brought a lot of press to One Tail at a Time dog rescue and rescuing dogs in general," Einbender said. "I'm going to connect with more rescues in the Chicago area and focus more on long-term dogs that are having trouble being noticed/getting adopted."