Coast Guard Spots Exhausted Dog Swept Out To Sea And Acts Fast
The cockapoo had been in the choppy water for 40 minutes.
On Sunday morning, members of the UK Coastguard received an unexpected call on their emergency phone line.
A dog entered the sea near Cummingston, Moray, in Scotland and was swept away by the powerful current. The worried owner, who had been out for a scenic stroll along the coast, could no longer see the dog, a cockapoo, in the water and feared all was lost.
With time running out for the pup, coast guard officials knew they had to act fast. Nearby rescue teams were paged, but finding a small dog along a vast coastline would be no easy feat — especially with the day's unpleasant conditions of high winds and choppy waters.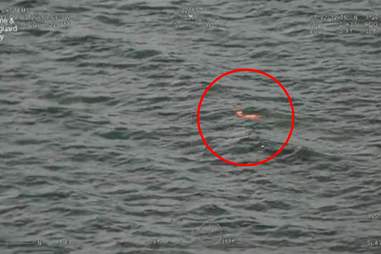 HM Coastguard Moray
Luckily, a rescue helicopter, already out on a training mission, spotted a small brown dot in the rough waters approximately 50 meters from shore. The cockapoo was swimming as hard as he could, trying desperately to keep his head above water.
The helicopter guided the coast guard rescue officers' boat to the dog, who had been in the freezing sea for 40 minutes at the time. When pulled aboard, officers performed first aid on the grateful pup — and they quickly realized they had gotten there just in time.
HM Coastguard Moray
"The dog was absolutely exhausted when pulled on board the vessel, very tired, wet and cold. The lifeboat crew thought [he] wouldn't have survived much longer in the sea," Sam Sinclair, a press officer for the UK Coastguard, told The Dodo.
Despite the adventurous dog's ordeal, the cockapoo was miraculously unharmed. "The owners were completely overjoyed to have the dog returned to them safe and well," Sinclair said.
The cockapoo was taken to an emergency vet as a precautionary measure, and is doing well all thanks to the coast guard's record-breaking rescue. But things might not have ended as happily if the owner had taken matters into her own hands.
"If a dog does fall down a cliff or starts getting swept out to sea, please do not attempt to rescue it yourself," Sinclair advised. "Nine times out of 10 a dog will rescue itself and return to shore alive, but tragically some owners do not."
Dogs should be kept on-leash near the coast or cliffs, and if a pup does get into trouble near water, the coast guard is there to help all creatures, large and small. "Our coast guards are trained in all types of rescue on the coast, including dog rescues," Sinclair said, "so this caller did the right thing to call us as soon as they realized the dog was in difficulty."