Coca-Cola Just Did Something Great For Sled Dogs
People are finally learning what their lives are really like 👏
One of the Iditarod's major sponsors has backed out — just one month before the controversial dogsled race is scheduled to take place.
Seemingly nudged by major public backlash against the Alaskan race, Coca-Cola will no longer be sponsoring the Iditarod. The race has been long criticized for its chilling record of animal deaths and cruelty allegations. The unofficial death toll since the race's start in 1973 tallies at 152.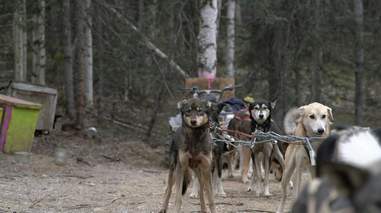 Sled Dogs
The beverage company joins a long list of brands that have cut ties with the dangerous dog race. Costco, Jack Daniel's, Maxwell House and Wells Fargo have all stopped sponsoring the race in recent years, as more people take note of cruelty allegations and threaten to protest corporate sponsors of the race.
Dogs used in the Iditarod live listlessly chained to outdoor doghouses year-round, when they aren't being forced to run in subzero temperatures. Many dogs suffer from bleeding paws, stress fractures and ulcers from the incredibly harsh conditions. Other dogs who "don't make the cut" are often shot by kennel employees.
Sled Dogs
According to longtime musher Zoya DeNure, this type of selective killing is standard throughout the industry when dogs are too sick, too injured or too old to run.
"The dogs have no legal protection here," DeNure told The Dodo last March. "People can go out into the woods and shoot their dog for whatever reason. Sometimes that might be injury, sometimes it's because they're too old to race. They'll make remarks like, 'This guy isn't running so well, we're gonna get rid of him,' as if he's a piece of furniture or a machine. And these people are lauded in the public eye."
Sled Dogs
Former dog caretaker Ashley Keith witnessed this type of neglect firsthand while previously working in Alaska's sled dog industry — and soon became too horrified to continue supporting it. Keith, who later founded the welfare group Humane Mushing, first spoke with The Dodo last year about her experiences working at a mushing kennel.
After Coca-Cola's recent announcement, Keith said she can feel support gradually starting to shift in favor of the dogs — which encourages her about the future.
Sled Dogs
"I feel elated hearing that the company no longer wants to be associated with such an abusive race," Keith told The Dodo. "I think this is a smart move for such a large company, as there is no excuse to abuse and exploit animals in this day and age, and they are realizing that they should distance themselves from events that promote such practices. They obviously are moving toward a more humane and ethical corporate culture — and I applaud them for that!"