Clever Cat Visits Store Every Day To Ask People To Buy Him Treats
He even picks them out himself ❤️
The other week, while dropping by a store near her home in Mexico, Tania Sants noticed a certain someone lingering out front.
It was a white cat, sitting all alone. But his presence there was far from random.
As Sants came to learn, the clever cat had chosen the spot with a very specific goal in mind.
After greeting the kitty with a few pets, Sants was surprised to find him leading her inside the store. As she began walking down an aisle, the cat blocked her path. He was herding her, it turns out, to one section of the store in particular.
That was where they kept the cat treats. Of course, she bought him some.
On Sants' next visit to the store, she looked for the cat, but he wasn't out front.
This time, she found him waiting for her inside. Where exactly? You guessed it.
Speaking to the store employees, Sants came to learn that the cat comes to the store every day trying to convince people to buy him treats. Afterward, he always departs, though to where, no one knew.
Did the cat have a home? Sants was determined to find out.
On her following trip to the store, there he was again. This time, Sants decided to film his clever coaxing toward the cat treat display:
This time, after buying the cat the treats he requested, Sants quietly followed him. He eventually settled in a vacant spot off the road; he was a stray cat, after all, and that was the closest thing he had to a home.
That night, Sants decided to offer him better.
"I took him to my house and I adopted him," Sants told The Dodo.
How long the cat had been homeless is anyone's guess, but life on the streets hadn't been easy for him. His fur was a bit matted, and he'd lost his tail somehow.
But now he had a family with Sants and her other cat.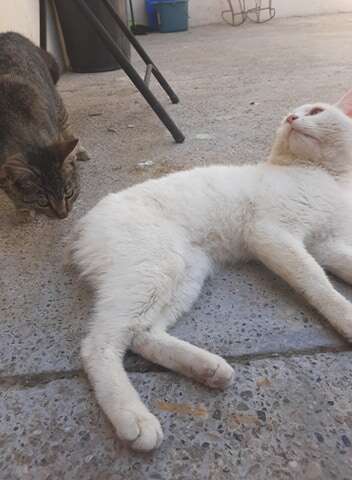 Sants has been back to talk to the store employees since then, just in case a possible owner was trying to find him.
"They told me that no one had come looking for him," Sants said. "They thanked me for taking him home."
Before heading out the door, Sants did make a few purchases — this time, without being asked to.
"I bought him many treats," she said. "He can trust that I always will."