Chubby Shelter Cat Loves To Stand Like A Person To Beg For Treats
Who could say no to that face 😂
Bruno arrived at Wright-Way Rescue in Illinois in April, surrendered because he wasn't meshing very well with the kids in his family. Staffers at the shelter think it had more to do with Bruno's weight. At 25 pounds, it would be hard for him to run away from kids whenever he needed his space. Bruno is a very large, goofy cat who just wants a little love and attention — and who absolutely adores showing off for the people he loves.
The quirkiest thing about Bruno is that he loves standing on his hind legs. He does it whenever he wants food, and with the way he poses and the adorable faces he makes while he's standing on his hind legs, it's not hard to figure out how this cat got a little chubby.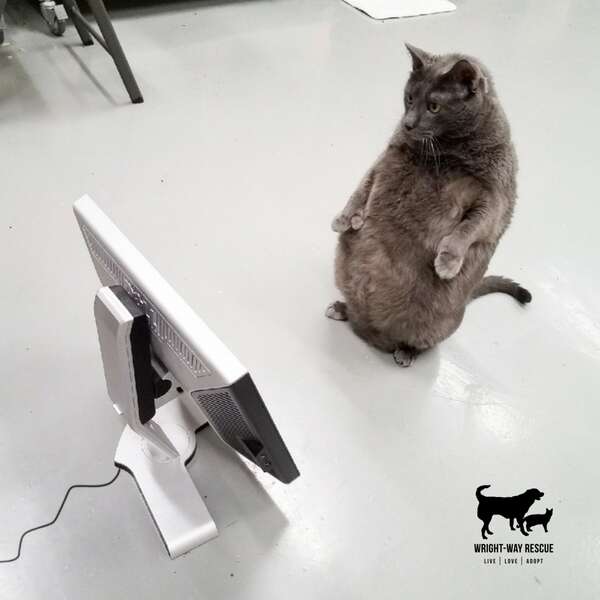 "At 25-plus pounds, he really needs to lose at least 10 pounds if he is going to live to be an old man," Erin Thomas, a staffer at Wright-Way Rescue, told The Dodo. "We are currently taking it one pound at a time. I believe his weight is a result of being 'overloved.'"
Besides posing on his hind legs, Bruno also has a few other strange habits and quirks. His favorite time to be pet is when he's eating. He'll sit and stare at you, and meow until you start petting him. He can still eat without being pet, but for some reason, he prefers the company. He also loves drinking water — but refuses to drink out of water bowls in the kitchen. Instead, he requires multiple water bowls placed throughout the house.
Bruno may be picky about a lot of things, but his main need is to be around the people he loves as much as possible. He loves to be close to his humans, and will lay on the floor wherever they are, just hanging out. He's currently in a foster home where he loves lounging about, but what he really needs is a forever home with a family who will love him, quirks and all.
Bruno would do best in a home with no little kids, with a family who will help keep him active and playful so he can continue on his weight loss journey. Otherwise, all he wants is a family he can be near at all times — and who will appreciate his cute little quirks and think he's adorable when he stands on his hind legs, of course.
"Some lucky family out there is going to get this handsome boy and they will absolutely adore him," Thomas said.