Chubby Cat Refuses To Use More Than One Leg On Treadmill
Life hacks 😂
Over a year ago, Cinder Block was abandoned by her family. Fortunately, a neighbor took her in and tried their best to care for her — but Cinder Block was being overfed, and soon weighed in at 25 pounds, much too heavy for a cat her size.
Worried about her quality of life, the neighbor brought Cinder to Northshore Veterinary Hospital in Washington earlier this month to be put down — but the staff immediately saw how much life she still had in her, and decided to take her in themselves.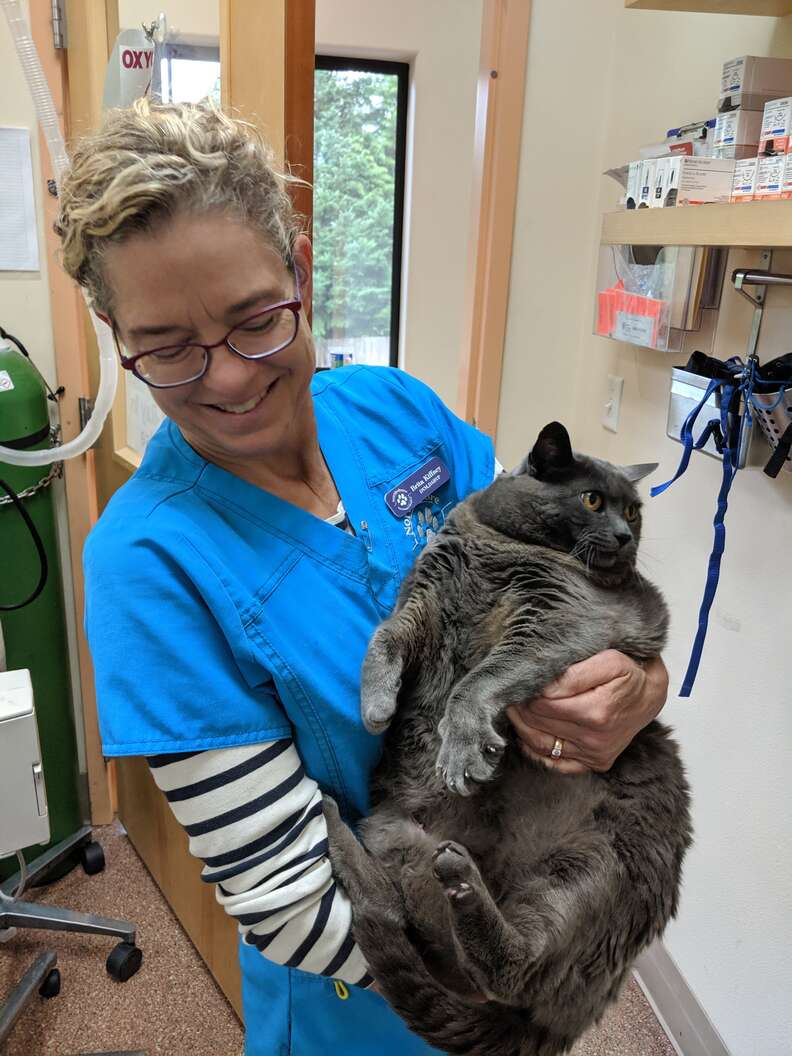 As Cinder settled into her new temporary home at the hospital, the staff knew they'd made the right decision. The chubby cat was sweet and friendly from the very beginning, and happily gave all of that love she was getting right back.
"She is just a delightful, sweet-natured feline — [she] purrs the minute you start talking to her," Brita Kiffney, a veterinarian at Northshore Veterinary Hospital, told The Dodo. "She likes to 'play' with feather toys, although she doesn't move much!"
Cinder suffers from arthritis and is in a lot of pain, largely due to her weight. So from the moment she arrived at the hospital, the staff began working on a plan to help her get healthy again.
She's currently on a prescription diet, and is 22 pounds. But her new caretakers knew she would need to start exercising too. Since she has trouble moving, they thought the underwater treadmill would be the perfect fit.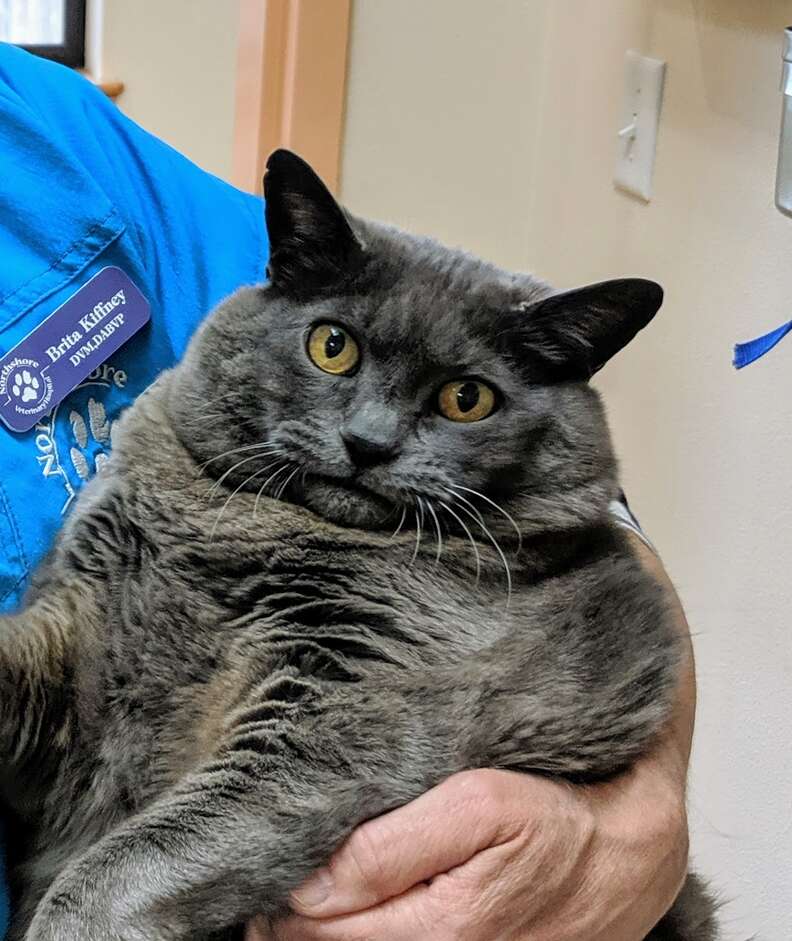 They knew it would take some getting used to — but they definitely weren't prepared for Cinder's adorable, hysterical reaction.
Cinder was a bit confused when she was first placed on the underwater treadmill, and also very annoyed. The chubby cat had no interest in exercising — and so, out of protest, she crammed her huge body into the corner and only put one paw on the treadmill, trying to do as little work as she possibly could.
Cinder still had objections to even that tiny amount of exercise, and meowed the entire time, but her friends at the hospital just kept encouraging her, telling her what a good job she was doing. Even baby steps are still steps in the right direction.
"She doesn't like the treadmill, but is a gentle cat, and is slowly acclimating to it," Kiffney said.
As time goes on, Cinder is getting better and better at using the underwater treadmill. The video of her doing the bare minimum has since gone viral, and now people everywhere are in her corner, cheering her on.
Cinder will continue living at the hospital while she's working to get healthy again, and once she's lost enough weight she'll be living with one of the hospital's receptionists. Everyone at Northshore Veterinary Hospital has become like family to Cinder over the past several weeks, and they're all so thrilled that they were able to save her life and help inspire people across the world to never give up.