Shelter Takes In The Chubbiest Cat They've Ever Seen
"He's a very square cat."
When shelter staffers first saw Bazooka Joe, they had to do a double take. Pictures of the gentle giant just didn't do him justice.
Tipping the scales at over 36 pounds, Bazooka Joe couldn't even fit in a normal cat carrier. In fact, when he tried to squeeze into one, he got stuck.
He can barely fit in someone's arms.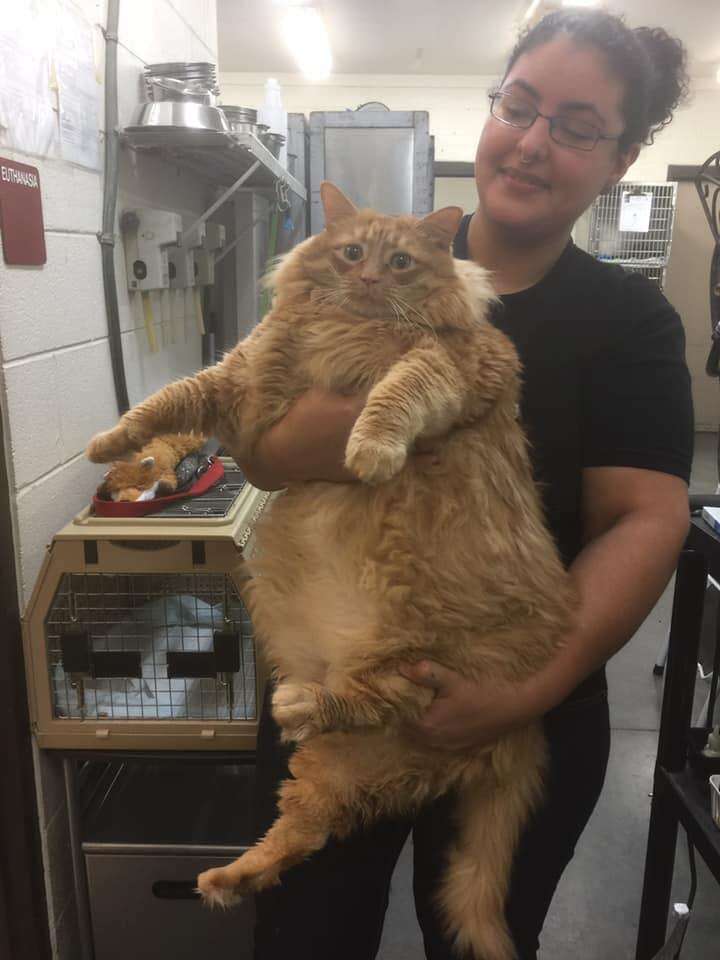 "It's jaw-dropping how large he is — and how long he is, too," Darci VanderSlik, director of communications for the SPCA of Wake County, told The Dodo. "He's 34 inches long, so he's a very square cat."
Bazooka Joe entered the North Carolina shelter system when his former owner passed away. The large cat arrived at the shelter matted and dirty because his size prevents him from caring for his coat adequately — and there a lot of fur to care for.
"He's struggling to groom himself properly, he's struggling to play with toys, to do what normal cats do," VanderSlik said. "But he's still very agile for the state that he's in — he'll jump up on the bed and climb up the stairs."
At only 5 years old, Bazooka Joe is still a young cat with a long life ahead of him, noted VanderSlik: "He's got this kitten personality in this oversized body."
And while he looks imposing, his personality couldn't be sweeter. "This cat is the coolest cat ever. He's so mellow and chill," VanderSlik added. "He's just happy all the time."
Robin Anderson was scrolling through the Maine Coon Rescue Community on Facebook when the tabby's sweet face popped up on her screen. After losing her Maine coon in August, she had finally found a cat large enough to fill the hole in her heart.
Anderson immediately called the shelter, hoping that the cat hadn't already been adopted.
When shelter staffers heard her personal story, they knew they had found the perfect home for Bazooka.
"She herself had lost over 120 pounds and now runs marathons," VanderSlik said. "So she was super excited to step in and help him and document his weight loss journey. She even wants to harness train him so he can get some cardio."
You can watch their first heartwarming meeting below:
Bazooka Joe went home Monday, less than a week after arriving at the shelter, and has since been renamed King Augustus.
For now, the chonky kitty is taking a few days to get used to his new surroundings, but soon he'll be meeting his "little" brother, a 10-pound dog named Rufus.
With a new name and a family, it's clear that King Augustus will have many happy — and slimming — years ahead.