Puppy Born With Tiniest Paw Finds The Perfect Dad To Care For Him
"Loki came into our lives and gave us joy. He gave my son a pup to care for and a buddy that shows him that sometimes the limitations we have, we put on ourselves."
When a small Chihuahua showed up at a local animal shelter with a deformed paw earlier this year, workers thought he simply had a broken leg. They'd later discover it was something much more permanent — but the 3-month-old pup would soon find the perfect person to help him heal.
Shannon Paris, foster and adoption coordinator for Marley's Mutts Dog Rescue, and Zach Skow, the rescue's founder, were at Kern County Animal Services (KCAS) in California when they were alerted to the little puppy, nicknamed Little Foot.
"After seeing him, there was clearly something wrong with his leg," Paris told The Dodo. "It was turned in the wrong direction! We pulled him [from the shelter] that day and got him into a foster home with Casey Knaak. She took him to the vet to get an X-ray done and find out why this poor puppy's leg was facing the other direction."
It turned out, the pup's leg wasn't broken at all — he suffered from a genetic defect. "It is a birth defect where the bones in his leg just formed a curve, turning his leg inward instead of straight," Paris said.
"Since the leg isn't in pain and Little Foot gets around just fine with the way it is, multiple surgeries to correct it causing him pain with a long recovery just [weren't options] that the vet recommended," Paris continued. "He is a happy, healthy puppy up to normal puppy shenanigans."
"The first week we had [Little Foot], he was so tiny — just 4 pounds," Casey Knaak said. "We had put him on the couch on a blankie to cuddle, but he decided he wanted to chase Fergus, our tabby cat. He whimpered and paced the couch, then knocked the pillow off and onto the carpet below with his small body. He stood and stared at the pillow, then suddenly, with back legs outward and front legs forward, leapt onto the pillow and rolled onto the carpet. Triumphant, he looked around, then took off chasing Fergus."
Knaak and her family continued to foster Loki, and it wasn't long before they fell in love with him so much that they decided to adopt him for good. "Our family has adopted Little Foot, whom we have renamed Loki," she said. "He is a mischievous pup who finds no limitations with a leg malformation."
This has been especially inspiring for Knaak's 25-year-old son Alex, who suffered a spontaneous spinal bleed last year that left him quadriplegic (though he's retained the use of his arms). "Loki came into our lives and gave us joy," she said. "He gave my son a pup to care for and a buddy that shows him that sometimes the limitations we have, we put on ourselves."
"While shrouded in a veil of darkness, Loki was a beacon of light that got me going again," Alex Knaak told The Dodo. "He has shown me that, with his disability, he will not let it stop him from doing what he loves, whether it be playing a game of fetch with his favorite toy or chasing the cats."
"Having something devastating happen to you like spontaneous paralysis from a spinal bleed is nothing short of terrifying and can have an adverse effect on anyone," Casey Knaak said.
"Alex, from day one, has tried to keep everyone's spirits up until this past June when his younger sister, whom he is very close to, left to join the Navy and Alex's spirits were low," she said. "Loki has brought back that sparkle in his eye and has reminded him that there is so much life still to live — just differently."
"He is a sweet cuddler who loves to burrow under Alex's big fuzzy blanket each morning after he has his breakfast," Casey Knaak said.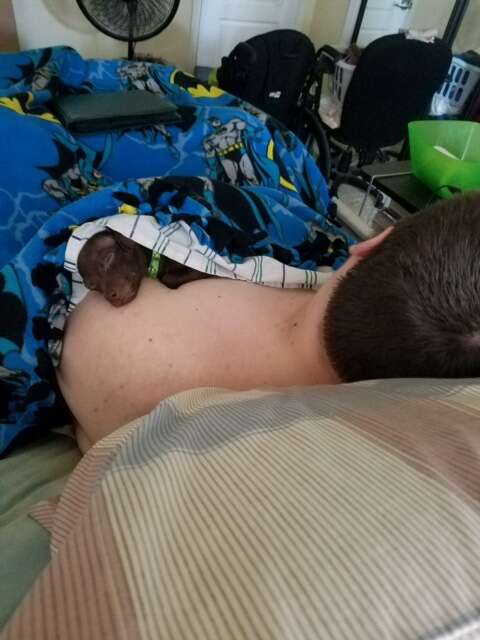 Loki also finds comfort in his own blankie and chew toys ...
And he loves to nip at the heels of, or jump up to kiss, his Australian shepherd mix sister, Noel ...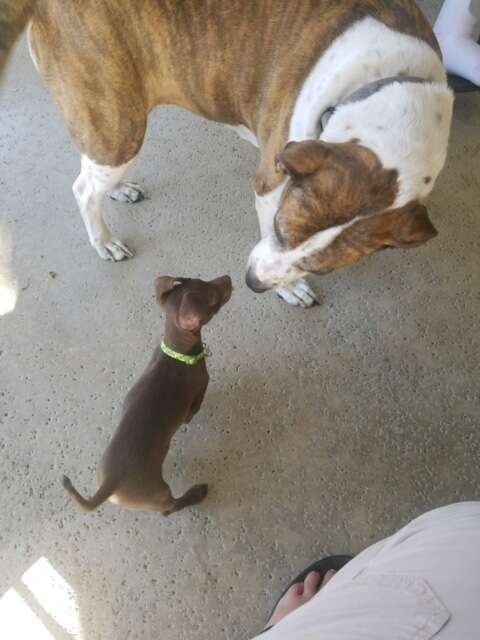 With his boundless energy and impish spirit, Loki puts a smile on the face of nearly everyone he meets.
However, Loki's greatest bond has been with his human brother, Alex. The pair like to spend time outside together, with Alex assembling miniature models on the patio and Loki chasing his ball. Loki also likes to sit in Alex's lap and watch the computer screen while he plays video games or surfs the web.
Alex even plans to get a carrier for the back of his three-wheeled bike so that Loki can ride around with him.
"We are proud to be 'foster fails,' because Loki is a pup who loves everyone and just enjoys all that he does," Casey Knaak said. "There are no words to describe how loved he is in our family. Like my son, it's not his disability that defines him. They both have the endurance and will to enjoy life and tackle all that it throws their way. They are both an inspiration and joy to be around, and remind the rest of us that each day is a gift, so embrace it and live life to the fullest."