Scared Hairless Chihuahua Found Abandoned In Tote Bag In Public Bathroom
She's getting all the help she needs now — and looks so cute in her little sweaters.
There seems to be no reasonable explanation for what people found stuffed in a tote bag left in the bathroom of a Home Depot in Maryland — and yet the bare fact of it is that a senior hairless Chihuahua suddenly finds herself without a family.
Humane Society of Harford County
On Friday, October 6, a woman found the tote bag with the scared little animal inside and brought her to the employees of the store. Another Good Samaritan tried to help by posting photos on Facebook, in hopes of locating the dog's owner. The Chihuahua was wearing a sweater but had no identification and, as was later discovered, no microchip.
The Home Depot employees alerted animal control, which brought the little dog to the Humane Society of Harford County.
"She seems to be pretty shy, but has a really sweet disposition," Erin Long, marketing coordinator for the shelter, told The Dodo.
Humane Society of Harford County
Long explained that it is in accordance with the law that displaced animals be held for some time so that owners can reclaim them. "Dogs not wearing a current Harford County license tag are held for 96 hours," she said. If no one steps forward to claim the dog, she'll be looking for a new home starting on October 12.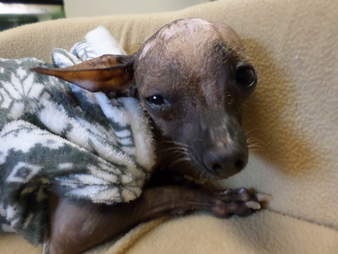 Humane Society of Harford County
Humane Society of Harford County
The veterinary exam determined that the dog, temporarily named Cutey Petutey by shelter staff, is about 10 years old, a bit late in life to have to start all over again. Yet there are many possible reasons she might have been left behind — sometimes families are fearful for their pets because of domestic violence and feel there's no solution; other times people find themselves in financial crisis and they can't care for their pets anymore. 
In any case, we hope Cutey Petutey will find herself in a safe and warm home soon.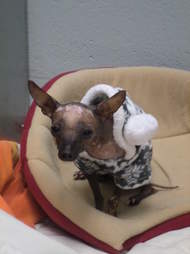 Humane Society of Harford County
If you are interested in adopting this sweet little dog, you can
contact the rescue
that has agreed to take her in starting October 12.