Woman Does The Sweetest Thing For Dog Who Can't Sleep During Thunderstorms
"You could instantly see his comfort and relief the next day to just have a cozy place to rest. He was content and knew he was safe."
Bentley was adopted into his family three years ago after his former family moved overseas and couldn't take him with them. His new family is so happy they decided to take him in and couldn't imagine life without him. The 8-year-old Chihuahua is very tiny, and loves following his family around all day long because they make him feel loved and safe.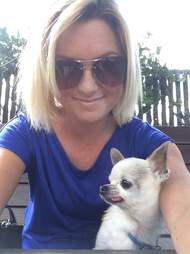 Melanie Barr
"Bentley is the most loyal little guy; he follows me and his human dad around the house trotting behind us to see what we are doing," Melanie Barr, Bentley's mom, told The Dodo. "If you sit, he is instantly on your lap. He loves us unconditionally. I am lucky to work in a great environment that I can take Bentley to work with me; he visits everyone in the office, sitting on laps and generally being adorable."
Bentley is definitely a very happy little guy — but the one thing he is not at all a fan of is thunderstorms. 
Melanie Barr
Whenever a thunderstorm rolls in, Bentley immediately gets very on edge, and has a lot of trouble sleeping. He gets shaky and anxious, and ends up being up all night, even when his parents let him sleep in bed with them to try and ease his fears.
"Chihuahuas react to all emotions by shaking; their little bodies shudder uncontrollably," Barr said. "Bentley has big wide eyes that get concerned. I think secretly he does like storms because he knows he gets extra special treatment!"
Melanie Barr
The morning after a recent storm, Barr could see that Bentley hadn't slept all night, and was overly tired and visibly anxious. She wanted to find a way to help him calm down and get some much-needed sleep — so she came up with the best idea. 
"The next day he was exhausted; we have old wooden window frames which bang, so it gets quite noisy and he jumps a lot at the sound," Barr said. "He was really tired and unhappy. The sun was shining through the window so I popped a pillow there which he instantly was drawn to, his little blanket (a baby's blanket) was close by so I tucked him in with his favorite Chewbacca teddy and he slept there like that for about three hours!"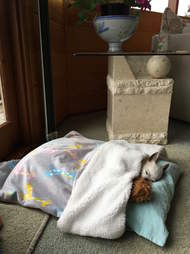 Melanie Barr
The special, homemade bed helped make Bentley feel safe and loved, and he was finally able to relax in the wake of the storm, and get some very much-needed rest. 
Bentley is very tiny, and sometimes the world can seem a bit big and scary, but luckily, his family always knows the best way to help him feel safe again.
Melanie Barr
"You could instantly see his comfort and relief the next day to just have a cozy place to rest," Barr said. "He was content and knew he was safe."