Curious Dog Accidentally Eats Weed Off Ground At Park
She wasn't a fan.
A visit to the park was all fun and games for Texas resident Seth Mersing and his Chihuahua, Rita, last weekend — until the dog accidentally ate a marijuana edible off the ground.
Mersing noticed Rita snatch something from the grass and gobble it up, but didn't think much of it until the dog began acting strangely. She appeared off-balance, almost in a haze.
Concerned, Mersing brought Rita home and she appeared to keep losing consciousness. The family rushed her to the vet that night, who confirmed after a few tests that Rita had THC in her system, the chemical ingredient in marijuana. Rita was put on fluids and vets monitored her in case her symptoms got worse.
Thanks to her quick-thinking family, Rita won't have any long-lasting effects from the incident — but the short video that Mersing took during the dog's high has quickly become an internet sensation.
Since Mersing shared the video on Twitter two days after Rita's pot run-in, it's garnered over 4 million views. Naturally, the people of the internet have had some witty jokes to make around the incident.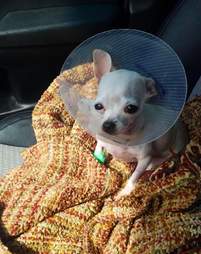 Rita on her way home from the vet

| Twitter/Seth Mersing
Thankfully, the tiny dog will be just fine since she got medical treatment right away — but the situation could have been much worse given her size. Marijuana is toxic to dogs, and severe side effects from exposure can include tremors, seizures and even comas.
With the availability of marijuana increasing, whether medicinally or otherwise, cases of pet poisoning are also on the rise, says Lynn Buzhardt, DVM, of the Veterinary Centers of America.
"The idea of pets getting high on marijuana may seem comical, but it's no laughing matter," Buzhardt warns. "The bottom line when it comes to marijuana use and pets is: Be careful. Keep all forms of marijuana, medical or recreational, out of reach of your pet."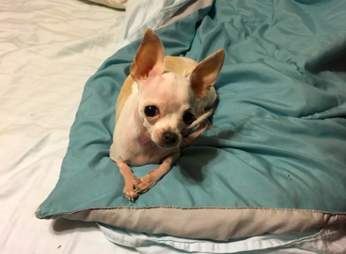 Rita resting at home

| Twitter/Seth Mersing
If your pet accidentally ingests marijuana, or you suspect she may have, contact your veterinarian or the Pet Poison Helpline immediately for the best course of action.
While little Rita's better now, we can only hope she'll think twice before sneaking some free "snacks" off the ground in the future.