A Towel Left In A Park Was Shivering — And This Little Guy Was Inside
"We wish whoever had abandoned Tiny had called us first."
Nudged under a bush in a park in London was a dark towel — and a passerby noticed that it was moving.
As the Good Samaritan got closer, it was clear that there was a cold, shivering and scared little animal inside the towel. A Chihuahua puppy had been left there, and if he hadn't been discovered, he probably would have died.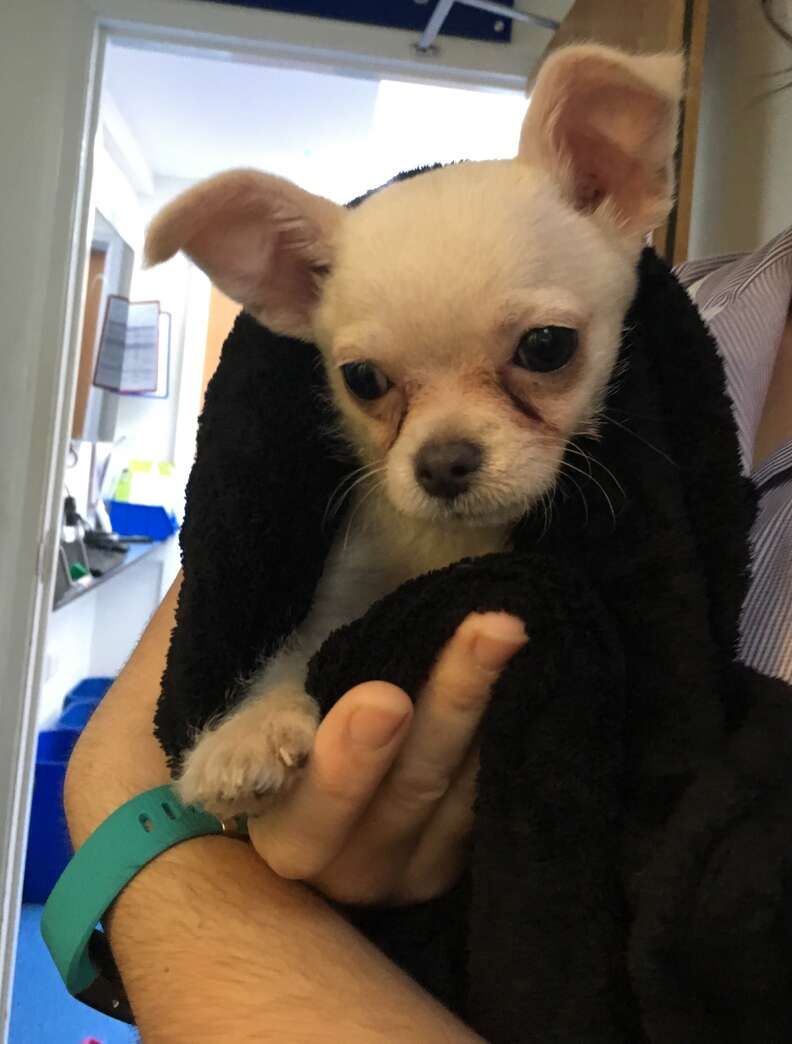 Thanks to the stranger's act of kindness, the puppy was brought to Mayhew, a shelter for animals in need in London that's been in operation since 1886. Rescuers named the tiny puppy, quite appropriately, Tiny.
"Poor Tiny was wrapped up in a towel and looked terrified," AJ Ford, Mayhew's animal welfare officer, said in a release. "He was seen by our experienced vet team straight away."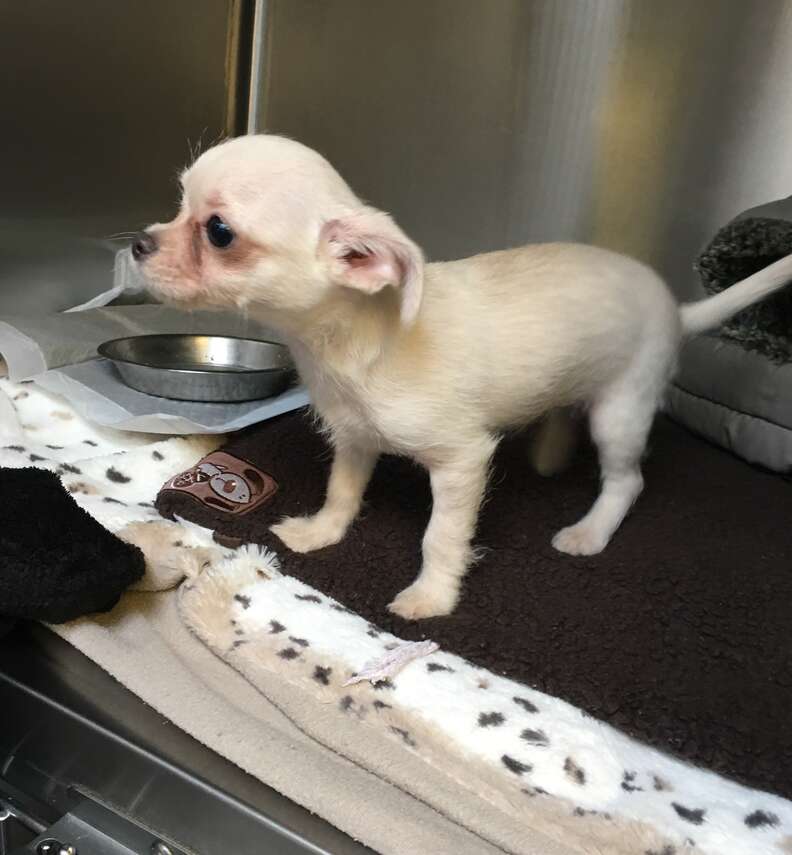 People at the shelter try to get the word out that there are always better options than abandoning an unwanted animal.
"We wish whoever had abandoned Tiny had called us first," Ford said. "At Mayhew we are dedicated to helping people in crisis situations. We do not judge and we are here to assist and advise on the best course of action for the animal, no matter what the problem is."
As Tiny was given worm and flea treatment, he started to noticeably relax a bit, as if he knew he was surrounded by people who were there to help him — indeed, one staff member was especially smitten with him. Melissa, the receptionist for the shelter's vet clinic, was very drawn to Tiny.
"When Tiny first arrived he was dehydrated and very nervous," Emily Richardson, veterinarian for Mayhew, said. "We monitored him throughout the night, but thankfully he had no health problems that were of concern."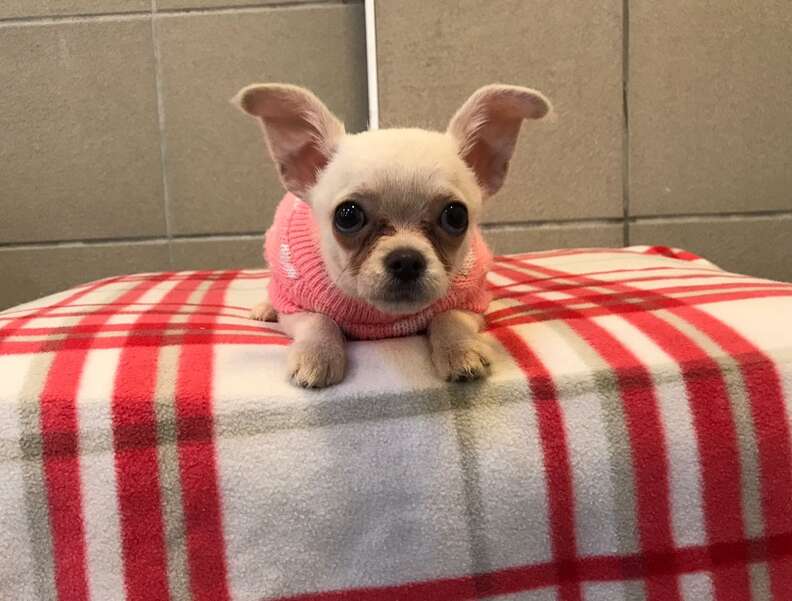 Melissa proved unable to resist Tiny — and so as soon as he was ready for the home he deserved all along, she was ready to take him there.
"Tiny is such a gorgeous boy and I fell in love with him instantly," Melissa said. "What he may lack in size, he certainly makes up for in character and has had us all laughing with his antics from the moment we brought him home."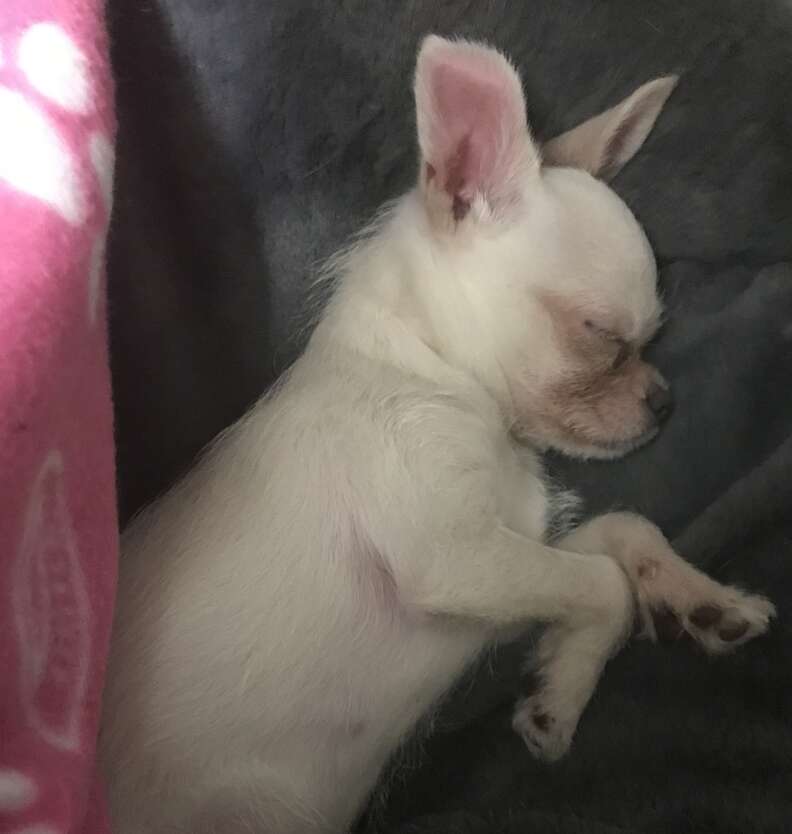 Melissa added that Tiny loves sleeping with his humans. "He adores cuddles and loves nothing more than curling up with you for a snooze," she said. "He's settled in to our home so well and we absolutely adore him to bits."
You can help Mayhew find animals like Tiny the homes they deserve by
making a donation
.