Sweet Senior Pit Bull Has Been Waiting In A Shelter For 2 Long Years
"He's a little sausage. His ears are like little Yoda ears — they're all wrinkly and sticking out and they're adorable."
Everyone who meets Chewy, an 8-year-old pit bull, falls hard for him, says Dianne Baker, a volunteer at Austin Pets Alive! (APA).
"He's a little sausage," Baker told The Dodo. "His ears are like little Yoda ears — they're all wrinkly and sticking out and they're adorable … and he pulls on everyone's hearts."
But for some reason, Chewy can't find a home. He's been at the shelter run by APA since June 2016, and before that, he was at the Austin Animal Center for 10 days.
Like most dogs, Chewy has found shelters to be immensely stressful. He had a particularly hard time at the Austin Animal Center, where he didn't get a lot of attention.
"He came in as a stray, and he was terrified in his kennel," Baker said. "He paced back and forth and licked the walls until saliva coated his kennel. He was so afraid and stressed in that environment."
Despite his struggles to cope in the shelter environment, Chewy knows how to enjoy the sweet things in life.
"On the outside, he can still appear to be super-duper happy," Baker said. "He has a wiggle in his tail, and he loves people. You take him out into the yard, and he will play ball nonstop. We have to stop him before he overheats. He'll play with any toy, but he's known for his tennis ball — he's famous for that."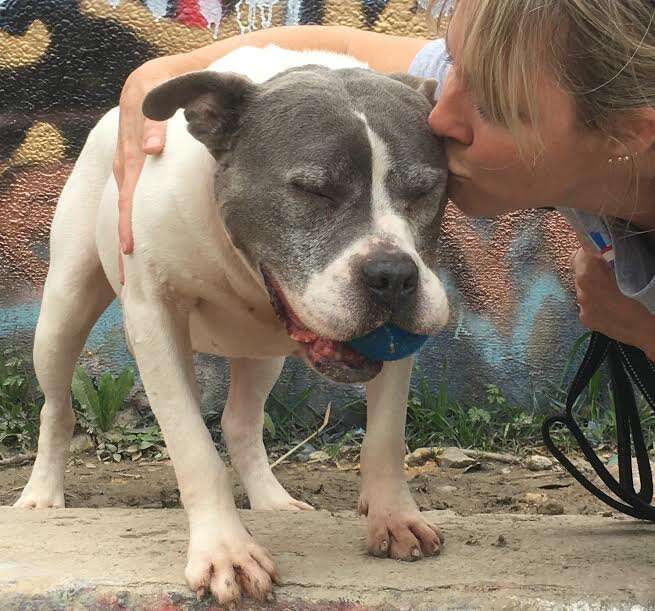 Chewy also loves car rides, meeting new people and cuddling — but he seems to love playing more than anything else.
Chewy's bubbly personality helped him become a staff favorite at APA, and Baker and another volunteer helped set up an Instagram account for him, where he now has 1,000 followers — but unfortunately, this hasn't helped him find a home. Chewy might be having trouble because he needs to be in a household with no other pets and no children, Baker explained.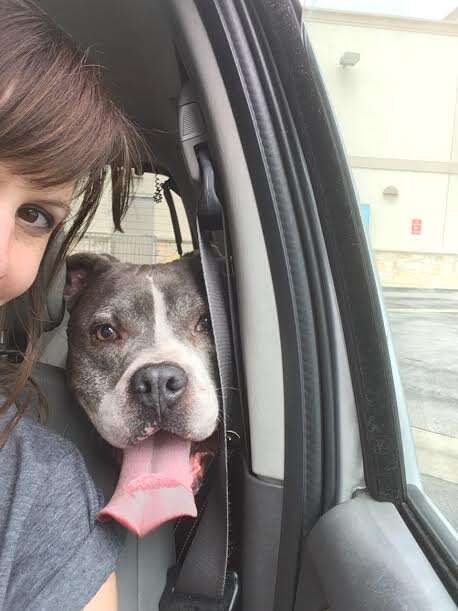 In July, Chewygot placed in a foster home, and this has done him a world of good, according to Baker.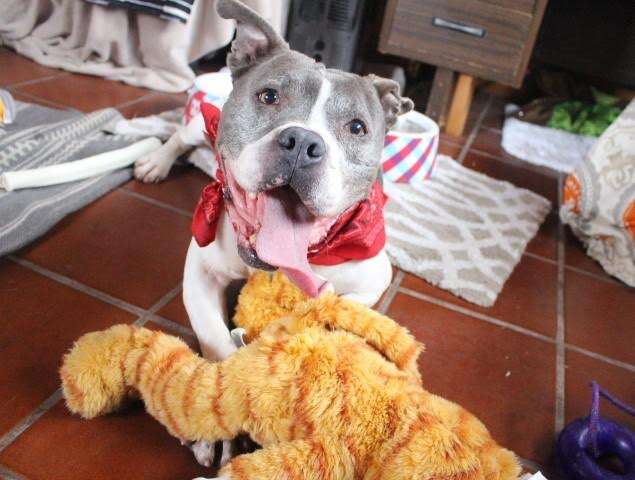 "He's calmer and he's so sweet and he sleeps in the bed with you, and he'll give you soft kisses in the morning," Baker said. "He is a velcro dog, and he wants to be wherever you are."
Samantha Bezdek, Chewy's foster mom, is also eager to see him in the perfect home.
"Aside from being handsome, playful and intelligent, Chewy is affectionate and loyal," Bezdek told The Dodo. "He prefers to be touching his human when possible, whether that's placing his paw on your foot, laying on top of you, or snuggling next to you. While he adores playing as much as possible, he understands that sometimes playing must stop briefly, and he'll simply plop down for a snooze next to you or wait until you cave and throw him the ball again."
"It may be impossible not to fall for him," Bezdek added. "Anyone would be very fortunate to pick him as a new part of the family."
If you're interested in adopting Chewy, you can
email Austin Pets Alive!
or Baker at dkbspike@gmail.com. Potential adopters must live within Texas. You can also follow Chewy's adventures on
Instagram
.