Chef Cooks Gourmet 3-Course Thanksgiving Meals For Shelter Dogs And Cats
"Them alone while we celebrate with friends and family did not sit well with me."
Two years ago, chef Malik Von Saint adopted a small white dog named Cannoli right around the holidays.
Then Von Saint got thinking about all the animals in the shelter who are still waiting to find their people. He decided that the thing to do would be to cook them up a truly magnificent Thanksgiving feast.
"Them alone while we celebrate with friends and family did not sit well with me," Von Saint told The Dodo.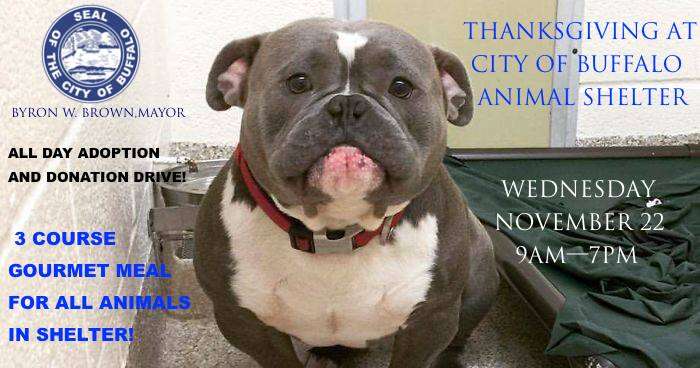 The menu is beautifully plated — while also consisting of small plates of pet-safe ingredients that won't upset their tummies.
Dogs will begin with beef tartare, followed by chicken sous-vide with roasted sweet potato and basmati rice garnished with broccoli florets. Homemade dog ice cream will be dessert.
"Crème glacée de woof," Von Saint is calling it.
For cats, the first course is a 99 percent lactose-free milk soup. A dish called Le Chats Paradis comes next — consisting of fish with no extra oil or butter.
Dessert is a "tiny catnip cupcake," Von Saint said. It's called Le Gateau Cattier.
Kerry Neaf, president of the Friends of the City of Buffalo Animal Shelter, told The Dodo that last year's meal was "a smashing success. And one of the cutest things I ever saw!"
Every animal devoured their meal. "Even the cats, who we weren't sure about, dived right in," she said.
The event was equally enjoyable for the humans, who got to see the animals spoiled in this wonderful way.
"It's just so much fun to see them eating fancy, garnished dinners on white china," Neaf said. "Though admittedly, they don't actually know it's Thanksgiving."
"It was beautiful," Von Saint said.
Von Saint hopes to draw attention to the shelter's dogs and cats, on top of pampering them with this special meal. He'd like to see people donate items from the shelter's wish list — or, better still, to adopt, so that next year those pets will be in a home, with a family.
Like Von Saint's dog Cannoli — who, you will not be surprised to learn, gets treated to special meals all the time.
"He loves roasted sweet potatoes with a little sous vide chicken bits mixed in with a quarter-cup of dog food," Von Saint said. "He likes blanched broccoli as snack."