Chained-Up Pit Bull Transforms When Someone Touches Him
All he wanted was to be loved.
When a pit bull named Frankie was just a puppy, he was a beloved part of the auto body shop where his owner worked. But as Frankie got bigger and his needs became the needs of a big dog with a lot of energy, his life got more and more restricted.
By the time Summer Parker heard about Frankie, the dog's life had become quite sad; even Frankie's owner recognized that this was no life for his dog. 
Fortunately, Parker is a board member and volunteer coordinator with BFF Pet Rescue, an all-breed rescue that focuses mainly on large dogs, especially pit bulls.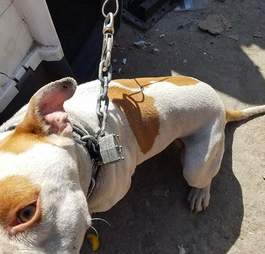 Summer Parker
"I found out about Frankie through a person who lives in and works in the area where he was chained up," Parker told The Dodo. "I was able to start communication with the owner and began discussing a time to meet and the option of surrendering Frankie into rescue."
Within 24 hours of hearing about Frankie's situation, Parker was driving down to the auto body shop to meet him.
Summer Parker
When she arrived, Parker saw gray-colored Frankie sitting in dirt and trash, looking eagerly up at anyone who passed by.
"The owner of Frankie knew that his life chained up at the shop was not the best for him," Parker said. This made Frankie's rescue especially easy. "He had gotten Frankie as a puppy and as he grew up he was able to escape the shop."
That's how Frankie, who is just 1 year old, ended up on the chain — and his owner was extremely amenable to freeing him. It was clear that Frankie was meant to be a cuddly pet dog — he absolutely loved people.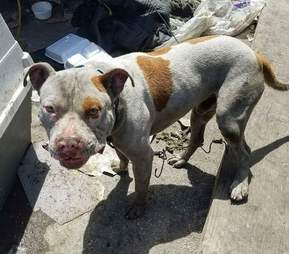 Summer Parker
"There were no negotiations, no money offered in exchange for freeing Frankie," Parker said. "Within 24 hours of meeting him, I had freed Frankie from his chain." 
Frankie's life before being freed consisted of begging for attention from the people at the shop and finding shelter just under the car he was chained to. A few days after his rescue, Frankie already looks like a totally different dog. 
Rescuers gave him his first bath using a damp cloth because Frankie was afraid of getting into a tub of water. "The oil and grease ... was caked on and had saturated the area around his neck," Parker said. "Many people thought Frankie was a gray dog — he is actually white!"
Now that Frankie has gotten some love and care for his physical needs, visiting the vet and getting neutered and vaccinated, he'll be spending some time recovering emotionally, focusing on his behavior and socializing with other dogs. It's believed that Frankie hadn't really ever met another dog while he was chained up in the shop.
"He will be at the rescue for a couple of weeks to just relax, decompress and run the 10 acres on the property," Parker said. "Frankie's next stop will be to go to training." 
Summer Parker
Summer Parker
Once his rescuers have a better sense of Frankie's needs, he'll be looking for a perfect new home.
Summer Parker
Summer Parker
Already, things are looking so much brighter for him.