Dog With 2-Pound Chain On Neck Crawled To Rescuers For Help
"She's starting to realize now that she's safe."
The 1-year-old dog was skinny and sickly-looking, and she had a thick metal chain wrapped around her neck — and Leslie Ysuhuaylas, an independent dog rescuer, knew she had to help her.
Last week, Ysuhuaylas and Rebecca Callister, director for animal services at New Life IFS Rescue, went into an east Texas neighborhood to rescue another dog and her three puppies when they spotted the chained dog nearby.
"This dog starts doing a belly-crawl toward us like she's not sure if she wants to come to us or not," Ysuhuaylas told The Dodo. "She had this massive chain around her neck. She was ... unsure of us and scared, and she was in poor condition. She was underweight."
At first, they both assumed the dog was a stray, or that she'd been dumped on the streets by her former owner. But they eventually figured out that she — along with the mom dog and puppies — actually belonged to a resident, and it was pretty clear the resident wasn't taking care of them. When Ysuhuaylas and Callister spoke with the owner, the owner agreed to surrender the dogs to them.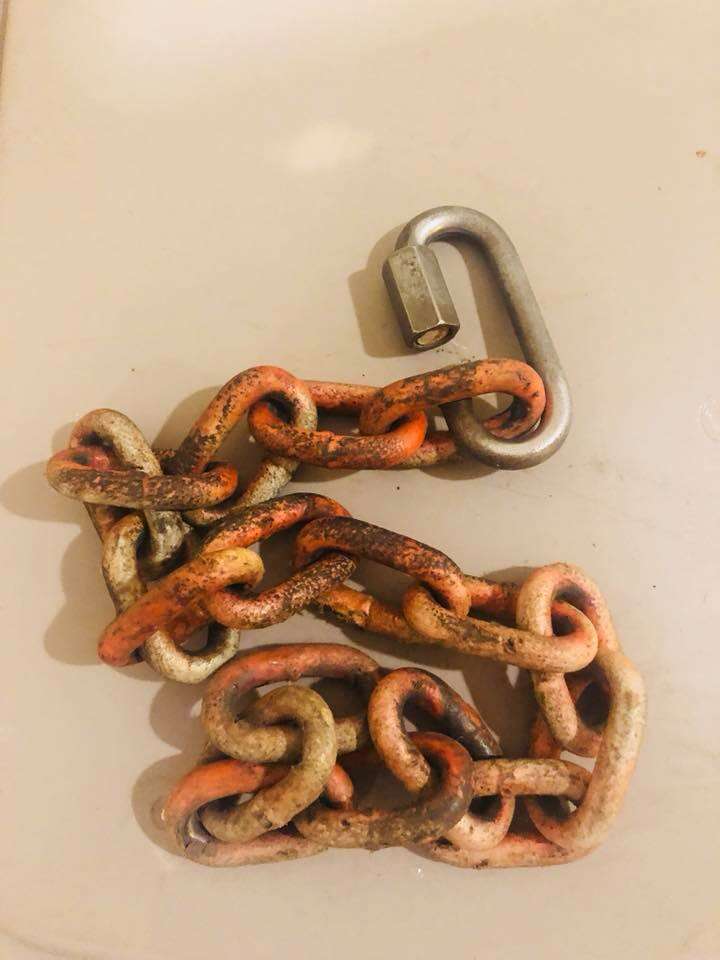 As soon as they'd driven the dogs to safety, Ysuhuaylas removed the heavy chain from the dog, whom she started calling Dudette. She guessed the chain weighed at least 2 pounds.
"When you have it in your own hands, you realize that this chain really constricted her her entire life," Ysuhuaylas said. "It was so heavy and … and she had markings on her neck. I think she was a little bit less scared from that point on."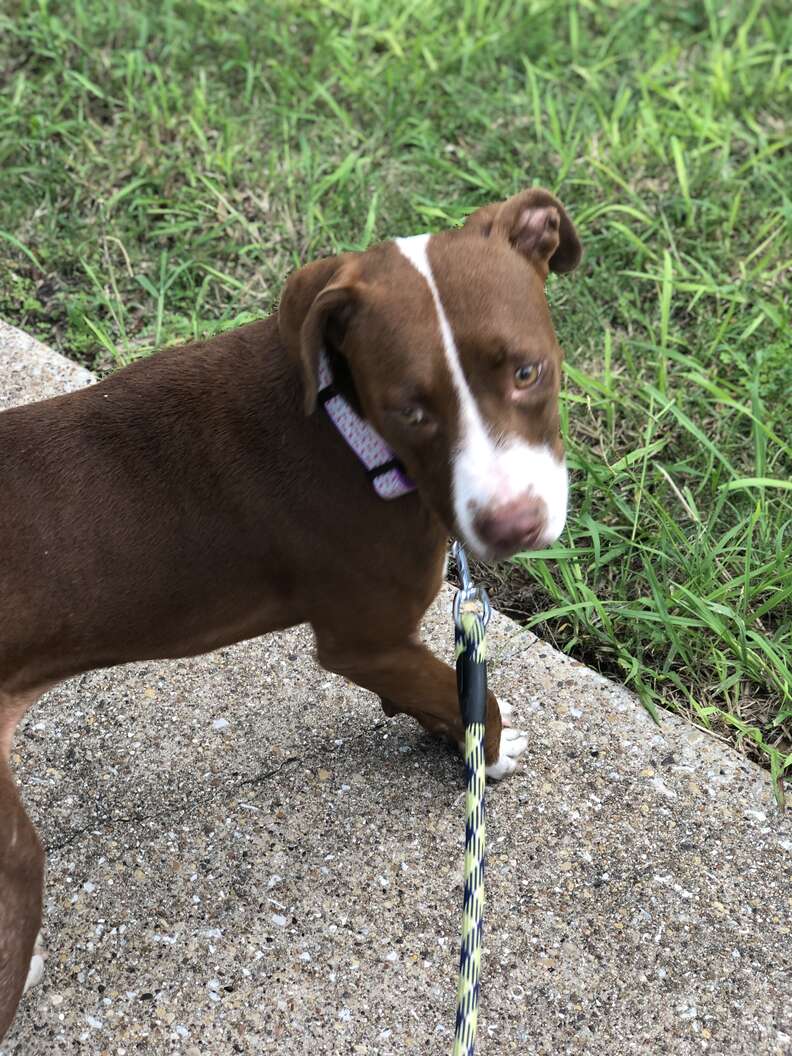 Dudette and the others dogs spent the night at Ysuhuaylas' home, then went to the vet the next morning. All the dogs turned out to have coccidia, a dangerous parasitic infection that attacks a dog's intestines, but they all pulled through.
When Dudette was well enough to leave the vet, she went into foster care with New Life IFS Rescue.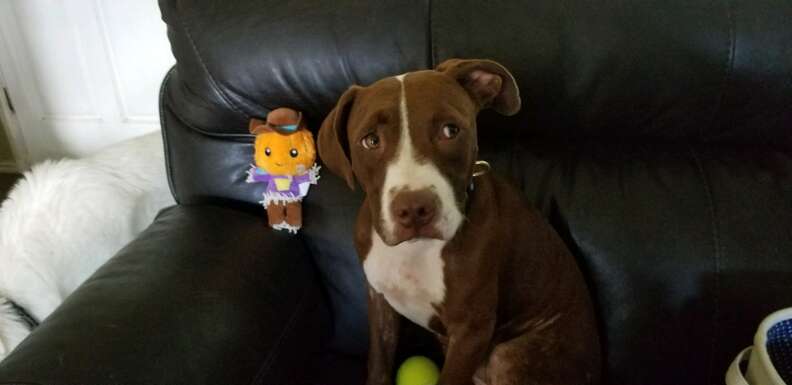 "Emotionally, she seems pretty broken," Callister told The Dodo. "It's going to be a long road to have her come out of her shell. She's very timid and very scared. She hides a lot. I can't imagine what this dog has been through."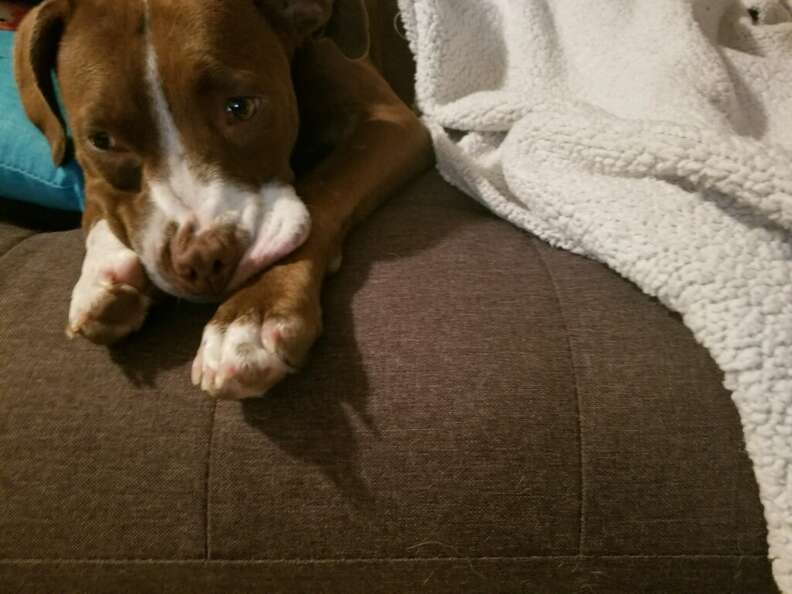 But each day that passes, Dudette, who's been renamed Angel, becomes a little more confident. This is largely due to a dog named Coco, with whom Angel is sharing her foster home.
"Coco is very outgoing and not afraid of anything," Kayla Wells, founder of New Life IFS Rescue, told The Dodo. "We placed them together because Angel is very shy and timid and afraid of people, and she is unsure of what love is or how to respond when someone is showing her love and affection. Coco is a great leader to teach her that people are sweet and she can trust them."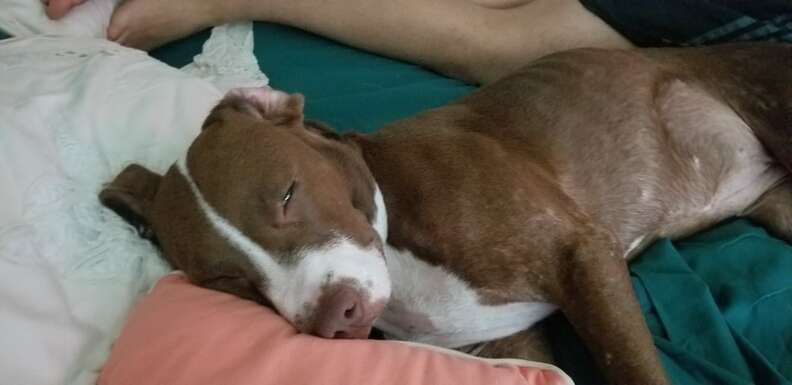 When Angel is eventually up for adoption, Callister hopes someone with a lot of patience will end up taking her.
"She's starting to realize now that she's safe, but she still has a long way to go," Callister said. "She's going to take some work, and love and patience."