These Two Cats Won't Give Up On Trying To Enter Japanese Art Museum
They've been trying to break in for two years — and their persistence has made them local celebrities 🐱
Two eager art lovers have been trying to enter a Japanese museum for years, but despite their persistence, they have yet to take in even one exhibit.
Without the proper tickets for entry, the guests have been turned away by the museum guards time after time — because these art enthusiasts are cats.
It started two years ago, when the Hiroshima Onomichi City Museum of Art debuted a show entitled "Cats — Mitsuaki Iwago Photography Exhibition." A few days after the feline-centric exhibit opened, an unusual visitor arrived, creating the best publicity possible.
A little black cat tried to gain entry to the museum via the sliding glass doors, and it seemed as if he would be successful.
But just before passing the precipice, the cat was spotted by a security guard and rudely turned away. Twitter user @mukusuke captured the exchange, and posted the photos to social media, where the defeated kitty quickly gained attention.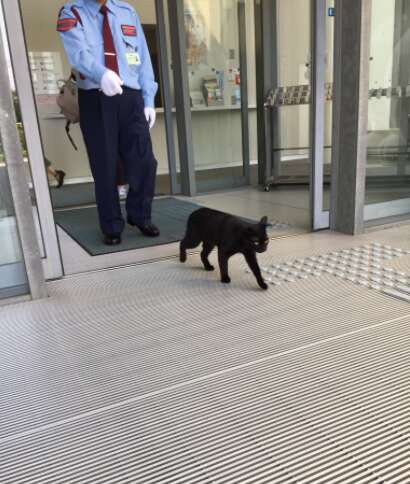 But the cat would not be dissuaded so easily.
In March of last year, the same neighborhood cat, named Ken Chan, returned, and was promptly sent on his way yet again.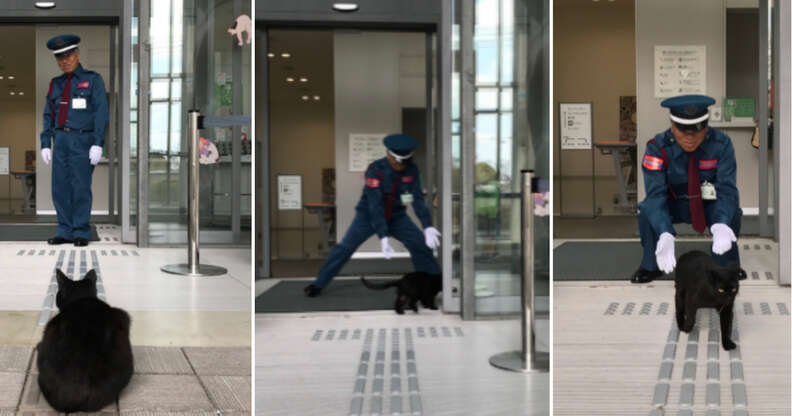 But this time, he brought a friend. A chubby tabby named Gosaku, or Go-Chan, decided that he too wanted to take in some culture, and accompanied his buddy on yet another excursion.
And they sure keep the guards busy.
Ever since, the two cats have taken up residence around the museum, worming their way into the hearts of its staff. Now, when a member of the feline duo tries to walk in the front door, they receive snuggles and pets from the white-gloved guards before being put back outside.
While the cats have yet to officially enter the museum, their exploits have found their way into the gift shop in the form of an adorable tote bag.
The museum's official Twitter account is flooded with photos of the frequent furry visitors, lovingly taken by its staff. "We occasionally tweet the cat snaps around the art museum that the staff shot, sometimes tea tiger and occasionally black cat have been trying to enter from the door two or three times a week," a museum employee told Yahoo Japan.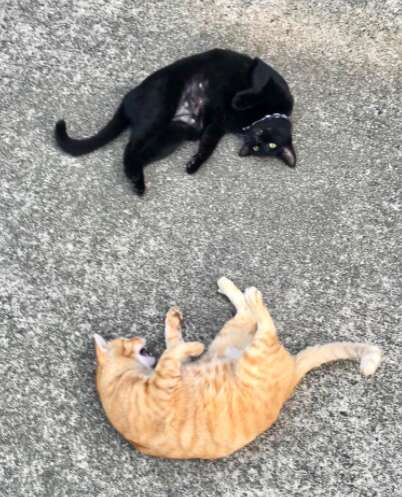 The feline mascots may never be able to set foot inside the galleries, but they have become a beloved example that art can speak across all languages — and even species.