Guy Goes Looking For His Missing Cat — And Can't Believe What He Finds
😱😱😱
Walking into a dark warehouse near Tianjin, China, earlier this month, animal advocates were hit with piercing cries echoing throughout the building.
By the light of their flashlights, the rescuers peeked inside — and thousands of glowing eyes stared back at them, pleading for help.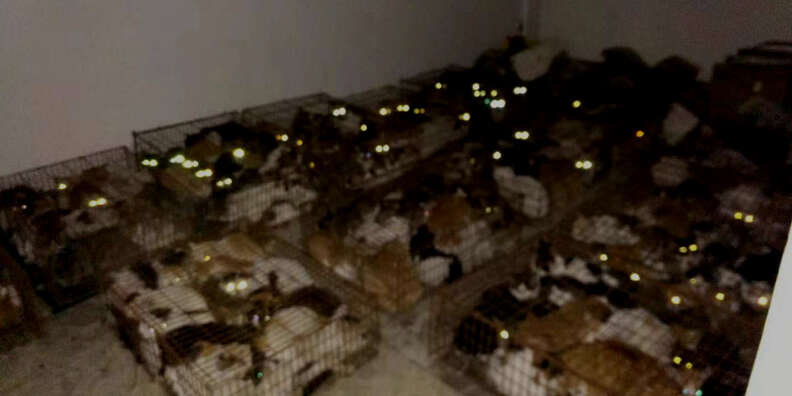 Hundreds of cats had been stuffed into barren cages packed so full that they couldn't move. Dozens of the cramped cages filled the entire dark warehouse, all stuffed to the brim with cats. They had no food or water, and some were still wearing collars from their lives as pets.
It was an illegal slaughterhouse — and this is how the cats would live until they would be killed for food. Luckily that fate was changed, thanks to advocates from China Animal Protection Power (CAPP), a rescue group formed with the help of Humane Society International (HSI).
"The first three cages of the cats we saw were heartbreaking," Mr. Huang, a lead rescuer with CAPP, said in a press release. "They were cages of misery. The hungry and sick cats cried louder when we approached them, as if asking us to help them."
The rescuers were first led there by a local man who believed his pet cat had been stolen by the slaughterhouse employees. The rescuers agreed to help him search — and among the 375 cats, they found his beloved pet was inside one of the cages.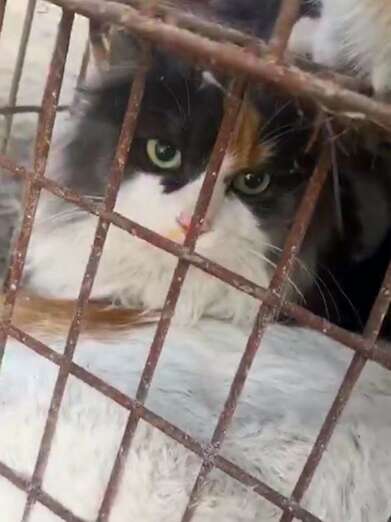 CAPP worked with local law enforcement to seize the cats, since cats are not technically legal to farm. However, there are minimal legal protections for animals in China — so it's unclear whether the illegal slaughterhouse operators will be punished aside from the slaughterhouse being closed down.
Around 4 million cats face this fate each year in China, according to HSI. Luckily, this group of cats has escaped a certain death and are now being cared for at a local shelter in China.
While demand for cat and dog meat is rare in parts of China, where people are increasingly speaking out against the practice, some provinces — like Yulin in the south, which hosts a dog meat festival every year — still drive demand for the industry. Slaughterhouse workers drive the streets looking for stray animals; many of the animals who end up in these "farms" are stolen pets.
"The way cats are killed for China's meat trade is notoriously brutal," Dr. Peter Li, China policy specialist at HSI, said. "I have rescued cats from these slaughterhouses myself … [and they often have] piles of fur and pet collars thrown in the corner."
From living in the horribly cramped cages, many of the cats were very emaciated and sick. It'll take time to nurse them back to health, but HSI is committed to finding the cats loving homes in surrounding communities.
From here on out, they'll only be known as family — not food.
"The focus of Chinese [animal welfare] groups and HSI is always to support local in-country adoption because supporting and growing the adoption culture there is absolutely key to growing the pro-animal movement," Wendy Higgins, director of international media for HSI, told The Dodo. "Any cats who cannot find a home will be given lifetime care in our HSI supported shelters."