Lucky Cats Get Their Very Own Patio Right Outside Kitchen Window
"It was everything I had envisioned and more."
Theo, Mika and Zara are all very different, but they have at least one big thing in common — they all love the idea of being outside. Having three cats running around outside is a lot to manage, though, so their parents don't often take them on outdoor adventures.
"The two girls would always stay close by, but Theo would often jump a fence and we would spend the afternoon trying to get him home again," Aimee Heywood, the trio's mom, told The Dodo. "We know how much they love being outside but unless [they're] always on lead out the back, there is a risk of them taking off."
Heywood and her husband love their animals more than anything, and wanted to find a way for the cats to get the experience of being outside without the risks — so the couple decided to build them a "catio."
At first, the couple thought about building a great big cat patio in the middle of their yard, but unfortunately, they didn't have the space for it. After a little brainstorming, they decided it would be best for the catio to be extended from the kitchen window, and once the idea was in place, they quickly got to work.
"It took two afternoons to build it and we couldn't be happier with the outcome," Heywood said. "It was everything I had envisioned and more."
Now, Theo, Mika and Zara have their own little hideaway out in the sun, and from the moment they saw it for the first time, they completely fell in love with it.
"The cats absolutely love it," Heywood said. "I have come home countless days to find Theo, Zara and Mika staring at me from the street."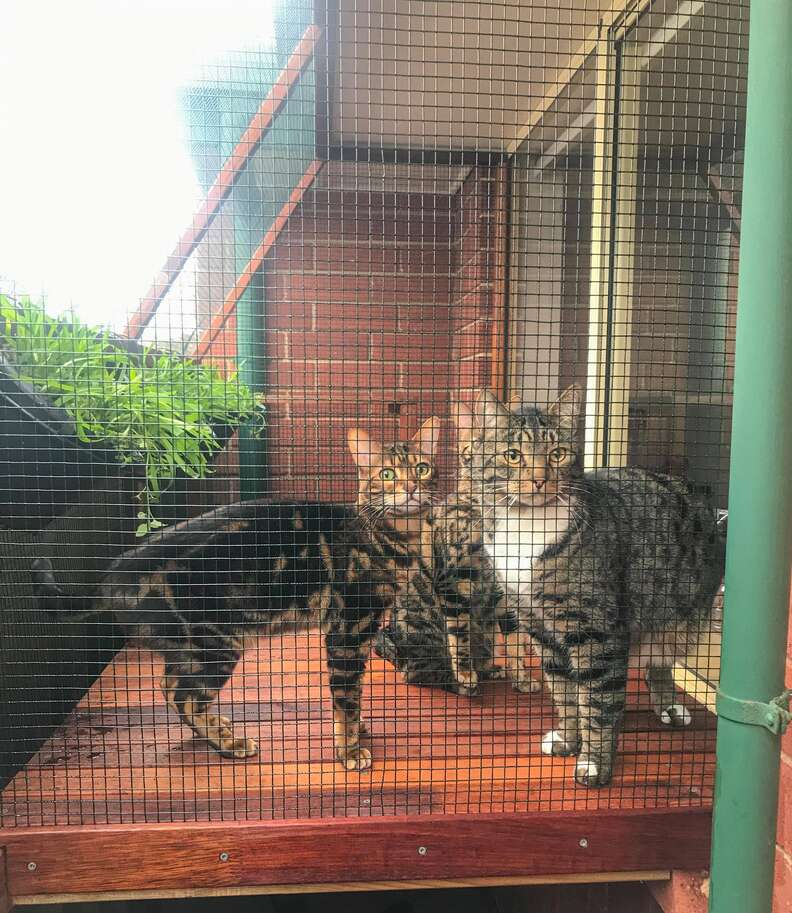 Parts of the catio are still a work in progress. Heywood hopes to get some cat-friendly plants and more bedding and shelving for the cats to play around on. To the cats, though, the catio is absolutely perfect just the way it is, and their parents love finding them all out there together, lounging around and doing cat things.
"The three of them are cheeky as hell and if you find them together, there's sure to be colluding going on," Heywood said.