Cats Have NO Idea How Mattress Fell Off The Shelf They're Sitting On
"No matter what bad things they do, they keep their cool and maintain [a] poker face. There's zero shame."
When Danni Meyerson first started Tiny Pet Rescue out of her house in 2010, she was hoping to help a handful of the kittens born on the streets of Tel Aviv, Israel. She has since rescued and rehomed hundreds of tiny kittens; given advice to rescuers and fosterers all over the world; and even has adopted two dogs and six cats of her own. With her permanent residents and all the rescues coming in every day, her house has become a bit of a zoo, and the cats are constantly getting into places they're not supposed to.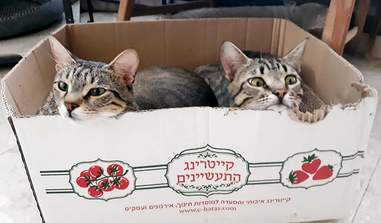 Danni Meyerson
Booboo and Chagit were both rescued as tiny kittens, very sick and close to death. Meyerson found Chagit at a shelter moments away from being put down, and found Booboo abandoned at the vet and in desperate need of help. They're now thriving in the care of their new mom, and are often a little too curious about the world around them. 
"They team up to make trouble," Meyerson told The Dodo.
Danni Meyerson
One day, as Booboo and Chagit were patrolling the house together, they discovered a mattress sitting up on a high shelf, and decided they absolutely had to sit on it. After climbing on top of it, they realized there was a shelf underneath the mattress — and decided they would rather sit on that instead.
"They figured out they could sleep on it, and then they figured out that they could throw it on the ground and make me pick it up," Meyerson said.
Danni Meyerson
After hearing the thud, Meyerson wandered into the room where the mattress was — and found Booboo and Chagit, both pretending they had absolutely no idea how the mattress had ended up on the floor. 
"No matter what bad things they do, they keep their cool and maintain [a] poker face," Meyerson said. "There's zero shame."
Danni Meyerson
Meyerson put the mattress back up onto the shelf, only to have the cats push it down again.
Danni Meyerson
"Now that they know about the mattress, the toss-it-down game is their favorite," Meyerson said. "When they toss it down, all the cats join together to shred it and make it hairy. I put it back, and then it starts all over again. Yay!"
Danni Meyerson
Eventually, Meyerson had to move the mattress to a new home — so now Chagit and Booboo are back on the prowl, looking for some more mischief to make.
Besides getting into trouble, Booboo and Chagit also love to help raise all of the tiny kittens who pass through their home, and together with their other siblings, they make the sweetest, funniest foster family ever.
Danni Meyerson
"All of them join in to help me raise the best, most well-adjusted, coolest kittens in Israel," Meyerson said.