Special Needs Cat Gets The Most Magical Cat Tree
It's like his own enchanted forest🌲💚
Wolfie was rescued after living behind a building with his siblings on Skid Row in Downtown Los Angeles. From the moment he arrived in his new home, there was always something different about Wolfie. He was a very sickly kitten, and his mom eventually discovered that he was born with a severely kinked esophagus. Once he started eating an all-liquid diet, he became much healthier, and has now transformed into the funniest, sweetest cat.
"Oh my gosh, he's hilarious," Jacqueline Santiago, Wolfie's mom, told The Dodo. "He's spunky and makes the silliest faces. He's a total mama's boy. He loves all cats and wants to play with everyone."

Despite his special needs, Wolfie doesn't seem to have any idea he's any different, and loves playing with all his cat siblings whenever he gets the chance. Between Santiago and her roommate, there are five cats living in their house. They all get along great and love to hang out together, and so the two friends decided they wanted to get them something they could all enjoy together — a gigantic cat tree.
"My roommate and I had been researching cat trees because we found our other trees were a bit too small for her cat plus our four other kitties," Santiago said. "We wanted something that could accommodate everyone's needs."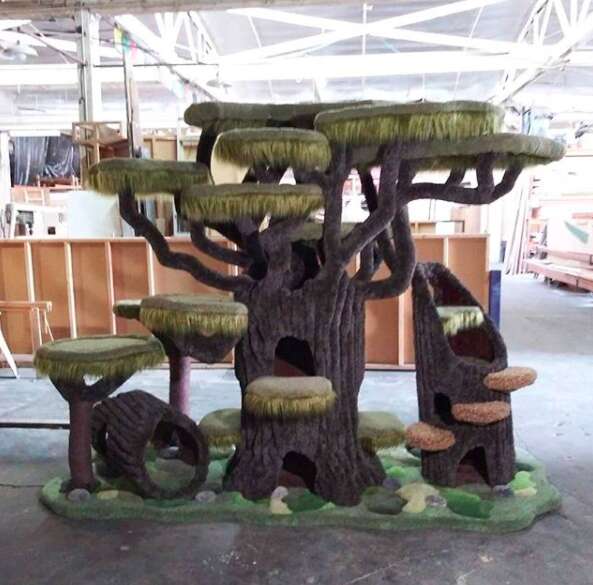 They decided to order a custom cat tree from Hollywood Kitty Company, and began working with the designer to come up with something that would work for each one of their furry family members.
"The decaying tree stump on the right was made for my cat Piper who needed her own private space," Santiago said. "The larger platforms accommodate our bigger cats like Leonidas and Noelle. Our kitty Khaleesi loves all the branches and there is a bed right in the middle just for her. Wolfie is a huge fan of being on top, as is Leo, so we made sure there was several tall platforms so there would be no fighting over the top spot. As we discussed what we were looking for, over time it kept morphing!"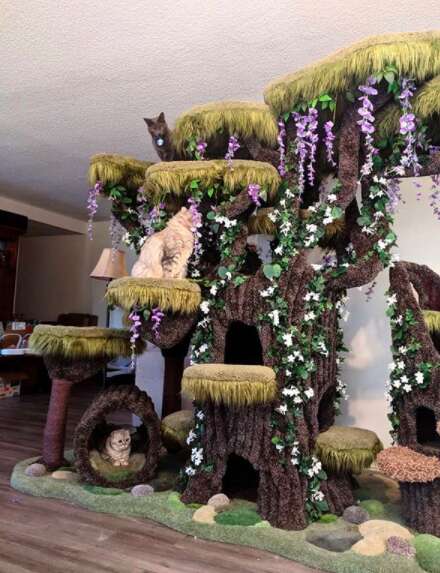 Slowly, the family-friendly cat tree morphed and morphed — until finally, the finished product was more spectacular than anyone ever could have imagined.
"He [the designer] says it's the most detailed cat tree he's ever done in his history of making these," Santiago said.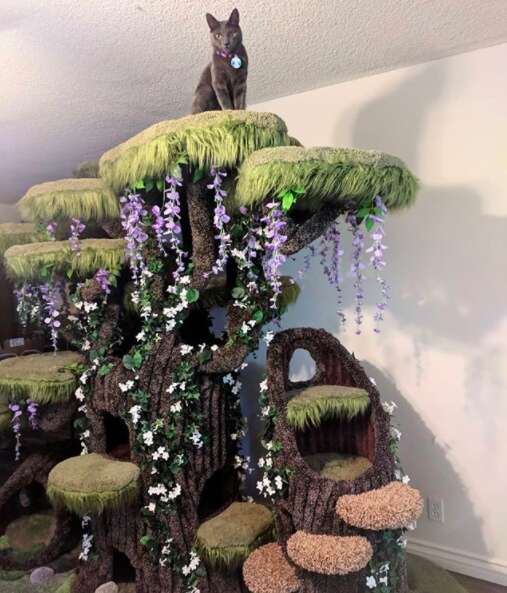 … especially Wolfie.
"He was so excited," Santiago said. "He ran right into the main trunk. The main trunk has a tunnel that goes all the way up to multiple levels and also from side to side. He ran through the tunnels!"
From the moment he saw it, Wolfie has absolutely adored his new cat tree, and loves hanging out on it and in it with all of his siblings. This special needs cat went from living on the streets to hanging out in the most elaborate cat tree that anyone has ever seen, and his infatuation with his new kingdom definitely isn't going to end anytime soon.
"We just got it days ago but I've barely seen him since getting it," Santiago said. "He's always in it now."